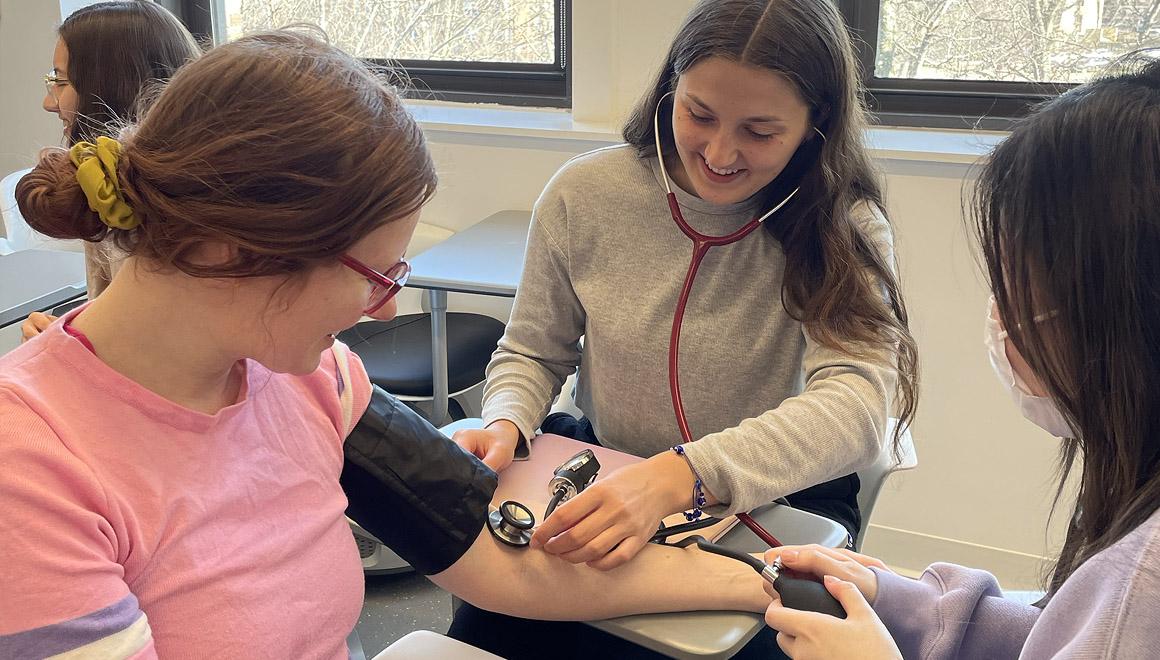 The Bachelor of Science in Nutrition and Dietetics degree at Simmons University prepares students to be advocates for healthy lifestyles through a firm scientific understanding of food and the human body and how the two interact.
Why Study Nutrition and Dietetics?
Nutrition is a fundamental pillar of health in every stage of life. It is a field that integrates natural and social sciences for health promotion and disease management.
Graduating with a BS in Nutrition and Dietetics can help you advance to the next stage of training (graduate degree and supervised practice) to be eligible to sit for the national credentialing Registered Dietitian examination. The degree also provides graduates with an excellent foundation to enter other careers in science and health. Our graduates have gone on to work not only in nutrition, but also research, policy, sports and wellness, and science communications.
"The professor's personal stories of how the material has applied in her career and will apply to our futures helped to keep me engaged in the course"
- Nutrition and Dietetics Student
Coursework begins with a strong foundation in core scientific subjects, such as biology, anatomy and physiology, chemistry, and biochemistry. Nutrition students then move on to more advanced, specialized topics in dietetics, including food science, management, community nutrition, nutrient metabolism, and medical nutrition therapy.
Through the curriculum and unique hands-on learning in actual community and clinical settings, students become confident nutrition professionals capable of working as key members of healthcare teams and as advocates in public health.
Enriching Internships and Research Opportunities in Boston
Research, internships, and clinical experience are essential to nutrition students, providing the opportunity to explore interests, build skills, and develop mentor relationships with leaders in the field. Our Nutrition students work alongside practicing Nutrition Professionals reviewing medical records, interviewing and assessing the nutritional status of clients, and advising on healthy diets in some of the top teaching hospitals in Boston.
Students in the Nutrition and Dietetics bachelor's degree program have access to a wealth of resources and external hands-on learning experiences throughout the City of Boston, which is a worldwide leader in health and medicine.
Our Faculty
The faculty in the Nutrition Department are nationally known in their area of expertise. Each has years of practice experience in their areas of teaching. They have served in state government boards and national committees, and won national awards.
"[Our] Professor is very passionate about the course and it really shows in her teaching and her desire for us to succeed in class."
- Nutrition Student.
They are dedicated educators committed to the success of our students. Each student will have a faculty advisor in nutrition who will provide individualized guidance for coursework selection and career planning.
Becoming a Registered Dietitian Nutritionist (RDN)
The first step to becoming an RDN is completing ACEND accredited didactic coursework (e.g. B.S. in Nutrition and Dietetics at Simmons). This is followed by a graduate degree (in any field) and an ACEND accredited Supervised Practice program (e.g. Dietetic Internship).
Simmons offers a Master's in Science in Nutrition and Health Promotion and Dietetic Internships program which students in the BS in Nutrition and Dietetics can apply with a "pre-select" (early preference) option. We also have "pre-select" arrangements with Dietetic Internship programs at Massachusetts General Hospital, the Beth Israel Deaconess Medical Center, Hebrew Rehab, and Be Well Solutions.
Simmons University continuously has Dietetic Internship placement rates that exceed national average, as our students work closely with faculty to secure supervised practice placements locally and nationwide.
Program Accreditation
Our B.S. in Nutrition and Dietetics program is accredited by the Accreditation Council for Education in Nutrition and Dietetics (ACEND), 120 South Riverside Plaza, Suite 2190, Chicago, IL, 60606 telephone: (800) 877-1600, ext. 5400.
Effective January 1, 2024, the Commission on Dietetic Registration (CDR) will require a minimum of a master's degree to be eligible to take the credentialing exam to become a registered dietitian nutritionist (RDN). For more information about educational pathways to become a RDN, visit EatRightPro.org.
Admission Requirements
Learn more about what must submitted to be considered for undergraduate admission.
Shape the Health, Quality of Life, and Eating Behaviors of Your Community
The Bachelor of Science in Nutrition and Dietetics degree at Simmons University prepares students to be advocates for healthy lifestyles through a firm scientific understanding of food and the human body and how the two interact. Interested in learning more? Request information or start your application today!
All dietetics majors must complete the following science requirements.
Students must complete the following nutrition requirements.
These requirements also fulfill the Didactic Program in Dietetics requirements. 
| | | |
| --- | --- | --- |
| NUTR 112 | Introduction to Nutrition Science | 4 |
| | OR | |
| NUTR 111 | Fundamentals of Nutrition Science | 4 |
| |   | |
| NUTR 201 | Advanced Food Science | 4 |
| NUTR 331 | The Practice of Clinical Dietetics | 4 |
| NUTR 237 | The Practice of Community Nutrition | 4 |
| NUTR 248 | Food Production and Service Systems | 4 |
| NUTR 249 | Leadership in Food Service Management | 4 |
| NUTR 311 | Nutrient Metabolism | 4 |
| NUTR 334 | Medical Nutrition Therapy | 4 |
| NUTR 381 | Advanced Applications in Community Nutrition | 4 |
| NUTR 390 | Seminar: Selected Topics in Nutrition | 4 |
| NUTR 301 | Dietetics Profession | 1 |
Capstone course(s) or Independent Learning for the Nutrition and Dietetics Majors
For those students entering as freshman the fall, 2015 or later, there are two Capstone courses that are required under the PLAN: these are Advanced Applications in Community Nutrition (NUTR 381 and Seminar: Selected Topics in Nutrition (NUTR 390).  
Research, internships and clinical experience are essential to nutrition students. You'll have opportunities to explore your interests, build your skills and develop mentoring relationships with leaders in the field. We take full advantage of our location in the heart of Boston, and more specifically the Longwood Medical Area. Our students have been placed at the Massachusetts Department of Agricultural Resources, Ethos, Women's Lunch Place, Community Servings, Greater Boston Food Bank, a variety of local WIC programs, and a variety of local hospitals. 
 
Upon graduation, completing a Dietetic Internship Program is a crucial step in becoming a Registered Dietitian. Our students are successful in internship programs nationwide – we have an excellent placement rate.
Program mission:
The mission of the Simmons University DPD is to educate students and foster an appreciation of lifelong learning in preparation for supervised practice, and success in the nutrition and dietetics profession. We aim to prepare students to be effective in a profession that improves the eating behaviors and subsequent health and quality of life of a multicultural and diverse population, a profession that adds to the scientific investigation about food and health, and one that fosters an appreciation of nutrition and dietetics' relationship to other sciences.
The Didactic Program in Dietetics' goals and corresponding program outcomes are shown below:
Goal 1: Simmons University DPD graduates will be prepared to become competent entry level dietetics professionals.
Goal 2: Program graduates will be well prepared to succeed in one or more of the following: a nutrition related graduate program or nutrition related employment.
Corresponding Program objectives:
At least 80% of students complete program requirements within 3 years (150% of planned program length).
At least 50% BS/70% of DPD students of program graduates apply for admission to a supervised practice program prior to or within 12 months of graduation.
Of program graduates who apply to a supervised practice program, at least 55% BS/80% DPD students% are admitted within 12 months of graduation.
The program's one-year pass rate (graduates who pass the registration exam within one year of first attempt) on the CDR credentialing exam for dietitian nutritionists is at least 80%.
At least 75 % of graduates will agree or better to being prepared on 75% of the items (that pertain to content they learned at Simmons) on the graduate survey.
At least 75% of Directors of Supervised Practice will rate Simmons University DPD graduates as adequately prepared or better on 75% of items listed on the survey.
Of graduates who applied to nutrition/public health related graduate programs, 70% will be admitted  within 12 months of application.
Of graduates who sought nutrition/public health related employment, 50% will be employed within 12 months of application.
Visit the Tuition and Financial aid page to find the estimated expenses for a typical full-time undergraduate resident student who is a non-nursing major and additional information pertaining to program cost and financial aid. Students can also review the Simmons University Academic Calendar to review information regarding semester dates.
Prospective and current students are encouraged to review the Nutrition Student Guide for more information pertaining to programmatic policies and procedures.
Additional Program Costs
Laboratory coat ($35).
Individual course materials (e.g. books, access to professional electronic resources) should be expected.
Membership fees recommended for the program may include the Academy of Nutrition and Dietetics ($58, OPTIONAL but strongly recommended).
Transportation to clinical and fieldwork sites ($30/semester).
Transportation, meal costs, and registration fees to attend professional meetings and practical experiences should be expected.
Most internships charge an application fee between $50 and $100. Additionally, there is a fee to register with the Centralized Application System (]~$50 for the first application and $25 for each application after) and $55 to apply to the computer matching process used to determine intern placement (through D & D Digital). Note that these fees are subject to change.
So you know that Simmons is a great place to be, you've learned about our programs, maybe even come for a visit...now you're ready to apply! Let's get started.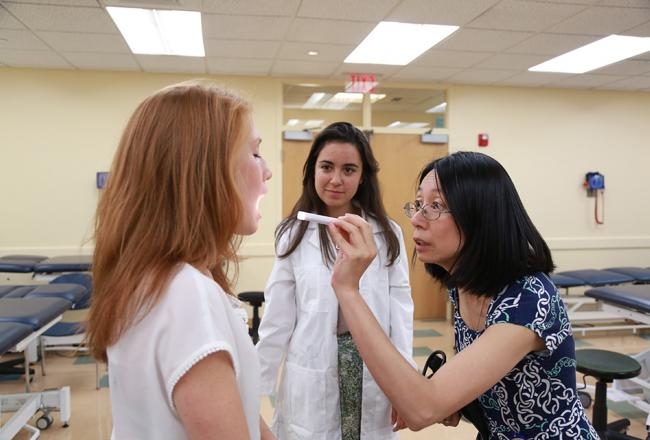 Nutrition Programs at Simmons University
See what it's like to be part of our Nutrition program.
More Videos