Lisa Brown
Associate Professor and Director of the Dietetic Internship Program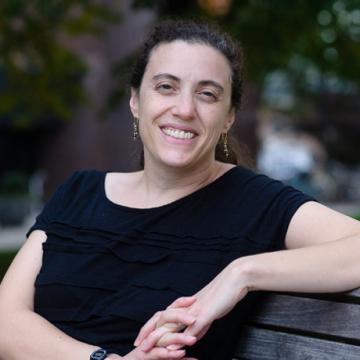 Education
Clark University, BA in American Government and Psychology, Minor in Early Childhood Education
Simmons College, MS in Nutrition and Health Promotion
Boston University School of Medicine, PhD in Medical Nutrition Sciences
License/Certifications
About Me
Lisa S. Brown PhD, RD, LDN is an associate professor of nutrition and the dietetic internship director at Simmons University in Boston, MA. Before joining the Simmons faculty, Dr Brown was the senior nutritionist for the North Suburban WIC program, worked as a consultant dietitian to long term care facilities, and was a contract dietitian in Recipe Development at Natick Labs.
Dr. Brown still spends her summers providing vacation coverage for long term care and rehab facilities in the Boston area, and counsels private clients through the Metrowest YMCA in Framingham, MA.
At home, Dr Brown is a proud Girl Scout Troop leader, Cub Scout Den Leader, and manager of two Destination Imagination teams.
Area of Expertise
Biomedical ethics and the practice of dietetics. Pediatric and Geriatric Nutrition. Nutrition counseling. Health Promotion and disease prevention. Health policy.
What I Teach
BOS 101: Food is Love: An Exploration of Food, Culture, and Identity
NUTR 111/112: Introduction to Nutrition Science
NUTR 237: The Practice of Community Nutrition
NUTR 451A&B: Dietetic Fieldwork
NUTR 452: Program Planning, Implementation, and Evaluation
NUTR 453: Advanced Topics in Preventative Nutrition
SNHS 450: Health Care Systems: An Interdisciplinary Approach
Community Engagement
Dr Brown's professional service includes serving as the current chair of the Massachusetts Licensure Board for Nutritionists and Dietitians, and as the education chair for the Boston Alliance for Diversity in Dietetics (BADD).
Dr Brown has served in the past as the Diversity Liaison for the Religion Member Interest Group (RMIG) of the Academy of Nutrition and Dietetics and as the Community Leader for the Jewish Member Interest Group (JMIG). Dr Brown has also served as a grant reviewer for the NIH's Small Business Innovation Research (SBIR) program, a division of the Small Business Administration and for the Academy of Nutrition and Dietetics' Champions for Health Kids Grants.
Research/Special Projects
Dr Brown works on projects to promote diversity within the profession of dietetics, and earned a grant in 2016 from the Academy of Nutrition and Dietetics to start a mentoring and bridge program to support underrepresented students enrolled in the Simmons dietetics programs.
Dr Brown also works on projects to promote effective nutrition interventions in community settings.
Publications/Presentations
Brown Lisa S., Newton Elizabeth R. Chapter 2: Nutrition in Public Health 4th Edition, "Nutritional Epidemiology: An Introduction" edited by Sari Edelstein, Jones and Bartlett, 2022.
"Ethics for Dietitians Treating Individuals at the End of Life" Presented at the Academy of Nutrition and Dietetics Food and Nutrition Expo (FNCE), Virtual Conference. October 19, 2020.
"Supporting Students to Grow a More Diverse Nutrition Profession" Webinar presentation to the Association of State Public Health Nutritionists. July 18, 2019.
Hurwitz A, Steinberg M, Brown LS. "Shopping strategies of low-income parents/caregivers." Poster Presentation at Massachusetts Academy of Nutrition and Dietetics Annual Meeting and Expo, March 29, 2019.
Trussler E, Gale D, Brown LS. The Secret Side-Effect: Prescription Medications and Weight Gain. Today's Dietitian, 2018.
"A Talk on Professional Licensure" Presentation for the Massachusetts Academy of Nutrition and Dietetics. Boston MA, June 7, 2018.
"The Dietetics Code of Ethics: Applications to Seniors Living in a Community Setting" Presentation to the Executive Office of Elder Affairs Elderly Nutrition Program Workgroup. Dudley MA, April 24, 2018.
"Ethics for Dietitians and Future Dietitians" Presentation to the Massachusetts Academy of Nutrition and Dietetics Annual Conference and Exposition (ANCE), Norwood MA, March 23, 2018.
Tabung FK, Brown LS, Fung TT. Dietary Patterns and Colorectal Cancer Risk: a Review of 17 Years of Evidence (2000–2016). Curr Colorectal Cancer Rep. Published online October 2017, https://doi.org/10.1007/s11888-017-0390-5
Cantarow, M., Livermore, A. McEntee, K., Brown,L., (2015) "Differences in the use of Protein Supplements and Protein-Rich Food as seen among US Recreational Athletes." Topics in Clinical Nutrition. 30.2: 0883-5691.
Metallinos-Katsaras E., Brown LS., Colchamiro R. Maternal WIC Participation Improves Breastfeeding Rates: A Statewide Analysis of WIC Participants. Matern Child Health J. 2014 Apr 29.
Brown, Lisa S. Chapter 1: Life Cycle Nutrition: An Evidence-Based Approach "Nutritional Requirements During Pregnancy and Lactation" edited by Sari Edelstein, Jones and Bartlett, 2014.
Levine, Elise; Brown, Lisa S.; Millen, Barbara E. Chapter XX: Geriatric Nutrition: The Health Professional's Handbook 4th edition, "A Continuum of Nutrition Services for Older Americans" edited by Ronni Chernoff, Jones and Bartlett, 2014.
Schneider EP, McGovern EE, Lynch CL, Brown LS. Do Food Blogs Serve as a Source of Nutritionally Balanced Recipes? An Analysis of 6 Popular Food Blogs.
J Nutr Educ Behav. 2013 November - December;45(6):696-700. doi: 10.1016/j.jneb.2013.07.002.
Professional Affiliations & Memberships
The Academy of Nutrition and Dietetics (AND)
The Massachusetts Academy of Nutrition and Dietetics (MAND)
Awards
Simmons School of Nursing and Health Sciences Linda Roemer Award for Distinguished Service, 2014
MetroWest YMCA Mission Impact Award, 2007 & 2014
Nutrition and Dietetic Educator's and Preceptors Practice Group (NDEP): Area 7 Outstanding Educator of the Year, Dietetic Internship, 2016