Alumnae/i Feature
Emily Trussler '18MS, '18C Presents at the European Nutrition Conference in Dublin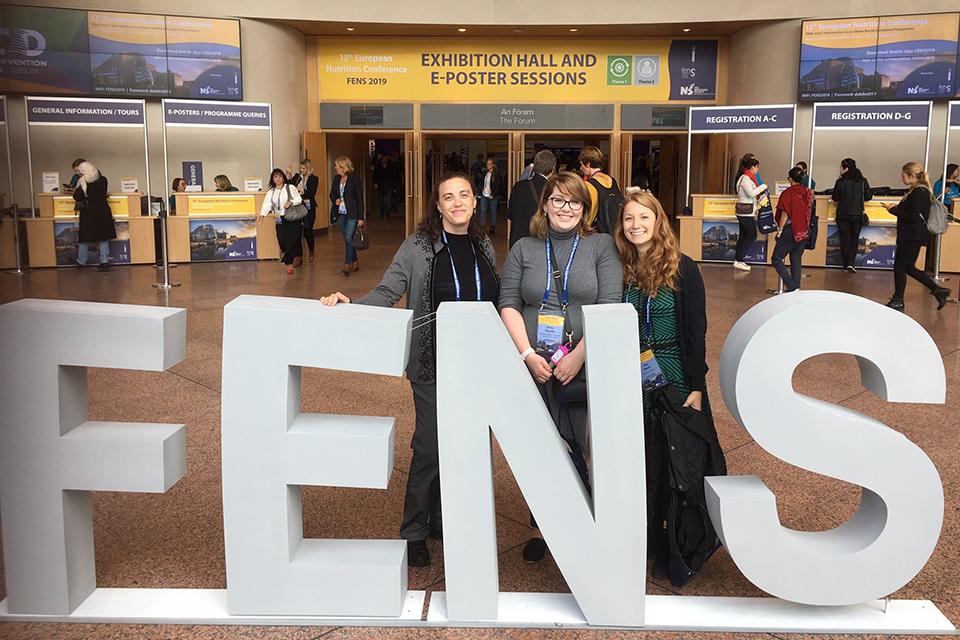 The support I had from Simmons students and faculty truly built my confidence from the ground up — this allowed me to attempt tasks and career moves that I never would have believed I could tackle otherwise.
Why did you decide to attend Simmons?
After graduating college with an undergraduate degree in anthropology, and testing the waters in the areas of museum management and education, I finally decided that nutrition was the perfect path for me – after all, it combines culture, education, science, and health all in one. After hearing about Simmons from two enthusiastic alumnae, I soon learned that it is renowned for its excellent support system and focus on marketable skills. What is more, it is the only program I found that provided an entrance into the field of nutrition for those who had degrees in other fields. Not only an entrance, in fact, but a warm welcome and respect for the knowledge and experience that "first careers" provided new RDs-to-be.
What inspired you to pursue a career in Nutrition?
Having been a committed vegetarian in high school and college, I certainly always had a natural interest in the benefits of food for health and fuel. I think, however, that what drew me to this career path was that it is so multi-faceted — it not only provides the opportunity to study and engage with the latest science, but also expects its practitioners to educate and support its clients in applying the research and promoting true, sustainable change. Every class I took at Simmons showed me a new angle from which you can study and apply nutritional science, and I continue to learn of its incredible effects now in my career as a clinical dietitian.
What do you find most rewarding about your work?
As an inpatient clinical dietitian specializing in Medicine and Oncology at Brigham & Women's Hospital, I'm constantly faced with new situations and challenges. Sometimes, these are medical – a patient with numerous complex conditions affect absorption and metabolism; other times, they lie in fostering learning and change in patients facing new and frightening diagnoses. In both cases, I find that I have the opportunity to work as a valued team member and assist patients in coping with the many challenges of disease and treatment, while also gaining new insight from the great minds in the nutrition department and hospital as a whole.
What leadership skills did you learn at Simmons that have helped you succeed in your career?
Simmons fosters a belief in yourself and your abilities. While it might sound clichéd, it really is the difference between "why me?" and "why not me?" When I was an undergraduate, I never thought that I would present my research at an international conference or work in a world-renowned institution. The support I had from Simmons students and faculty truly built my confidence from the ground up — this allowed me to attempt tasks and career moves that I never would have believed I could tackle otherwise.
What was it like receiving the accolade of Intern of the Year?
It was a completely unexpected honor! As they read the award description, I could easily have attributed the traits described to any of my wonderful fellow interns. What meant the most to me, however, was that I received the award for two main reasons: first, my ability to perform a good nutrition-focused physical exam (which detects muscle and fat wasting as well as other signs of malnutrition), and second that I was able to develop rapport with my patients and put them at ease. Those are two things that I'm truly proud of.
What was it like presenting it at the European Nutrition Conference?
My MS thesis, written with my wonderful thesis partner Julia Navon, MS, RD, LDN (and Intern of the Year at MGH!) examined the relationship between vitamin D deficiency and prediabetes among Americans aged 50+ in the NHANES cohort. With the help of our excellent thesis advisors Dr. Elizabeth Metallinos-Katsaras, Dr. Rachele Pojednic, and Dr. Elizabeth Colavito-Siu, we discovered that deficiency in this sunshine vitamin does indeed significantly increase the likelihood of prediabetes. 
Presenting this information at the European Nutrition Conference in Dublin, Ireland was an unforgettable experience. I loved getting to delve into the latest research and debates regarding obesity and nutrition with some of the best minds in the field. I was lucky enough to have my thesis partner Julia and Dr. Lisa Brown with me to discuss all of the new information and perspectives raised by the various speakers.