Alumnae/i Feature
Dietitian Dasha Agoulnik '19DPD Wins Pitch Competition for Vegan Protein Powder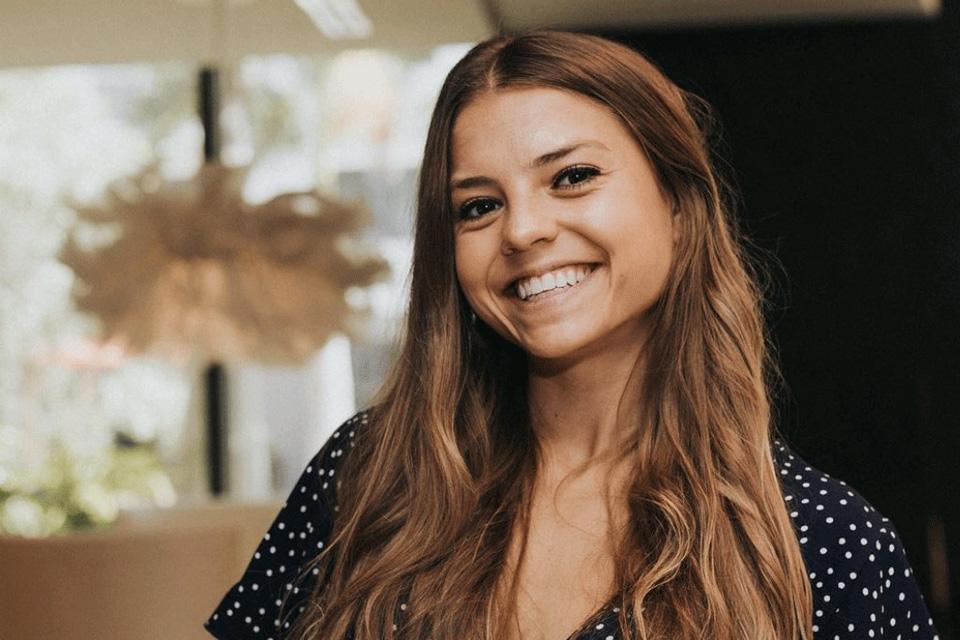 What made you choose to pursue your degree/major?
I have always been interested in how our bodies work. I did my undergraduate degree in biology at UMass Amherst and thought I may be a doctor. I like understanding the biochemistry between what we eat and how we exercise. During graduate school, I was diagnosed with Celiac disease, so the idea of gut health became particularly interesting. I started to look at the gut microbiome, understanding gut chemistry and what we eat, and how this can impact athletic performance.
When I first considered Simmons for my Didactic Program in Dietetics (DPD) Certificate, I wondered, is it really worth it to travel across Boston to see an hour-long lecture? Now, I'm so glad that I did! I would drive to Simmons in a heartbeat to take another class. One of my favorite courses was Advanced Medical Nutrition Therapy with Associate Professor Kathrina Prelack.
What inspired you to create CorePerform?
I was accepted to the dietetic internship at the VA hospital in Tampa, Florida. It's one of the most competitive internships in the country, because they offer a stipend. While I was there, I started working as a consultant part-time. I worked with New York Times best-selling author Dr. William Li on his book Eat to Beat Disease, and on another project to create the perfect meal — the perfect amount of fats, carbs, and proteins. I had to understand the exact glucose to galactose ratios and linoleic to palmitic fatty acid ratios to include. It was all biochemistry research, and I loved the project.
Once graduating from the internship and becoming a dietitian, I began specializing in athletes suffering digestive and inflammatory conditions like IBS, SIBO, celiac, IBD, and more. The first question they asked was always "whey gives me bloat, what protein do you recommend?"
I shared their struggles, as there was no protein powder that I could take without triggering a Celiac flare up. Vegan protein powders currently in the market are filled with gums and artificial sweeteners, and the amino acid ratios aren't effective, so you'd have to eat more to get the right nutritional balance. Additionally, a lot of people with cancer, heart disease, and other chronic illnesses are being told to go plant based, but these foods often contain low quality protein sources. People suffering chronic illness often struggle to consume enough calories as is, and once you add low quality protein on top of that problem, it can speed up the spread of their disease.
Simply telling people to go plant based is not the solution. We need to produce quality plant based proteins. I was inspired to take all of my understanding of biochemistry to create a plant based protein powder with an optimized amino acid profile, making it just as effective as whey protein at building and preserving muscle, without the environmental impact or digestive distress. (You can read more about the nutrition behind collagen vs plant vs animal protein on the CorePerform website). CorePerform is a complete source of protein in one scoop, free of the top nine allergens commonly found in other powders, with no added fillers, gums, or artificial sweeteners.
Tell us about the Tufts Friedman School's Innovation Pitch competition.
I was looking for resources to support my research after my first manufacturer stole $30,000 from me, leading to my first lawsuit within months of graduating. The leader of the alumni group for Tufts Friedman School suggested I enter the derby for Innovative Pitch competition — the top prize is $100,000. I'm not much of a pitcher, but I knew I had nothing more to lose. I felt defeated and only wanted to create this product for people in need.
Entering the competition was my last hope. I pitched my idea and won second place in the $100,000 competition, and first place for the Friedman Prize. I was welcomed into the US Food and Innovation Council with leaders in the industry like Kellogg, Campbell, and Nestle. I heard from PepsiCo the next day, asking for samples of my product. Another mentor on the Council offered me $10,000 on the spot (which I was blown away by, but didn't take). I spent another year trying different manufacturers to get the formula right. I asked everyone I knew for recommendations, and contacted seven manufacturers for quotes and samples. Finally, we launched in March. I shared a lot of the back end of launching the protein on Instagram, it's so exciting!
How did Simmons prepare you to become a leader in your field?
I don't think I would have been able to get that competitive internship on my own. Professor Teresa Fung was so supportive, even though she had never had a student land that internship before. When you can connect to your professor, that makes a huge impact.
At Simmons I learned how to communicate research. Even people with credentials may not be able to read the literature very well. I became a star at conducting and translating research During my dietetic internship, and even led the group during research week because of my prior experiences. It put me ahead, and I published two pieces as a first author that year. Simmons prepared me to be a leader in my internship, and as a medical professional on social media.
Advice for current students?
Get out there and gain experience! I take interns all the time — reach out to me! I've had 25 interns over the years. You have so many opportunities around you but you have to ask for help, and you have to be committed to going above and beyond.
Having a network is crucial. I wouldn't have tried that pitch competition if I hadn't asked for help and been encouraged to apply. You need to have initiative to ask for things. I've been told "no" so many times! I could have given up after losing $30,000 to that untrustworthy manufacturer, but I kept going. The only way to fail is to give up. That's how it is, especially with entrepreneurship.