Announcement
Simmons Receives Transfer Honor Roll from Phi Theta Kappa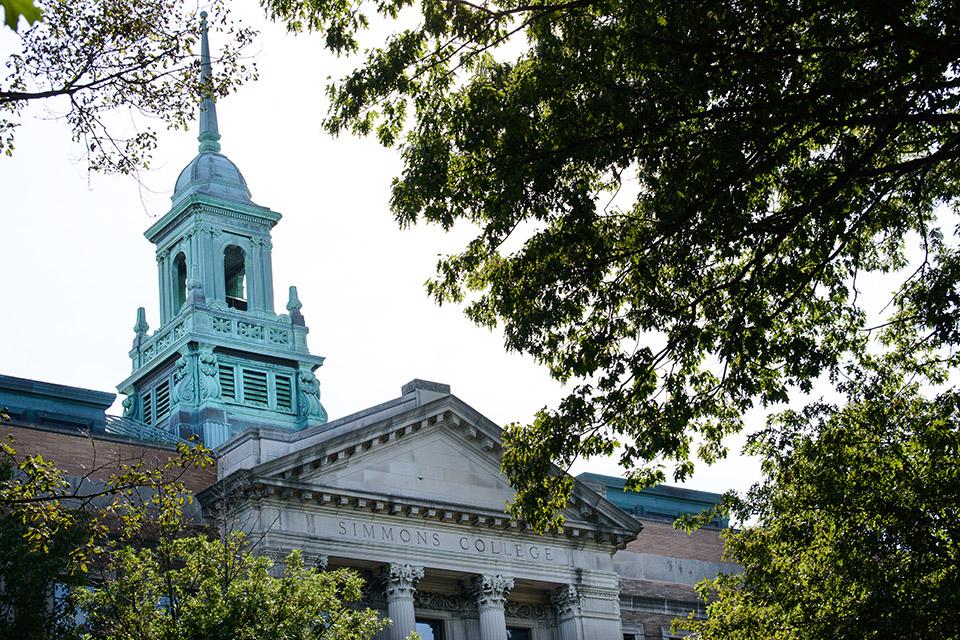 In 2023, Phi Theta Kappa (PTK) recognized Simmons as one of the most transfer-friendly schools in the nation. PTK is an honor society that helps support scholarships, professionalization, and service and work experiences of community college students. We spoke to Dayna Bradstreet, Senior Associate Director of Undergraduate Admission, about the importance of this award, and the value of supporting transfer students.
Simmons is one of 208 colleges and universities to receive the Transfer Honor Roll from Phi Theta Kappa (PTK) in 2023. This award recognizes transfer-friendly schools and the dynamic pathways they have created to support community college transfer students. This is the first time that Simmons has received this specific award.
"Receiving the Transfer Honor Roll from PTK speaks to the hard work that Simmons has executed across campus," says Dayna Bradstreet, Senior Associate Director of Undergraduate Admission. "The Provost's Office, Undergraduate Admission, the Registrar's Office, Student Financial Services, Technology, and Academic Advising have all been instrumental in gathering key resources and generating more transfer-friendly policies for our incoming students."
The Transfer Honor Roll is determined by 40 key metrics related to the support and success of transfer students. This year's winners demonstrated exceptional outcomes, several of which include high percentages of transfers among the undergraduate population and transfers receiving merit-based financial aid, as well as a high rate of degree completion for transfers. Dr. Lynn Tincher-Ladner, President and CEO of PTK remarked: "We are proud to recognize the exceptional colleges and universities that go above and beyond to create accessible pathways to bachelor's degree completion for community college transfer students."
PTK is an international honor society that supports academic achievement and provides professionalization and service opportunities for community college students. Established in 1918, PTK has approximately 250,000 active members in the United States. Members (who must have completed at least 12 credits and maintain a GPA of 3.5 or higher at a junior college) enjoy a wide variety of benefits, including scholarship eligibility, an Honors in Action program, career training, and discounts on educational materials. PTK also offers students unique publishing opportunities through its two journals: Civic Scholar: Phi Theta Kappa Journal of Undergraduate Research and Change Makers: Phi Theta Kappa Journal of Student Leadership.
Bradstreet has worked first-hand with PTK associates. "They are a great partner," she says. "When I see PTK representatives at a professional conference, they know who I am. PTK really cares about what is best for community college students, and, as such, they know their 4-year partners really well." Simmons offers a Phi Theta Kappa-specific scholarship for transfer students, including adult students who are Dix Scholars. This scholarship, which amounts to $2,000 per year, is automatically awarded to any PTK member in on-the-ground undergraduate programs.
Bradstreet believes that many of the recent initiatives related to Simmons' admission policies are beneficial to the acceptance and matriculation of community college students. Bradstreet explains that "we previously accepted 64 credits and now we accept 96 credits [from prior community college(s), and sometimes mixed with credits from another 4-year institution]. We also made a change to how we accept transfer credit for students with associate degrees; rather than going course by course, we recognize transfer students' AA or AS degree and will accept the 64 credits as a block."
Moreover, Bradstreet notes that "the launch of the Complete Degree program [online bachelor's degree programs] played a role in the process, as it has expanded online educational opportunities, especially for non-traditional students. This program also allows Simmons to reach students outside its immediate geographic area."
This year, Simmons generated more financial aid, including more scholarship funds for transfer students and Dix Scholars. "This has helped make Simmons a school of choice for them," Bradstreet adds.
Bradstreet oversees admission counselors who are deeply engaged with transfer students. Simmons has dedicated more staff time to work with transfer students and Dix Scholars, which has allowed students to receive personalized attention and rapid response time. Admission counselors at Simmons support prospective and incoming transfer students with information sessions, college fairs, and various outreach events.
Bradstreet observed an increase in transfer student enrollment for 2023. While enrollments decreased slightly during the pandemic, "this year we rebounded and our applications are even higher than they were in 2019," she says. Students transferring to Simmons are especially drawn to Nursing, Biology, Psychology, Computer Science , and Social Work.
Transfer students heighten the diversity of the Simmons community, and, as Bradstreet remarks, it is immensely gratifying to work with them: "Transfer students may come to Simmons to change majors, location, or find a smaller environment. They may be career changers, or returning to finish their degree after a break of a decade or longer. Whatever the reason, it's incredibly rewarding to support these students as they take charge of the next steps of their education journey."
Bradstreet emphasizes that obtaining the Transfer Honor Roll from PTK was a collaborative effort. "I am very proud of our transfer team who has worked hard for several years on launching new transfer initiatives for Simmons to get us to this point."
Visit the website for information about applying to Simmons as a transfer student, Community College transfers, transferring credits, transfer scholarships, and the Complete Degree program.