Voices of Simmons
President Wooten: Welcome to Spring 2021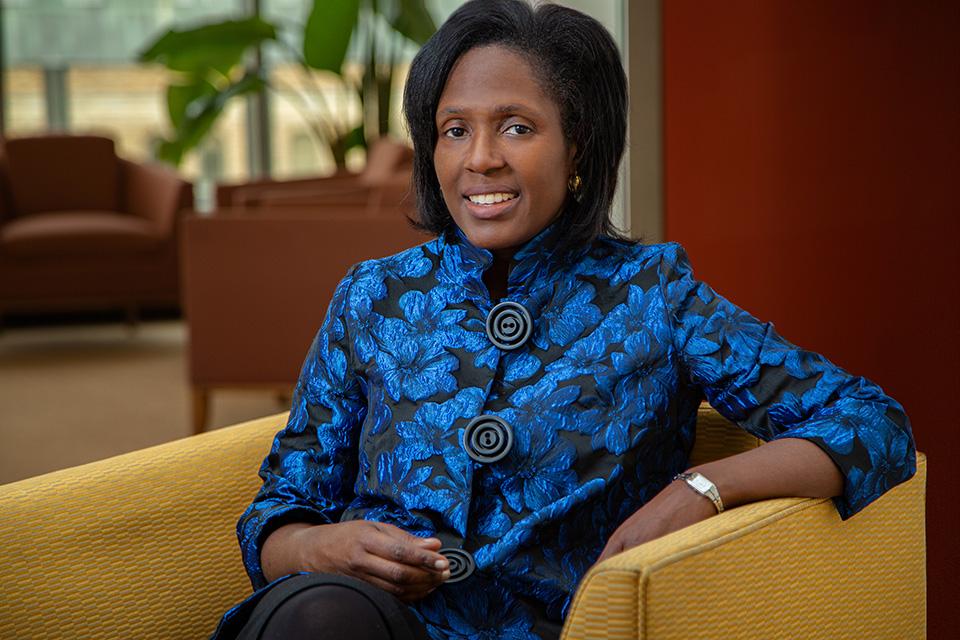 I hope you all experience light, learning, and discovery this semester. For it is this sense of light and discovery that is so empowering and at the heart of higher education's purpose.
I hope this message finds you and your families well, and that you are rested and reenergized as we begin the Spring 2021 semester. As I reflect on recent events that have launched this New Year, I find myself returning to poet Amanda Gorman's powerful reading during the presidential inauguration.
While reading from her poem "The Hill We Climb," Gorman reminded us that "the new dawn blooms as we free it. For there is always light. If only we're brave enough to see it. If only we're brave enough to be it."
I hope you all experience light, learning, and discovery this semester. For it is this sense of light and discovery that is so empowering and at the heart of higher education's purpose. For students, Simmons offers you a degree, but I believe it also offers you the chance to elevate your voices, discover your purpose and use your learning to serve your communities. For faculty and staff, it offers the opportunity for continued collaboration and engagement as we advance our mission and vision, especially for inclusion – providing transformative learning for our students, and scholarship that improves the human condition. It is this purpose that inspires me each day.
As you read below about the learning, co-curricular activities and events we have planned, I hope you are as excited as I am about this semester.
Academic Excellence
As a result of the hard work and dedication of our faculty, I believe we have developed a thriving virtual campus that offers the academic rigor and Simmons experience students value from our institution. Spring semester courses, like the fall, will continue to offer in-depth student-faculty interaction, small group discussions, and project-based learning. These qualities are designed to ensure students have an engaging and transformative academic experience, while fostering the highest quality learning outcomes.
Undergrad Virtual Student Life
Our Office of Student Leadership and Activities will host both new and ongoing programs such as Spring Welcome Week; a leadership series on tools to create generational wealth; Mug Mondays with faculty and staff; and the Simmons Strong Student Recognition Series, among many other activities. In addition, Simmons Athletics (@SimmonsSharks) will continue to meet and host a variety of programming, including virtual sport seasons.  
Other Services
In addition, I encourage all students to continue to take advantage of the many academic and wellness services offered:
Our students living on campus will receive a separate email about potential learning and co-curricular activities that will be offered on campus this semester.
Spring Community Read: How to Be An Antiracist
I am delighted to share additional details about our Spring Community Read on March 1, 2021. Students, faculty, staff, and alumnae/i are invited to attend a virtual conversation that I will be moderating with Professor Ibram X. Kendi, author of How to Be an Antiracist. Professor Kendi is one of the world's leading historians and scholars in antiracism, and we will discuss critical issues related to racism, discrimination, and racial and social justice. To learn more about the book and author, please visit the Simmons "How to Be an Antiracist" LibGuide, and register for the Community Read event by February 26, 2021.
In addition, Simmons will host "Dialogue to Action: Key Takeaways from How to Be an Antiracist" on March 9, 2021, and registration is now open. The virtual event will include a panel discussion with faculty members represented by a variety of disciplines, followed by small-group discussions facilitated by faculty and staff. These are critical conversations as we continue to elevate and address issues of equity, and social and racial justice during this pivotal moment.
Simmons Leadership Conference
I also want to call your attention to the 42nd annual Simmons Leadership Conference on March 23, 2021. I encourage you to register for this powerful virtual conference, which will be complimentary for all students, faculty, and staff. This year's theme is "Inspiring Resilience and Authenticity," and throughout the day we will explore how these concepts can be applied to everyday professional, personal and civic life. We have a notable lineup of speakers, including Mindy Kaling, TODAY Co-host Jenna Bush Hager, and Simmons Board member Tiffany Dufu, among others.
Finally, I continue to be impressed by the strength and resiliency of our community. These past 12 months have been some of the most challenging in recent U.S. history, and yet we have so much to be hopeful for in this new semester. I'm grateful for the intellectual creativity, thoughtfulness, and passion our community brings to the many challenges we face around the ongoing pandemic, continued instances of racial and social injustice, and in this climate of political divisiveness.
The COVID-19 Recovery Task Force continues to monitor the latest public data on the pandemic and vaccine distribution for our community. And I am looking forward to the day, hopefully soon, when we can all be together again on campus.
— Lynn