School of Nursing
Simmons' School of Nursing is home to one of the country's first university-based nursing programs and we are proud to remain among the best programs in the field, recognized for clinical excellence, and preparing future leaders in health care through undergraduate and graduate nursing degree programs, including the online Nursing@Simmons programs. We educate nurses to provide compassionate and evidence-based care, advocate for patients and communities, lead interprofessional teams, and advance research.
Prepare to be a Future Leader of Healthcare with our Nursing Degrees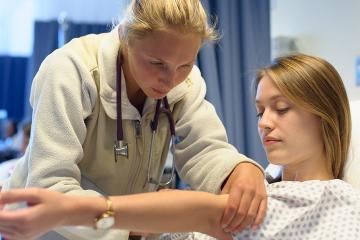 Faculty in the Simmons School of Nursing are passionate educators, clinicians, and researchers, and our location in Boston's renowned medical area provides unparalleled training for our campus-based students in our nursing programs. Our BSN students in both the traditional four-year and accelerated second degree programs receive outstanding undergraduate education, while graduate programs offer paths for direct-entry, advanced nursing, and doctoral education.
Our School of Nursing is a pioneer in public health nursing and in training Family Nurse Practitioners, one of health care's fastest-growing specialties. We are guided by values of social justice, teamwork, compassion and excellence, and we embrace Simmons' tradition of science and practice for the social good.
Onground Nursing Programs
As home to the country's first university-based nursing program, Simmons University is among the best nursing programs in the field. Our location in the Longwood Medical area in Boston, MA, along with our faculty and alumnae/i connections at the world's leading hospitals provide ample opportunities for our students to pursue research, clinicals, and job opportunities.
Online Nursing Programs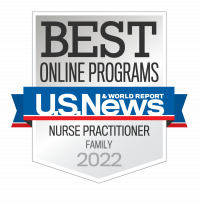 Empowering and educating nurses since 1902, Simmons University offers online nursing programs that extends our esteemed Boston-based programs to students across the country through a dynamic, online learning platform.
Nursing School Requirements
For our undergraduate and graduate Nursing programs, our admission committee takes a holistic approach to reviewing applications. We consider your personal, professional, and academic experiences as a whole in order to evaluate your preparedness and potential for success in the program.
Learn more about applying to our Nursing programs as an undergraduate or graduate student.
Highlights of the Simmons Nursing Program
Nursing@Simmons, our premier online program, engages students nationwide.
We offer interactive classes and a student-centered learning environment.
Simmons nurses perform above national averages on NCLEX-RN Licensure and FNP Certification Exams. More information on accreditation and licensure can be found here.
Nursing students are leaders in athletics, student government, and campus organizations.
The Dotson Bridge and Mentoring Program serves and empowers African American, Latinx, Asian, and Native American nursing students.
Nursing students are engaged in research, publishing, and presenting their work with faculty in peer-reviewed journals and at regional and national conferences. 
School of Nursing in the News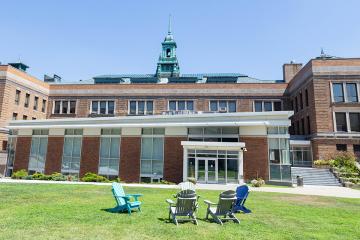 Earlier this spring, the Helene Fuld Health Trust, a charitable organization that promotes the education of nurses, informed Simmons that the School of Nursing received a substantial grant from the Trust. These funds will be used to amplify Simmons' Dotson Bridge and Mentoring Program, which aims to support nursing students of color.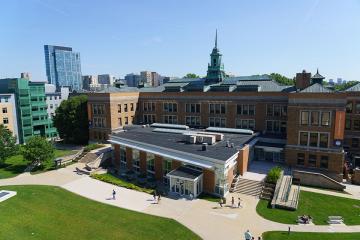 Working with administrators at Simmons and specialized course developers from all over the country, Dr. Sonya Cox has been instrumental in shaping and implementing the University's new Psychiatric Mental Health Nurse Practitioner (PMHNP) Program . The first cohort of students...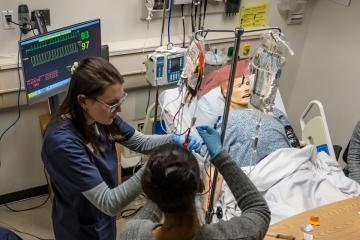 Tina Delouchry, School of Nursing Professor of Practice and Director of the Direct Entry (DE) Master of Science in Nursing (MSN) FNP Program, shares the value of the DE program, which provides an opportunity for students with a Bachelor's degree in a field other than nursing to pursue a degree as an advanced practice nurse.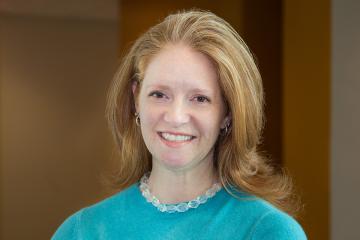 Associate Professor of Practice Kelly Marchant received the Award for Excellence in Nursing Education from the American Nurses Association . "I try to remember what it was like when I was in nursing school, trying to learn these concepts," says...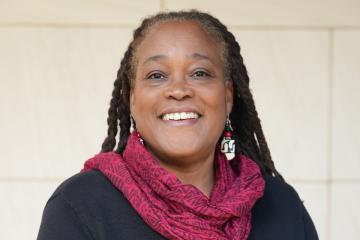 LaDonna Christian, Associate Professor of Practice and Director of the Dotson Bridge and Mentoring Program, has been awarded the Mary A. Manning Nurse Mentoring Award for her work supporting the Dotson Bridge and Mentoring Program at Simmons. Established by the...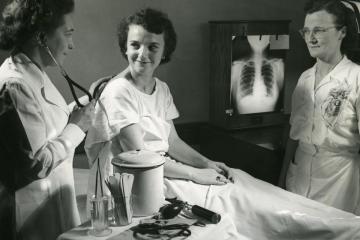 "Simmons has a great reputation for educating nurses," says School of Nursing Associate Professor Patricia Rissmiller . "The Nursing program at Simmons started in 1902. I've often wondered how it started, and how we got to where we are." Rismiller's...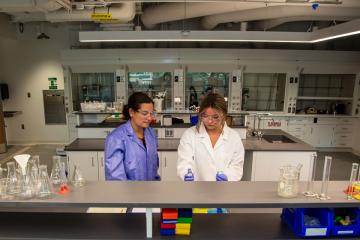 How can Simmons get students comfortable with their nursing skills before expecting them to perform them off-site? The University has created an 11,000 square foot Simulation Center, which includes five high fidelity simulation rooms: an obstetrician/gynecologist office (OB/GYN), a pediatric office, a medical/surgical suite, an ICU, and an ER.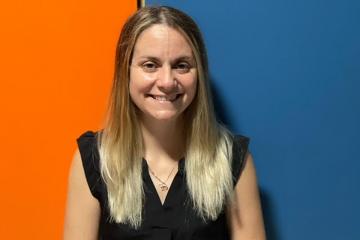 The COVID-19 pandemic, among other issues, has created a shortage of Millennial and Generation Z nurses. Tanya Cohn , Associate Teaching Professor and Director of the DNP Program at Simmons School of Nursing , shares what can be done...
Upcoming School of Nursing Events