Campus & Community
Year in Review: The Best of 2018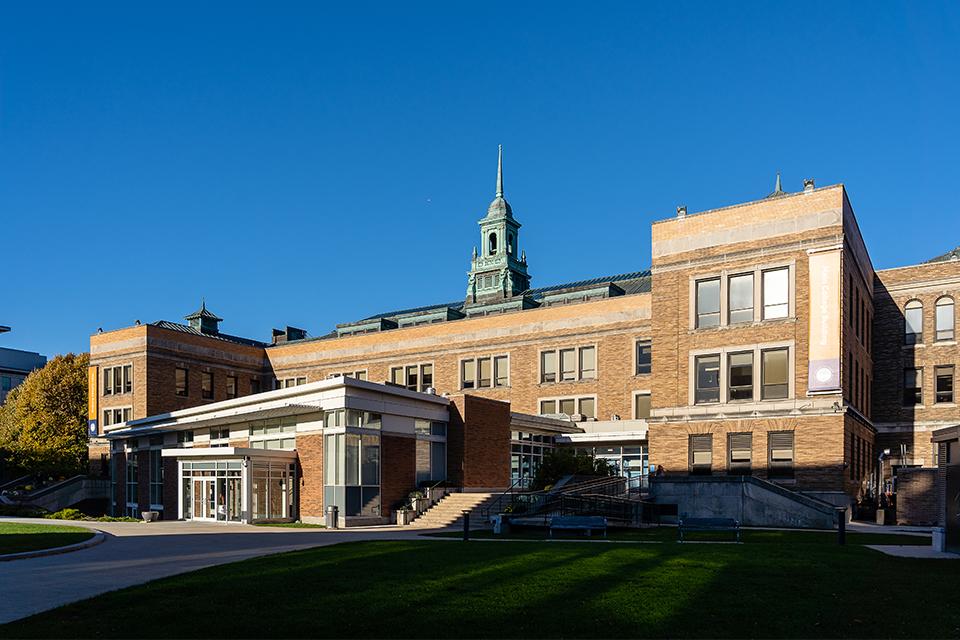 Take a look back at Simmons' biggest moments and stories from 2018!
2018 was a monumental year for Simmons! From becoming a university, to climbing the ranks in U.S.News & World Report — it's been a busy year. In celebration of the end of the year, we're taking a look at our biggest moments and stories from 2018. 
1. Simmons College Announces University Designation
On September 1, 2018, we officially became Simmons University. This university designation also included the creation of four new colleges — making this the most comprehensive academic redesign in more than 100 years! 
Key quote: "Given the size and scope of our programs, including online graduate programs with national and international reach, 'university' is a more accurate description of who we are and where we are going. We're looking forward to a very exciting future." — Helen G. Drinan, President of Simmons University
2. From Simmons to Standup: Emma Willmann '08 Arrives on Netflix
We joined Emma during Boston's Women in Comedy Festival and learned about her journey into comedy. It wasn't always easy, but Willmann kept her goal of success at the forefront of her mind—a tactic she learned at Simmons. Today, you can find Willmann on the final two seasons of Crazy Ex Girlfriend and Netflix's The Comedy Lineup: Part Two.
Key quote: "There's such an importance placed on intersectionality at Simmons. You're constantly deconstructing race, class, gender—and you see it in every class you take. Simmons cultivates critical thinking and I try to be very critical of that lens when doing stand-up." — Emma Willmann '08
3. Simmons University Ranked by U.S.News & World Report
Simmons earned an impressive #4 ranking for Best Value in the 2019 U.S.News & World Report rankings in the Regional Universities North category – the most competitive higher education region in the nation! This marks Simmons' highest-ever ranking in the Best Value category, rising from the #5 spot in 2017.
Key quote: "Our combination of rigor, exceptional student experience, value, and range of programs is being recognized by national evaluators. Simmons is a force in today's competitive higher education landscape, further elevating the stature of our distinctive undergraduate program for women and our nationally-recognized graduate programs." — Helen G. Drinan, President of Simmons University
4. Professor Bailey Named One of Boston's Most Influential People of Color
Gary Bailey, DHL, MSW, ACSW, Professor of Practice at Simmons School of Social Work, was named one of Boston's Most Influential People of Color. This year marked the 10th anniversary of the GK100 list of Greater Boston's 100 Most Influential People of Color.
Key quote: "We do not view the GK100 as a popularity list, but more of an opportunity to showcase the depth and breadth of culturally diverse talent in Boston who are contributing to the economic and social fabric of the city across various industries – including academia, business, health care, innovation and technology, and philanthropy." — Colette Phillips, CEO of Colette Phillips Communications and Founder of Get Konnected!
5. Looking Back at the Simmons Leadership Conference
The Simmons Leadership Conference was filled with inspiring messages and powerful leaders. The day featured incredible speeches from Gretchen Carlson, Nely Galán, Valerie Plame, Edie Weiner, and Former First Lady Michelle Obama.
Key Quote: "The arc of history is long. What we're here to do is make a mark." — Former First Lady Michelle Obama
6. Inspiring Change: Julianne Pondelli '18C Takes Nutrition to the Ice
To her students, Julianne Pondelli '18C is much more than a skating coach—she's a source of support and refuge in the rigorous sport of figure skating. Between her passion for skating, dedication to nutrition, and value of higher education, Pondelli's students recognize and admire her unique approach to coaching.
Key Quote: "Nutrition education is so important in an athlete's life. If I can give my students a positive experience in the nutrition field and show them how to have a positive attitude towards food, that would be great in addition to just teaching them how to skate." — Julie Pondelli '18C
7. What You Can Do: Five Ways to Respond
After the many horrific events that occurred in October, President Helen Drinan encouraged the Simmons community to take action. Writing with a deep sense of purpose, President Drinan gave us five ways to respond to the hateful rhetoric we hear nearly every day. 
Key Quote: "At Simmons University, we aspire to be the most inclusive campus for all members of our community, physically and virtually. While that will take time, the most important impact will be felt as each one of us decides to join in that effort. I believe we can model the kind of community we wish our world to be. It starts with each of us as a leader of one." — Helen G. Drinan, President of Simmons University