Student Story
Priscilla Wiltshire-Bland '20 on the Impact of a Simmons Education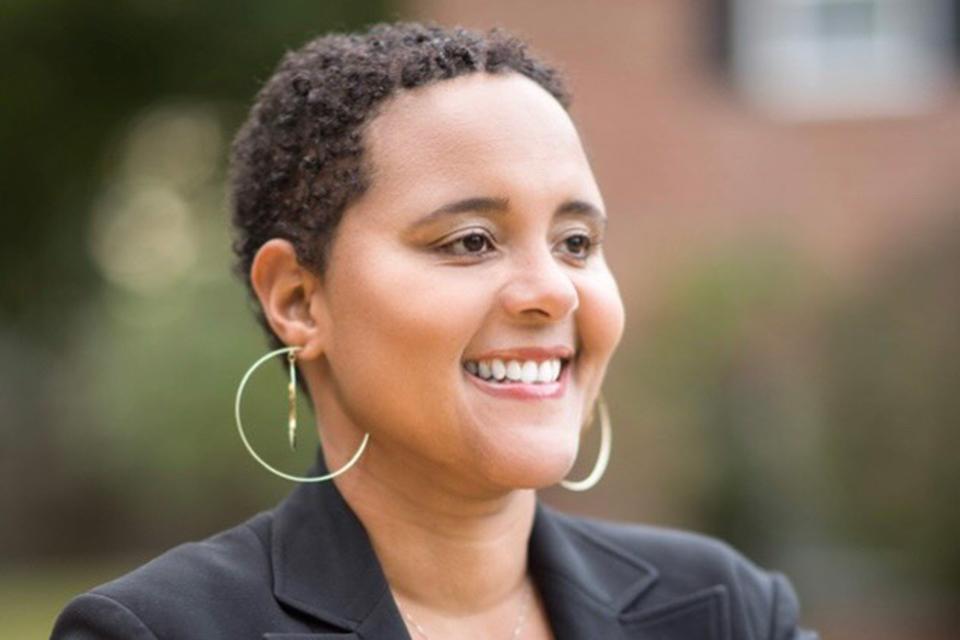 Congratulations to Priscilla Wiltshire-Bland '20, recipient of the Ifill Scholarship!

As you look to the future, what are your goals and dreams for yourself?
I'm interested in student affairs and helping adult learners/non-traditional students navigate college life. As a nontraditional adult student, I understand the challenges that adult students face. I imagine myself telling stories, doing research or documentaries to tell stories of those whose stories may not have been heard. 
What professors have helped you reach your goals?
Overall, most of the professors in the Department of Communications have influenced me positively one way or another. Professor Erica Moura is my advisor and has taught most of my courses at Simmons — she's been a great guide. She taught me how to dig deep, how to not give up, how to be resourceful and to look at other avenues to get situations resolved. 
I consider Dr. Theresa Perry in the Department of Africana Studies to be my mentor. I've learned so much from her and the more I learn, the more I realize how much I don't know. Dr. Perry fostered my passion for knowledge. She took an interest in me as a whole person and she's interested in helping me achieve my goals. Because of her knowledge and wisdom, I've become more enlightened. Because of her, I'm a better decision maker inside and outside of school.  
Dr. Briana Martino definitely helped make my transition to Simmons much easier. She helped me choose a major. Dr. Martino's "Visual Communications" class was the first class that I took at Simmons. Her teaching style, her patience, her open-door policy and acceptance of each person's individuality made me feel even more comfortable at Simmons. Once in a while she'd check-in with me just to make sure I was alright.
I interned for Professor Kelley Chunn during the summer and she was a great teacher and guide. She really cares about you and wants the best for you. 
Professor Rachel Gans-Boriskin is a wealth of knowledge — her passion and enthusiasm is infectious. She really wants her students to be well-informed and well educated. She's passionate, authentic and cares about her student's overall development as individuals. Professor Gans-Boriskin willing meets with me and takes an interest in how I'm doing both in school and in life. 
What experiences have impacted your time at Simmons?
I'm grateful to Professor Kris Erickson for selecting me to go on a study abroad trip to Kenya in Spring 2018. While waiting to board our flight I told myself: "I'm with 15 other students who I barely know and I need to get along with them — the outcome of my experience will be determined by my mindset and my attitude while on this trip." I forced myself to adapt, remain calm, focused and open-minded.  
You met with Bert Ifill, the brother of Gwen Ifill '77, '93HD. Is there anything from that conversation that was particularly meaningful to you?
I really enjoyed learning about Gwen Ifill. One of the stories that resonated with me was when she worked at the Boston Herald and a note was left on her desk saying, "N…. go home." The way she handled the situation with such strength and grace was amazing. She didn't let it discourage her. Gwen remained focused and determined. She instinctively had the wisdom of how to act, she didn't allow the opinions of others to affect her emotions. She was courageous and mentored a lot of people — community was important to her. She was full of integrity and people trusted her. 
I asked Bert if Gwen knew that she was known around the world. He said she didn't realize the impact that she was making. When she did realize she was shocked. But being known was not important to her. It was doing her job to the best of her ability. 
How do you think students in the Gwen Ifill College will carry on her legacy and impact the world? 
In the Department of Communications, students not only learn the technical skills of each course, but are encouraged to stretch themselves, try their best, take risks and take charge of their own destinies. The lessons we're learning are helping us become leaders who will be well-equipped to impart the knowledge we've been given.