Campus & Community
Passionate Leaders Project: Fall 2020 Cohort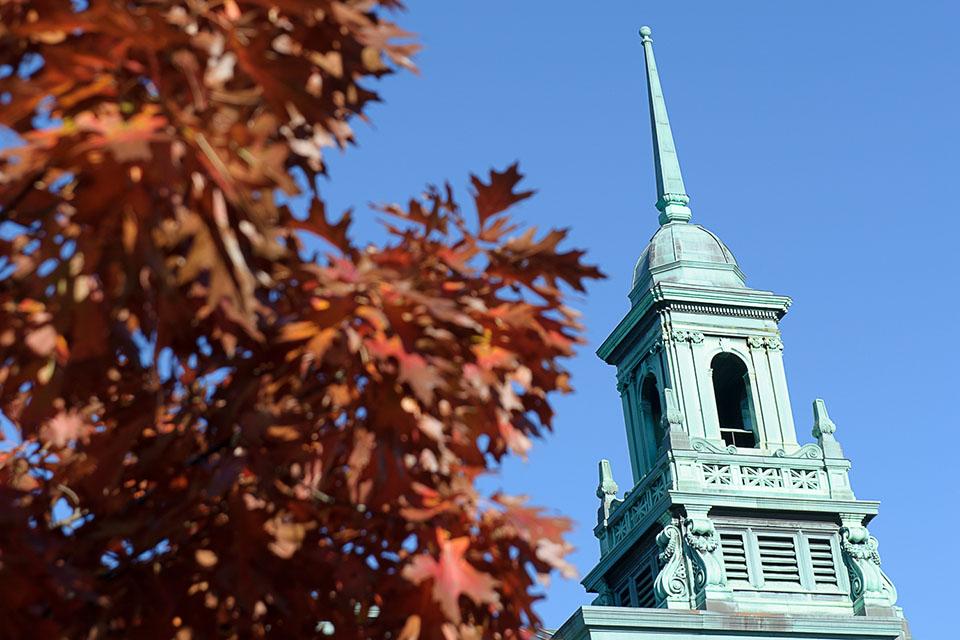 The Passionate Leaders Project (PLP) supports undergraduate students seeking to enrich their academic and professional interests by funding learning opportunities beyond the boundaries of the traditional classroom.
The PLP strives to make these opportunities accessible to every Simmons student so they can deepen their passion to address the challenges of an increasingly complex world; develop critical leadership skills and knowledge; and attain and demonstrate key academic and professional competencies.
Meet the Passionate Leaders Project Fall 2020 Cohort!
Abigail Anderson '21
Major: Biology
Project: "Anti-Bacterial Terpolymer Permanence and Concentration on Paramedic/EMT Uniforms and Porous Trauma Bags"
This project is going to look at utilizing a chemical anti-bacterial terpolymer to stop the spread of antibiotic-resistant bacteria. This synthesized chemical will be able to attach to surfaces it is applied to and protect it. This project will be specifically focusing on the terpolymer being applied to the uniforms and trauma bags of EMTs and paramedics. This group was chosen because, in times of emergency and our most critical moments, I hope to protect both patients and paramedics from the spread of antibiotic-resistant bacteria. The course of this project will begin with synthesizing the chemical in the lab, and then applying it to porous fabrics and followed by quantitative testing. I will be testing how long the terpolymer can stay on uniforms following laundry washes, as well as testing the concentration of the terpolymer after 24 hours. We hope with this project to determine the permanence of the terpolymer on uniforms of first responders after laundry washes and 24-hour shifts. With this project, we hope to come one step closer to ending the battle with antibiotic resistance.
What she's looking forward to: Seeing the results of my project, of course! I'm very curious to see how long the terpolymer can stay on, as well as at what concentrations. I'm also very excited to be involved in the global battle against antibiotic resistance. I'm hoping that this project will inspire others to explore this topic or conduct research projects of their own. This project is just the beginning!
---
Celine Breton '21
Majors: Biochemistry and physics
Project: "Toxicological Effects of Polyfluoroalkyl Substances (PFAS) on C. elegans"
Polyfluoroalkyl substances (PFAS) are man-made chemicals used in the production of many industrial items. Environmental exposure to PFAS is correlated with health complications ranging from cancer to infertility. However, the cellular mechanisms underlying these effects are still unclear. The aim of this research is to determine the toxic effects of PFAS on organismal development and reproduction using the roundworm C. elegans, a model organism often used for toxicology studies. Dr. Luth and I exposed C. elegans to a range of PFAS concentrations and found that PFAS exposure dose-dependently slowed population growth. This was, at least in part, due to lengthened developmental time as exposed worms took significantly longer to reach sexual maturity compared to control worm populations. In this project, we will be performing targeted experiments to determine what other aspects of development and reproduction may be affected and lay the groundwork for testing multigenerational effects of PFAS exposure. This research will provide insight into the harmful effects that chemicals like PFAS have on the human population and will support efforts to promote stricter regulation in chemical manufacturing.
What she's looking forward to: Publishing a paper on my research and educating more people about the harmful effects these types of substances have on the environment.
---
Emily Buttafuoco '21
Major: Chemistry
Project: "Synthesis and Characterization of Silver Modified Engelhard Titanosilicate ETS-10 Core-Shell-Structured Photocatalyst"
Every day, chemicals and other contaminants pollute the water in our ecosystem. The urgency to degrade these harmful pollutants is at a record high and continues to increase as each day passes. This project is focused on synthesizing a silver modified ETS-10 core-shell structured photocatalyst that can degrade pollutants in water. Modifying ETS-10 with silver allows the photocatalyst to be active under visible light, allowing the system to take advantage of solar energy. I will be conducting this research as my senior thesis under Professor Mariam Ismail in the Chemistry and Physics Department. This project is aimed to provide a reusable photocatalyst system that will be used to remove pollutants from contaminated water under visible light.
What she's looking forward to: Synthesizing the complete system and overcoming any obstacles on the way!
---
Samin Charepoo '22
Majors: Data science and neuroscience
Project: "Understanding How The Ruhi Institute Can Advance in The Boston Area"
In this project, I will interview and speak to individuals and participants from various Learning Sites of the Ruhi Institute. My goal is to learn the patterns of action, methods, attitudes, and approaches of those facilitating, raising human resources, and coordinating the program in each community. The Ruhi Institute is an educational program created in Colombia to help individuals in communities around the world think about how they are growing on the individual level, both materially and spiritually. The Learning Sites then put those learnings into action through community-building programs. The Learning Sites I will be "visiting" are Bogota, Columbia; Porte Alegre, Brazil; London, England; Haifa, Israel; and North Carolina, USA. I will bring back my learnings to the Northeast Region of the Institute, which has had some difficulties in establishing an intense program of growth to the level that these other sites have achieved. The Northeast Region has not yet seen a single neighborhood raise more than ten local program facilitators or establish more than five junior youth groups. Having someone who is working intensively with the program in the Boston Area visit these learning sites and bring back learnings will be of the utmost importance and assistance. My findings will be disseminated back in Boston through presentations, sharing in meetings, organizing reflection spaces where I share the learnings and make plans, and more.
What she's looking forward to: Learning from these advanced clusters around the world and bringing the learning to Boston to advance our process of growth.
---
Maggie Clancy '22
Majors: Environmental science and history
Project: "Methods to Mitigate Plastic Waste in Research Laboratories"
Plastic waste threatens nearly every aspect of our world as it interrupts ecosystem stability, natural processes, and human health. One huge contributor to overall plastic waste are research laboratories. The question then becomes, how can we work with labs to lessen annual plastic waste? This project will answer this question by standardizing methods to clean and reuse plastic dishes and equipment in research laboratories. I will be working with the Young Laboratory at Simmons University to conduct experiments necessary to develop these procedures. We will share these cleaning methods with various labs and publish the research to promote sustainable alternatives to immediate plastic disposal and decrease global plastic waste. Adopting this initiative will bring economic and environmental benefits to its practitioners. The project is a call to action as initiative of the individual has transformative power.
What she's looking forward to: Presenting my research and communicating with labs to help make the intent (reducing plastic waste) a reality!
---
Lea Haehnel '21
Major: Chemistry
Project: "Development of Clean Beauty and Cosmetic Chemistry Guides for Consumers and Chemists"
The goal of this project is to develop guides for consumers and chemists interested in gaining a better understanding of clean beauty and cosmetic science. Although clean beauty has no standardized definition, it is understood as the development of safer, more sustainable, and high-performing cosmetics. Key players in meeting the demands of clean beauty are consumers, cosmetic chemists, and green chemists. Although these groups are strongly interdependent, you may be surprised to find that communication between them is poor. That is why I will be constructing a clean beauty guide that brings together the perspectives of these groups to help bridge the information gap. I will also develop a technical guide for chemists doing research related to cosmetics science, which will help put data behind claims made by these stakeholders. I will be working with Professor Rich Gurney from the chemistry department at Simmons, who teaches a course related to this topic.
What she's looking forward to: Interacting with key players in the world of clean beauty and hearing their perspectives. I'm also excited about creating resources that can potentially be used by my professors to educate and better prepare future Simmons students interested in the topic.
---
Laura Iteka '21
Majors: International relations and economics
Project: "Centering Black Youth Experiences in Improving the Public School System"
This project, part of an internship with Maine Youth Action Network, centers on supporting BIPOC youth fighting for educational equity within Maine. It is often those that are marginalized that push for reform, innovation, and reimagining a future that is better for generations to come. One of the goals for this project is to provide these youth with the financial support and technical assistance to address the issues that prevent their schools from providing them with growth-inducing learning environments. The other goals are to create spaces for peer networking and collaboration through the first Black Student Caucus in the state and to celebrate the myriad contributions these students have made and continue to make in their respective communities. The aim is to hold youth as experts in the education system and capable agents in guiding and shaping their school environments to best serve their needs.
What she's looking forward to: I'm really excited to see how the caucus will come to fruition.
---
Kye Jasper '21
Majors: Graphic design and sociology
Project: "Utilizing Natural Dye Techniques in Arts Entrepreneurship through Small Business Design and Community Workshops"
This project aims to deepen understanding of classroom learning and explore new artistic practices through arts entrepreneurship. I will start my own small business featuring fashion accessories made from natural-dyed and hand-printed textiles. In addition to hand-crafting my products, I will learn about packaging, branding, and web design for a small business through practical application. I will also host a series of intimate workshops to teach natural dyeing and printmaking techniques. Through this project, I hope to highlight and share knowledge of traditional craft practices, inspire other students to explore artistic pursuits, and empower individuals to build positive relationships with the self through accessorizing.
What they're looking forward to: The opportunity to use my art to connect with my community. For my project, I will be leading a series of workshops to teach natural dyeing and printmaking techniques. I also look forward to connecting with other local makers as I establish myself in the Boston arts community.
---
Ariel Lin Mei '21
Major: Biology
Project: "Evaluation of Dab2 and Connexins as Novel Targets for Maintaining Placental Health in HHT"
Hereditary hemorrhagic telangiectasia (HHT) is a disorder characterized by malformed blood vessels. It results in anemia, nosebleeds, strokes, and other vascular abnormalities that impose a suboptimal quality of life. Data has been previously published about certain gene mutations that result in HHT, but their function remains unknown in the placenta. The aim of this project is to evaluate the Dab2 gene as well as connexin genes in HHT in placenta tissue. The placenta supplies the developing baby with nutrients and oxygen, so understanding the role of these genes in the placenta is crucial to maternal and fetal health. I will be working with Dr. Mary Wallingford and her lab at the Mother Infant Research Institute at Tufts Medical Center. We hope to provide sufficient data to pioneer more much-needed research on this disorder and to aid in the development of treatments that improve quality of life for people with HHT, specifically pregnant women.
What she's looking forward to: Learning new lab techniques under my mentor and presenting my project to the Biology Department at Simmons at the end of the Spring 2021 semester.
---
Sydney Oliver '21
Major: Biochemistry
Project: "Optimization of a Photocatalytic Hydrogen Production System Utilizing E coli Containing Hydrogenase Maturases"
The use of fossil fuels is inarguably the greatest contributor to climate change, as well as an incredibly unsustainable source of energy. Through this project, I will attempt to combat this growing issue by constructing a system that will produce hydrogen gas as a renewable fuel-source, powered by artificial photosynthesis using bacteria and a semiconductor. I will construct this system in two parts, one part in the biology lab genetically engineering E. coli cells to express genes from a bacteria cell with hydrogenase proteins, allowing them to convert hydrogen ions into hydrogen gas. The other part will take place in the chemistry lab synthesizing and characterizing a photocatalytic semimetal, and constructing the system in which the catalyst and E. coli cells can be combined to more efficiently produce hydrogen gas. This project will be presented as my senior thesis this coming December, with the guidance of Professor Ismail and Professor Saitow as my advisors.
What she's looking forward to: Presenting my work at my thesis seminar and other conferences.
---
Charles Repaci '21
Major: Data science & analytics
Project: Ethical Algorithms for Risk Assessment and Placement Stability in the Foster Care System
The goal of this project is to use a human-centered approach grounded in current social science theory and frameworks to add context to and further develop existing placement stability and risk assessment models that are used to aid overworked social workers in making, explaining, and standardizing their decisions. I am working with research datasets curated by the National Data Archive on Child Abuse and Neglect as well as caseworker narratives provided by the Wisconsin Department of Children and Families and SaintA (a private non-profit that provides foster care services in Wisconsin) to my mentors at Marquette University. I will also use open source placement stability and risk assessment models such as the CANS and the SDM models which have been adopted and modified in many states in the U.S. The objective of this project is to create an enhanced risk assessment model on which I will write a research paper with my mentors and present at the Undergraduate Symposium as well as submit to the ACM Conference on Computer-Supported Cooperative Work and Social Computing (CSCW).
What he's looking forward to: Working with more recent data than I had access to over the summer, and seeing if our previous conclusions hold up under current algorithms.