Student Story
Going Global: Gabby Freeman '20 Finds Empowerment Abroad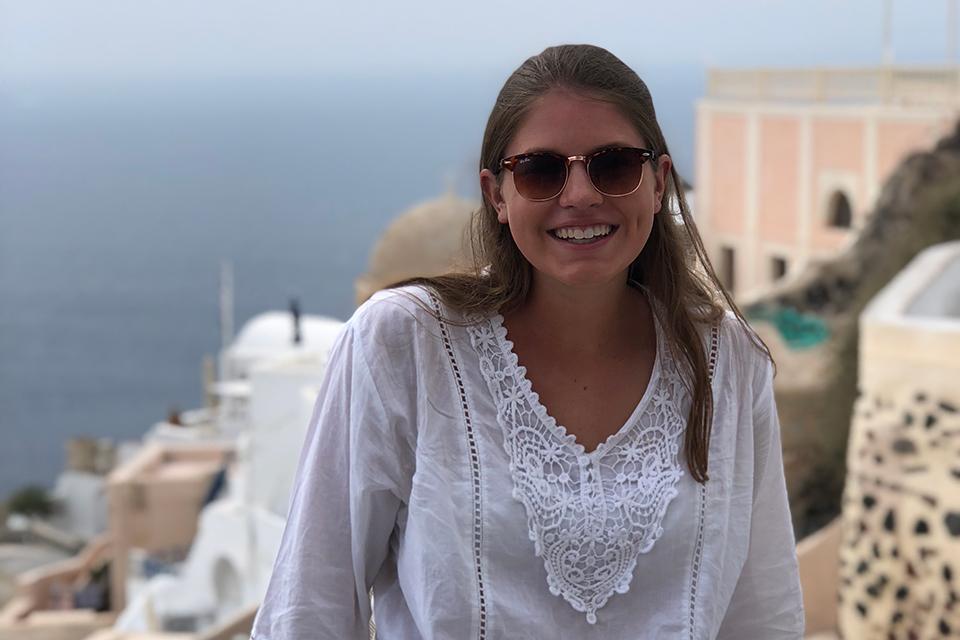 We caught up with Gabby about studying abroad, her internship experience and why she loves the honors program!

On coming to Simmons 
I knew that Simmons would allow me to connect with my professors and give me opportunities to grow my leadership skills. I loved the location of Simmons in Boston and felt at home when I visited campus. 
On pursuing finance 
I entered Simmons on a pre-law track but intended to major in finance in case I didn't want to attend law school. As I got deeper into my finance coursework, I fell in love with finance, specifically investments. 
The School of Business at Simmons has given me confidence in myself and in my skills. The emphasis on principled leadership within my finance program and within the School of Business itself encouraged me to stick with the program.
On the honors program
I joined the honors program to enhance my academic experience — and it has! Honors has pushed me to take classes outside of my business courses that are both interesting and challenging. My professors in the program have made me a stronger writer and pushed me to think critically about integral issues.
The honors program has been my home and community over the last three years — the people are one of a kind. Everyone is doing awesome things and they drive me to do my best. There's an immense amount of support from the coordinator, Valerie Geary, and Director, Diane Grossman. It's really nice to know that there's a group of people that will support you in all of your academic endeavors. I'm so thankful for the community of people that honors has put into my life.
On studying abroad 
I studied abroad in Granada, Spain for a summer after my first year at Simmons and I LOVED it! It was an immersion program so I lived with a host family and studied Spanish. At the beginning of the summer, my Spanish wasn't very good. In fact, I was the worst in my class and struggled to hold a conversation with my host mom. It was incredibly difficult because most people in Granada didn't speak English. But by the end of the program, I was much more confident when speaking Spanish and talking with my host mom. It was empowering. It was also really fun and interesting to learn and experience a different culture.
I'm also studying abroad next semester in Sydney, Australia through a program called CAPA. I'm so excited to study abroad and learn about the history and culture of Australia as well as the other cultures in the pacific. I'll primarily take business classes to earn a certificate in International Business, but I'll also take an Australian history class while I'm there.
On her internship experience
The summer before my junior year, I had the opportunity to work for Northwestern Mutual's Wealth Management Company in Milwaukee, Wisconsin. Prior to the internship, I'd never been to Milwaukee and had no connection with Northwestern Mutual. It turned out to be an incredible experience! I learned a lot about the stock markets and managing people's money. I had a wonderful manager and mentor who made sure that I felt like I was a member of the team. I learned so much from everyone that I was able to meet.
But it wasn't all work! Northwestern Mutual provided housing in a dorm with about 50 other Northwestern Mutual interns. We had a blast together hanging out after work, going to events and enjoying the surprisingly strong music scene in Milwaukee.
On her favorite Simmons memory
This year when the Red Sox were in the playoffs, my friends and I got $9 student tickets to see the second game of the American League Conference Championship. We got a text that they were selling $9 tickets and immediately ran up to Fenway without eating, without any Red Sox gear on and without jackets. It was pretty cold that night but it was worth it. That's a memory I'll never forget.