Faculty Spotlight
Meet Professor Diane Grossman: Director of the Honors Program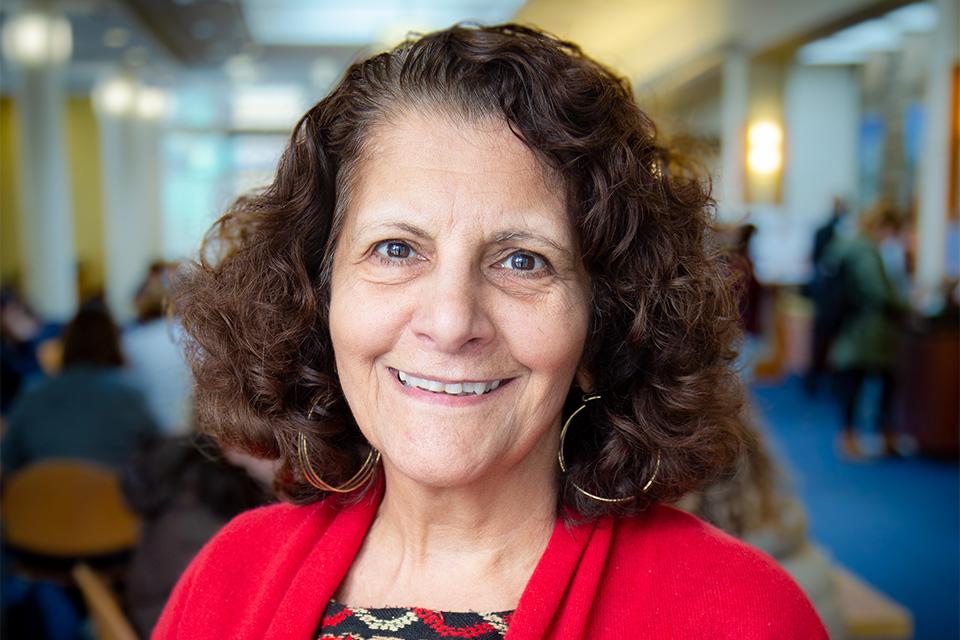 We spoke with Diane Grossman about her role and her passion for philosophy.

What is your academic background?
I went to Vassar College, and then went to New York University, where I completed a PhD. Interestingly, Vassar went co-ed during my junior year!
How did you know what you wanted to study?
I always loved philosophy, but I don't think I really had a name for it until I went to college. At college, I began as an English major, because I always loved to write and thought that I had a future as a writer. But I took my first philosophy course in my first semester, and absolutely fell in love.  
What are your academic areas of expertise?
I have a joint appointment in philosophy and women's and gender studies. I specialize in feminist theory, continental philosophy, and ethics. I will be teaching an upper-level cross-listed course in the fall, "Feminist Theories." I have also taught "Biomedical Ethics," "Introduction to LGBT Studies," "Modern Philosophy," and "Existentialism." Lately I've been pretty involved in the general education PLAN program, and I teach a Leadership course and an Honors Learning Community. 
What makes you excited about those areas?
Philosophy is a discipline that teaches one to ask the really tough, foundational questions. If I believe that something is true, why exactly do I believe that? If I hold a certain moral position, how do I justify that belief? Philosophy forces us to examine our own presuppositions, to challenge ourselves, and, ideally, to come out of the process with better arguments.
But I also love the ways that we can take philosophical theory and apply it to the "real world." To me, philosophy has no value if it is purely esoteric and abstract. I love teaching Biomedical Ethics, for example, because I can take basic ethical theories like utilitarianism or Kantianism, and I can ask, "What should I do when I'm not sure that a patient can handle the truth about their condition?" Or: "How should I allocate resources when those resources are scarce, and not everyone can get what they need?" To me, philosophy—unlike the stereotype—is highly practical!
I also love seeing students excited—in the ways that I am—about philosophy. When students are able to see alternative visions of the world, when students begin to think critically about their own beliefs, when students start to integrate theory and practice—these can be life-changing moments.
In addition to teaching, what are your other roles at Simmons?
I am Director of the Honors Program, a new position which I love. I also am the President-Elect of the Faculty Senate, which is the University's faculty governance body. And, I chair the Philosophy Department.  
What have you noticed about Simmons students?
Simmons students are inquisitive and motivated. Simmons students value their education, and they are hard workers. Over the generations, it seems that what Simmons students share is their commitment to meaningful work, and to connecting theory and practice.  
What would you tell a student considering the Honors Program at Simmons?
Students considering the Honors Program should know that they will be challenged. They will be taught by some of our best and most dynamic faculty, and they will have opportunities—like study abroad, research, and internships—that are potentially transformative. They will also be part of a supportive community of faculty and students, all of whom are passionate about their education and committed to excellence.  
If we visited your office, what would we see?
Well, mostly books. They're everywhere—I love the sense of being surrounded by centuries of thinking. In addition, an incredibly messy desk—I always seem to be in the middle of some project. Occasionally, half a banana. I'm almost never without a cup of tea.  
What is your favorite movie?
I have to confess that my taste in movies is probably a little strange, and a little dependent on mood and context. I love the movie Aliens. Casablanca if I feel like a good cry. Unforgiven because it's a morality play disguised as a western. And for foreign films, My Beautiful Laundrette and Kurosawa's Seven Samurai.
What is your favorite local lunch?
Most days, my desk! But on a nice day, I like to take a walk and sample from the food vendors who line the Longwood. And, for a special treat, lunch at the Gardner Museum.