Finance
You'll study and discuss contemporary financial news and debates — while keeping a close eye on the ever changing stock market.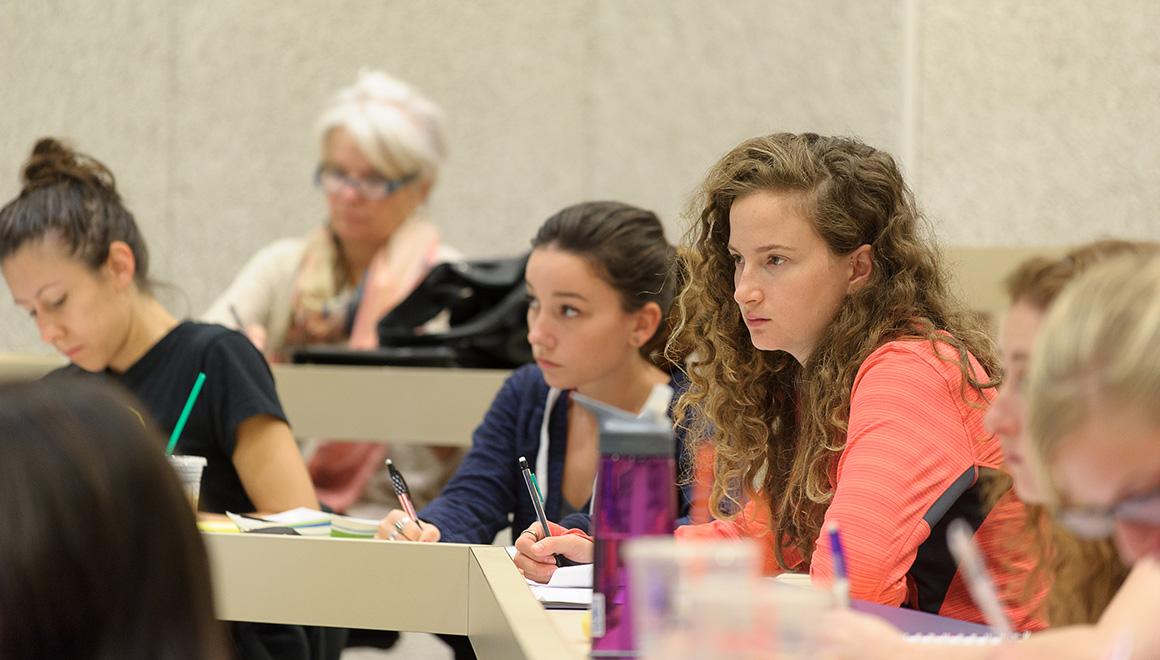 What keeps a company in business?
Our students are problem solvers, examining and forecasting financial statements, budgets and investments. You'll combine mathematics, psychology, accounting and economics and confidently present high-level financial evaluations in research papers and class presentations. We'll help you master the analytical framework behind organizational financial decision-making so you can predict future behavior and make informed choices.
One of the most active financial cities in the country, Boston offers a myriad of internships and career opportunities. Finance is a versatile major that can be applied to any industry. Our students find success at organizations like Boston Private Bank and Trust, Brown Brothers Harriman, Liberty Mutual Insurance and EMC Corporation.
You'll work with your advisor to tailor a program to your interests and career goals. Simmons offers many options for customizing your studies, including dual majors, accelerated programs and a wide variety of complementary minors.
Finance complements study in various other disciplines, including Marketing, Business and Management, Psychology and Economics.
A Minor in Finance is also available and provides students with a solid background in financial analysis. The minor requires MGMT 110, MGMT 260 and three electives from the required Finance courses. It complements study is several disciplines including Business and Management, Marketing, Economics, Financial Math, Data Analytics and the social sciences.
Internships are a key component of the finance program. Our students work in finance organizations in the greater Boston area and beyond, including recent internships at Merrill Lynch, Hill Holiday, Boston Children's Hospital, and Infinity Pharmaceuticals. 
Internships encourage students to sharpen their skills, refine their career interests, build their resumes, and develop important relationships.
Beta Gamma Sigma and Alpha Delta Sigma
Beta Gamma Sigma (BGS) is the premier honor society for students enrolled in business and management programs accredited by AACSB (The Association to Advance Collegiate Schools of Business). An undergraduate student becomes eligible for membership in the second semester of her junior year. The top 10% of each undergraduate class, ranked by GPA, are invited to join. The Society's mission defines this lifelong commitment to its members' academic and professional success: to encourage and honor academic achievement in the study of business, to foster personal and professional excellence, to advance the values of the Society, and to serve its lifelong members.
Alpha Delta Sigma (ADS) is a national honor society sponsored by the American Advertising Federation. It recognizes and encourages scholastic achievement in advertising and marketing studies. The requirements are that the student must be current in dues membership, be a senior or rising senior, have taken at least two advertising or marketing courses, and have a minimum undergraduate GPA of 3.25.
Alpha Mu Alpha
Since its inception in 1937, the American Marketing Association has remained committed to the advancement of excellence in the field of marketing. It was this commitment, which fostered the establishment of the national marketing honor society, Alpha Mu Alpha during the spring of 1981.
So you know that Simmons is a great place to be, you've learned about our programs, maybe even come for a visit...now you're ready to apply! Let's get started.