Announcement
African-American Alumnae/i Association Announces 2021 - 2024 Executive Board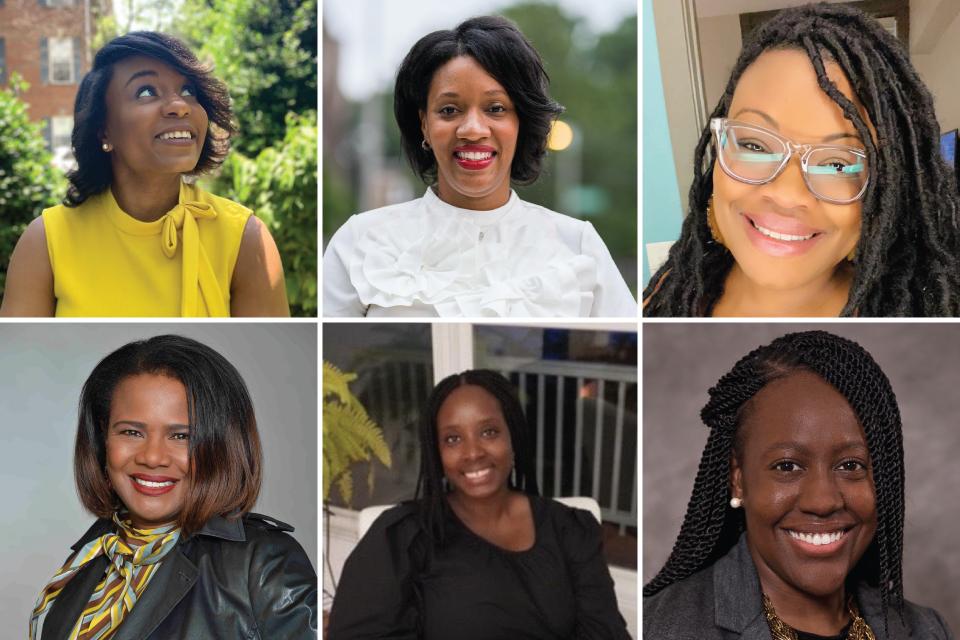 The Simmons African-American Alumnae/i Association (AAAA) has announced the members of the Executive Board.
Learn more about each of these phenomenal executive board members.
Kenyora Lenair Parham '10
President 2021 - 2024
Kenyora Lenair Parham, MSW is the Executive Director of End Rape On Campus (EROC), which aims to end campus sexual violence by providing direct support services to students and their communities, prevention through education, and policy reform on the campus, local, state, and federal leves. A champion of resilience and empowerment, Kenyora believes in "walking in your own truth with the courage to love yourself first, then others." With an analytical and creative solutions mindset, Kenyora has served over the past decade working with youth and families, college students and administrators, community and government leaders, including the late Mayor Thomas M. Menino of Boston, MA and Congresswoman Ayanna Pressley in her former capacity as the Boston City Councilwoman.
Prior to joining EROC, she has worked for several non-profit organizations and higher-education institutions including Brandeis University, Strong Women, Strong Girls, and Simmons University. Kenyora currently serves on several boards including serving as President of the African-American Alumnae/i Association of Simmons University and an Advisory Board member of The Every Voice Coalition. Formerly, Kenyora served on the Alumni Association Board at Boston University's School of Social Work. She is also a co-founder of Students Rise International. She is also the Founder of C-Suite in Living Color, a community space and consulting firm for current and aspiring C-suite executives of color.
Kenyora also holds a Certificate in Community Leadership and Social Change from the Jonathan M. Tisch College of Civic Life at Tufts University through the Institute for Nonprofit Practice, which she serves as a Founder of their CFP Ambassador program. In 2016, Kenyora was recognized as a finalist for the EXTRAordinary Women campaign led by the Mayor's Office of Women's Advancement in Boston, MA. She is also a proud alumna of Girls Inc. of Lynn, MA, and a member of Delta Sigma Theta Sorority, Incorporated. She resides in the DMV area with her husband Franklin and their two cats, King and Leo.
Richelle Smith '21MSW
Vice President 2021 - 2024
Richelle Smith brings more than 15 years of experience in the field of Organizational  Leadership.  A natural leader, with experience in education, human and social services, Richelle prides herself in serving marginalized populations through a merit of initiatives including facilitating strength based workshops. As a recent Master of Social Work Simmons University graduate with certification in Urban Leadership, Richelle also served as a Dean's Fellow to the Dean of Community Engagement and Social Justice and led student focused discussions on antiracist practices within the school setting.  Richelle was recently appointed the Vice President of the African American Alumni Association executive board of Simmons University and is a two year Board of Directors Member for a nonprofit serving homeless women and women in recovery.  
In 2020, during the height of the pandemic Richelle collected and donated over four-thousand articles of clothing to a city run homeless shelter in Boston. In 2018 Richelle received a Boston Public Health Commission public hero acknowledgement for her work in the community. In addition to serving her community, Richelle enjoys donating her time to the Goodwill Industries workforce development program helping and encouraging adults reentering the workforce and spending quality time with her family.
Keeva Haynes '02 
Director of Development 2019 - 2022
Keeva L. Haynes received her bachelor's degree with a double-major in African-American studies and economics from Simmons in 2002. While at Simmons, Keeva held the following leadership roles: Treasurer of the Black Student Association, Caribbean Student Association, Ibada Imani Gospel Choir and Student Government Association as well as Director of the Student Finance Board.
As a member of the Iota Chapter of Delta Sigma Theta Sorority, Inc., Keeva served as the 1st Vice President, collaborating with other Simmons student groups and area college organizations, hosting programming and community service projects throughout the city of Boston.
Keeva has worked at PwC for 15 years, currently as a Senior Manager within the Partner Affairs Performance Management and Profit Allocation team.  She has received extensive training in Alteryx, Tableau, Power BI and UiPath, focusing on innovative data analytics and process automation. Keeva is a proud dance mom and lives in Powder Springs, GA.
Kim Thipe '05, P'17 
Director of Communications 2021 - 2023
Kim Thipe serves as Non-Executive Director and Chairwoman of the Social and Ethics Committee at African Media Entertainment (AME), a broadcast entertainment media group in Johannesburg, South Africa.  She is an impact communicator for change and Director of Masimanyane Women's Rights International, an NGO that aims to advance women's rights and gender equality in society. She is also a Media & Marketing Strategist for the Centre for Analytics and Behavioural Change (CABC), an NPO and cutting-edge digital think tank devoted to tracking and countering online mis/disinformation that threaten social cohesion and sustainability. She is currently the Vice Chairwoman of the Marketing Association of South Africa (MASA).
 
Kim started her career in the entertainment industry and has continued in the marketing & media profession across a range of industry disciplines where she has held various marketing leadership positions including former Chief Marketing Officer (CMO) of South African Airways (SAA). In 2016, she was named an Honoree of the Marketing Hall of Femme, an annual International Women in Marketing Award. She currently serves on the Alumni Board of the Graduate School of Business at the University of Cape Town. She is currently the Director of Communications for the African American Alumni Association (AAAA) at Simmons University. She also holds a BA in economics from Simmons University and EMBA from the Graduate School of Business at the University of Cape Town.
Cynthia Kangeyo '15 
Director of Nominations 2021 - 2023
Cynthia Kangeyo works as a Policy Analyst in the Office of Refugee Resettlement at the Department of Health and Human Services in Washington DC. Cynthia was born in Rwanda and was raised in Brazil and the United States. Cynthia's passion for helping immigrant communities comes from her own personal and family experience. 
She currently serves as the Director of Nominations for the African American Alumni Association. She holds a BA in international relations and political science from Simmons University and a MA in Global Affairs from George Mason University. Cynthia graduated from Simmons University in 2015 and has been residing in Virginia since.
Kayla Canty '18
Director of Graduate Alumni 2021 - 2023
Kayla R. Canty BSN, RN is a native of Columbia, SC and an alumni of the then Simmons College graduating in August, 2018 with a Bachelor of Science in nursing. As a nursing student Kayla was a Dorothea Lynde Dix Scholar, Dotson Scholar, and was a recipient of the President's Recognition Award presented by former University President Helen G. Drinan in 2018 while at Simmons.
During her time in Boston, Kayla worked at Harvard Medical School in the Office of Diversity and Inclusion and Community Partnership and helped support the New England Science Symposium as a nursing student. Kayla also worked as a patient care assistant at Brigham and Women's Faulkner Hospital and served as a volunteer at Boston Children's Hospital while completing her degree.
After graduation, Kayla relocated back south to begin her career as a new graduate nurse when she began working at Duke Regional Hospital and Duke University Hospital in Durham, NC, where she completed her nurse residency. 
Prior to her journey to becoming a nurse, Kayla graduated from the College of Charleston in Charleston, SC where she obtained a Bachelor of Science degree in Psychology in May, 2010, and holds an Associate degree in Arts and an Associate degree in Science from Midlands Technical College in West Columbia, SC in 2012.
Kayla is currently a traveling Registered Nurse and Director of Graduate Alumni for the African American Alumni Association (AAAA) at Simmons University. Kayla is also a graduate student pursuing her Master of Science and Doctorate in Nursing at Duke University in hopes of becoming a Pediatric Nurse Practitioner. In her spare time she enjoys traveling, attending live music performances, trying new foods and experiencing different cultures.