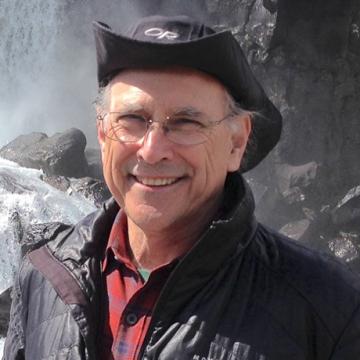 Education
Michael Berger studied chemistry at Cornell (BA) and Harvard Universities (PhD), and at Brandeis University where he conducted photochemical research as a postdoctoral fellow. Joining the corporate world, first at Itek Corporation, then at Polaroid Corporation, he was awarded seven patents on photography, photochemistry, and polymeric coatings. Later as a consultant to an environmental engineering firm, he authored twenty-eight Environmental regulatory reports that involved field work, environmental risk assessments, and a working knowledge of Massachusetts and EPA environmental regulations. He has authored twenty-two peer-reviewed articles in the fields of environmental chemistry, photochemistry, kinetics, and post-secondary pedagogy.
Area of Expertise
Presently, Michael Berger is Professor of Chemistry at Simmons University, Boston, MA, engaging students in sustainability and the environment while teaching analytical chemistry, quantum chemistry, environmental science, climate change, and sustainability. Nominated for U.S. Professor of the Year (April 2015) by Simmons College, Michael was recognized as an outstanding undergraduate instructor and positively influencing the lives and careers of students. He has integrated research into several teaching laboratories, providing opportunities for mentoring and student engagement in authentic environmental problems. His current research focuses on analysis of contamination in air, water, sediment and plant samples using x-ray fluorescence, gas chromatography, high performance liquid chromatography, mass spectrometry, spectroscopy, and electrochemical analysis.
What I Teach
Advanced Analytical Chemistry (CHEM 341)
Quantum Mechanics (PHYS/CHEM 332)
Lessons from Iceland: Sustainability and Cultural Ecology (Maymester travel abroad)
Sustainability and Climate Change (CHEM 327 and HON 308)
Community Engagement
Brookline Town Meeting Member
Founder and Advisor to the Brookline GreenSpace Alliance
Research/Special Projects
Analysis of the Muddy River
Analysis of contaminants in cosmetics, food, soil, sediment, river water and air.
Publications/Presentations
Co-editor for "Environmental Research Literacy: Classroom, Laboratory, and Beyond; Welch, L., Berger, M., Roberts-Kirchoff, E., Benvenuto, M., Eds.; ACS Symposium Series Vol. 1351; American Chemical Society, 2020. DOI: 10.1021/bk-02020-1351

"Analysis of Contaminants in Muddy River Sediment using XRF and Gas Chromatography / Mass Spectrometry – An Undergraduate Teaching Laboratory and Research Investigation" M. Berger, Environmental Research Literacy: Classroom, Laboratory, and Beyond; Welch, L., Berger, M., Roberts-Kirchoff, E., Benvenuto, M., Eds.; ACS Symposium Series Vol. 1351; American Chemical Society, 2020. DOI: 10.1021/bk-02020-1351

"Using Local Water Resources for Environmental Education and Research" M. Berger Environmental Research Literacy: Classroom, Laboratory, and Beyond; Welch, L., Berger, M., Roberts-Kirchoff, E., Benvenuto, M., Eds.; ACS Symposium Series Vol. 1351; American Chemical Society, 2020. DOI: 10.1021/bk-02020-1351
Professional Affiliations & Memberships
American Chemical Society