Alumnae/i Feature
Jessica Wei '22 on Creating a Path in Environmental Science and Sustainability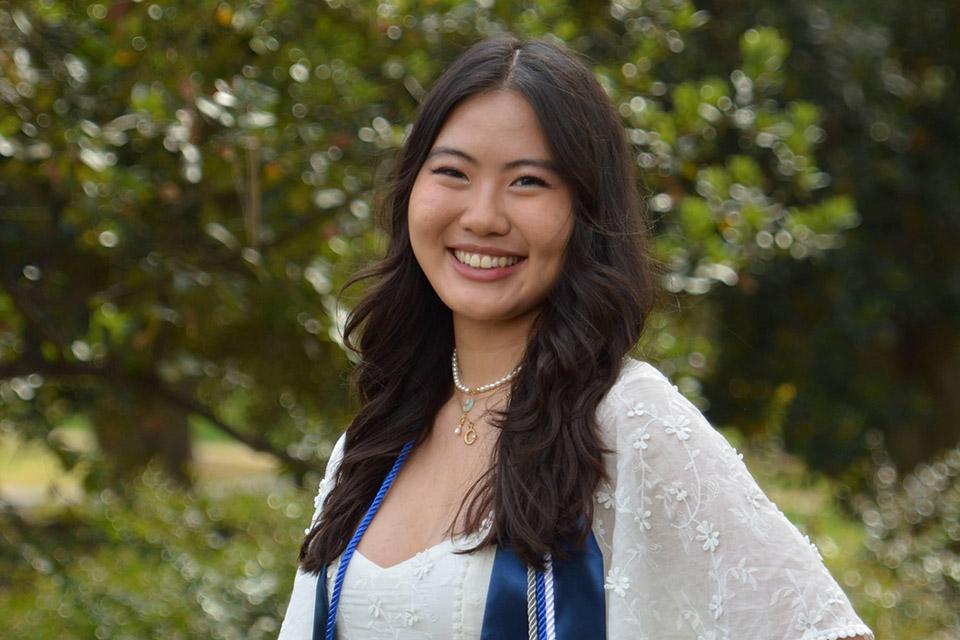 Jessica Wei, a 2022 graduate of Simmons University, has formed a path into the field of environmental science and sustainability. With a major in Environmental Science, specializing in the chemistry track, and minors in Sustainability and Economics, Jessica's journey has been characterized by research, and a deep commitment to making a positive impact on the environment.
During her time at Simmons, Jessica had the opportunity to engage in numerous research projects, with the encouragement and support of her professors. In her sophomore year, before the pandemic, she had the opportunity of conducting research in both Dr. Berger's and Dr. Luth's labs. During Jessica's senior year, she was able to work with the Muddy Water Initiative through her capstone project with Dr. Berger. In her collaboration with Dr. Berger and the Muddy Water Initiative, Jessica focused on analyzing various sorbents to reduce phosphorus and nitrogen levels in the river. Her research aimed to find effective strategies to minimize the harmful impact of these contaminants on the river's ecosystem. Jessica's dedication to addressing environmental challenges were evident in her thesis titled "Evaluation of Potential Phosphorus and Nitrogen Sorbents for Muddy River Remediation."
Remembering her time at Simmons, Jessica recalls one of her favorite classes: Cultural Ecology and Sustainability. This course offered her the opportunity to explore the complex relations between human societies and the natural environment. Through this course, Jessica was able to travel to Iceland at the end of her semester for a 2-week study abroad program. Through this experience, she was able to study a rich and diverse ecosystem.
Jessica's educational experience also included a course in environmental economics at Simmons. The course sparked her interest in the policy and regulation aspect of her major, leading her to pursue job prospects that matched her emerging passion. Her post-graduate goals centered on the connection of science, sustainability, and policy.
Jessica has recently just accepted a position at the South Coast Air Quality Management District (AQMD) with the goal of making a real difference in the realm of environmental protection. She will be working as as an Assistant Air Quality Specialist for their Planning, Rule Development, and Implementation division. In her new role, Jessica will be working alongside experts in the field to create strategies and regulations aimed at improving air quality in Los Angeles, Orange, Riverside, and San Bernardino counties. South Coast AQMD is responsible for controlling emissions, mainly from stationary sources of air pollution, and developing rules and a plan to reduce emissions. Jessica will be assisting on one of their ongoing projects for rule development and emission regulation.