President Lynn Perry Wooten
Dr. Lynn Perry Wooten is the ninth president of Simmons University.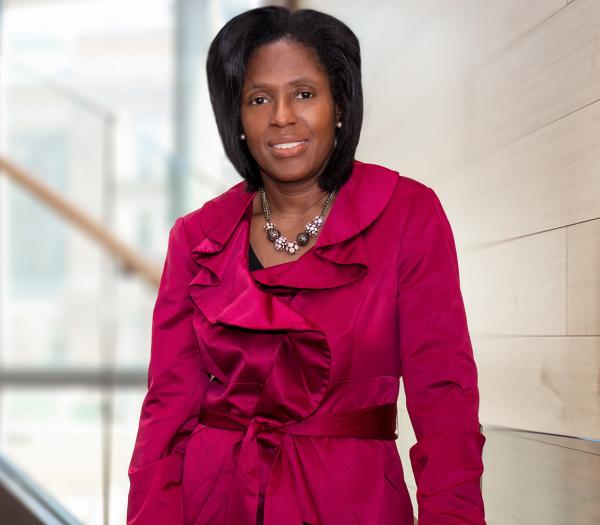 A Welcome from President Lynn Perry Wooten
I am deeply honored to become the ninth president of Simmons University, an institution with a special history and an institution making history in this moment of my arrival.
As I begin my tenure at Simmons, I want to acknowledge all those who came before me, particularly President Helen Drinan, whose extraordinary contributions have made Simmons the strong and dynamic university it is today.
Higher education — especially a Simmons education — has never been more important.
The magic of Simmons is our legacy of empowering women-centered leaders and social justice champions as we focus on the intersection of liberal arts and professional preparation.
I join the Simmons community at a time of transformation for our country, for higher education, and for Simmons itself. From my early conversations with students, faculty, staff and alumnae/i, it is clear that the Simmons community stands ready to confront the twin realities of the day, a global pandemic and a reckoning of social justice.
Higher education has always played a role in addressing current challenges. Our community has shown its ability to grapple with complex issues through co-curricular learning and teaching, problem solving, and research. It will take all of that — plus our compassion, creativity, and commitment — to move us forward.
We will focus on core priorities that define the Simmons experience: the university's well-known academic and scholarly excellence, the quality of our teaching, and our students' success.
Our goal for our students during their four years here is to develop a purposeful plan for their life's work. I envision all of us following our students in this way — developing a purposeful plan that will highlight our leadership expertise, our efforts to become more inclusive, and our ability to innovate so we thrive in this new landscape.
We also prepare our students to be agents of change — a subject near and dear to my heart — as it matches my own approach to life and forms the basis for much of my research and academic pursuits. Our ability to change — and lead change — will enable us to evolve into the Simmons we must be for this moment, and for the future. In other words, what we are now and what we are becoming.
I look forward to working with all members of our Simmons community: from our Board of Trustees, to our Deans and faculty, to our students and student leaders, to our administration and staff, to our alumnae/i and friends. I feel a deep sense of gratitude to be part of this extraordinary community. Together, we will strive, contribute, and flourish and create the next chapter in Simmons history.
I look forward to living, learning, and leading with all of you!
Dr. Lynn Perry Wooten
President of Simmons University