LaDonna Christian
Associate Professor of Practice and Director of the Dotson Bridge and Mentoring Program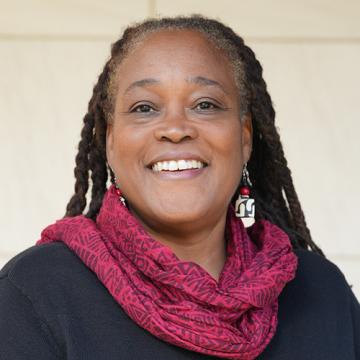 About Me
LaDonna L. Christian, PhD, MSN, APHN-BC, joined the department of nursing at Simmons University eight years ago as faculty in the Dotson Bridge and Mentoring Program and a year later she was named the program Director. She recently completed her doctorate degree in Health Professions Education at Simmons University. She received her undergraduate degree from the University Of Michigan School Of Nursing and her Masters Degree from the University of Massachusetts Dartmouth in Community Health Nursing. She also completed her Advance Practice Certification in Community Health Nursing and a Certificate of Advance Graduate Studies (CAGS) in Health Professions Education. Her background and clinical expertise is in Public Health Nursing and Environmental Health with a focus on policy and the underserved and minority population. In 2007, LaDonna traveled to Honduras on a one-week medical missions trip to work with the Sisters of Notre Dame to meet the medical needs of the families in Guaimaca. LaDonna also spent 17 years in public health working with HIV, STI, and TB patients. LaDonna began teaching at Brockton Hospital School of Nursing, but has also taught at South Shore Regional Technical High School, and Coppin State University School of Nursing in Baltimore MD. In her present position she works with underrepresented and underprivileged multicultural nursing students, where she has assisted over 130 scholars to reach their goal of becoming a bachelors prepared registered nurse and leaders in their communities. LaDonna is a member of Sigma Theta Tau International and is the Vice President of Theta at Large Chapter at Simmons University. She also belongs to The Mary Mahoney Nursing Honor Society, American Nurses Association, the Massachusetts Nurses Association, Chi Eta Phi Black Nurses Association, The National Black Nurses Association and the New England Regional Black Nurses Association. At Simmons, LaDonna serves as the faculty advisor to the ALANA nursing Liaison, co-facilitator of the Seeking Education Equity and Diversity (SEED) program for faculty, staff, and students, a co-facilitator of the Diversity and Inclusion committee in the School of Nursing, and a member of the college wide Diversity and Inclusion Action Committee.
Download Ladonna L. Christian's CV.
What I Teach
Courses: Medication Calculations and Administration Competency
Dotson Bridge and Mentoring Program Director: Provide various academic resources to all nursing students.
Previously taught courses in Fundamentals, Health Assessment, Medication competency, Med Surg I, Pediatrics. 
Research/Creative Activities
Test Taking Anxiety among Baccalaureate Nursing Students