Alumnae/i Feature
Kayla Canty '18 Shares her Passion for Pediatric Nursing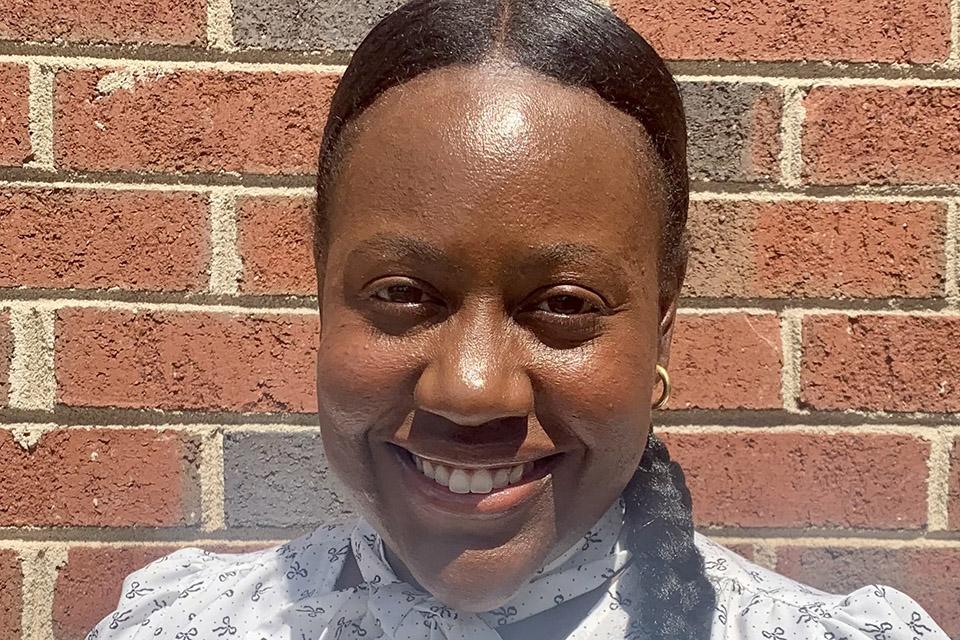 As a young woman born and raised in the South, Kayla Canty took a "leap of faith" to move to Boston to study nursing. For her, Simmons was a transformative experience, and she remains involved by serving on the African American Alumnae/i Association Executive Board. Canty spoke to us about her career, her love for children, and why she chose Simmons.
Tell us about your current career.
I relocated to Charlotte, North Carolina at the end of 2022. After working as a traveling nurse for a year and a half, I have now pivoted away from the bedside, but I am still working in pediatrics. I just took a position at Atrium Health Levine Children's Hospital as a Clinical Case and Utilization Manager. In this role, I review charts and act as a sort of a bridge between social workers and nurses. I use my pediatric clinical skills when I review charts and decide if children need more resources (e.g., crutches, a wheelchair, physical therapy, etc.) upon discharge. Basically, I am a patient liaison searching for necessary resources.
I am also a full-time graduate student at the Duke University School of Nursing in Durham, NC where I am pursuing a Master of Science in Pediatric Nurse Practitioner – Primary Care.
Describe your role on the Executive Board of the Simmons African American Alumnae/i Association.
I joined the Board in 2021 as a graduate liaison. I am serving as the Director of Graduate Alumnae/i through 2023. My role is to facilitate and reach out to [graduate school] alumnae/i in different areas and disciplines and form more robust networks and connections.
I felt that during my time in Boston, and especially coming from the South, it was a really big leap of faith and culture shock to move to a big city. Even though nursing was very demanding at Simmons, I desired more community and I wanted to become more involved. Now I am back in the South, but there are Simmons alums everywhere! I want to have events for us and help connect alums regionally or within the same city.
The element of sisterhood within this organization has been very rewarding, especially since Simmons is a predominantly women's college. The bonds that I formed at nursing school became my lifelong friends, and my mentors and professors were wonderful. It was uplifting to see and reconnect with all of these inspirational people. Even on the Alumnae/i Board, these women are doing remarkable things, and I like to surround myself with likeminded individuals and learn from them.
Tell us about your clinical experience in Boston.
I did clinicals at the Tufts Floating Hospital, which no longer exists. [During the 1800s, Tufts had the only children's hospital in the Boston area; it located on a ship, hence the name "floating hospital."] My preceptor at that hospital is one of the reasons why I became a pediatric nurse.
I had a great experience at every facility where I did clinicals, such as Mass General. I also worked at Brigham and Women's Faulkner Hospital as a nursing assistant within an orthopedic unit. During my first year at Simmons, I also did work-study at Harvard Medical School, as a collaborator and helping organize the annual New England Science symposium.
Why did you decide to major in Nursing?
I knew a long time ago that I wanted to work in healthcare. My journey is unconventional, as I applied to many Physician Assistant programs and was rejected by every school to which I had applied. I am a faith-based person, so I prayed for a sense of direction. I believe that God showed me the way, and that was nursing. I am thankful that my prayers were answered and I was redirected to my true purpose. Nurses are lovers of humanity, and I wanted to help people. I find this career to be very fulfilling, and I believe that I make a difference.
I specialize in pediatrics because I love babies and the little ones. I became more interested in this age group while attending Simmons lectures on pediatrics and maternity. Our professor told us that we would know our specialty once we find ourselves becoming more captivated in class, and that is what happened to me when I learned about pediatrics. I paid attention more, and did additional research outside of class. And then when I was in clinicals at Tufts with my preceptor, being around all the infants and toddlers was an "aha moment," and it clicked. I knew this is where I wanted to be.
People always say that children are little adults. But this is not true; children are their own separate entities. They have unique developmental milestones, and they change so fast. It is the most evolving portion of the lifespan — from an infant to a toddler, so much happens in those first two years of life. Children are also so cute and sweet, and they really need you because they can't care for themselves. I wanted to be their nurse.
Why did you choose Simmons?
I had received emails from Simmons about their programs. Initially I ignored them, because I did not see myself living in Boston. However, something told me to look into Simmons nursing and I discovered that it was a perfect fit for me at that time. The Simmons School of Nursing provided all the things I was looking for in a nursing program. The application process was easy and there was someone available to answer any questions I had. Eventually, I went to Boston and learned more about Simmons. It also piqued my interest that Simmons offers accelerated degree programs. I quickly realized it was an excellent program, so I applied. When I got accepted on the first try, I was overjoyed — I could not believe that I had been accepted into one of the best nursing programs in the northeast!
At Simmons, I was also a Dix Scholar, meaning that I have a prior bachelor's degree in an unrelated field. Because I was a more mature, adult student when I came to Simmons, I liked the fact that being a Dix Scholar fit someone with my needs. It was incredibly fast-paced and we hit the ground running. Through the accelerated program for adult learners, I got my degree in two years, including clinicals. It was hard, but it was one of the best decisions I ever made.
I was also involved in the Dotson Bridge and Mentoring Program, which provides crucial support to students of color in the nursing program.
At Simmons, I had some remarkable professors and mentors. Associate Professor of Practice LaDonna Christian and Professor and Dotson Mentor Gloria Harris Cater were pivotal to my growth and development, and I love them both tremendously.
In the northeast, Simmons' name carries very far, and location-wise, I got so many amazing clinical opportunities. When I tell people from elsewhere that I did clinical rotations at Boston hospitals, they are immediately wowed and impressed! Taking this leap of faith and moving far away from home was one of the best things that I have ever done, and the pearls of wisdom that Simmons imparted is what I take with me today.