Judith Aronson
Professor Emerita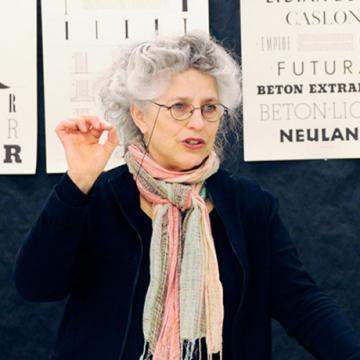 About Me
Judith Aronson has been teaching graphic design at Simmons for seventeen years and has been a practicing designer and photographer for more than thirty years. Prior to Simmons she taught at the Massachusetts College of Art and Design and the New England School of Art and Design at Suffolk University. Earlier in her career she was a program analyst in the Civil Rights Division of the Justice Department in Washington, DC, served as a VISTA Volunteer in East Harlem, and worked as a city planner for the New York City Environmental Protection Administration. For fifteen years she lived overseas: three years in South East Asia and twelve in England where she was a photojournalist. Aronson holds a BA in American Studies from the University of Michigan and a MA in City Planning and a MA in Fine Art/Graphic Design, from Yale University.
Her special interests are typography, environmental design, and photojournalism. In 2003 she received a grant from the Colleges of the Fenway to teach the course Wayfinding: Design, Information Architecture and Public Spaces. Wayfinding is a specialty that applies design principles to information systems that help people move through complex urbanscapes — hospitals, airports, college campuses and the like. In 2006 Aronson had a one person retrospective in Boston of her color photographs, TACTILE |MERCANTILE, with pictures ranging from the young Mick Jagger, to the slums Harlem and the exotic scenery in South East Asia. In 2010 she published LIKENESSES, with the Sitters Writing About One Another, a book of black and white portraits of writers and artists. The book led to a number of exhibitions both in the US and England including at the Picture Gallery, Christ Church, Oxford, The Poetry Society, London and the Royal West of England Academy in Bristol. A poetry competition sponsored by Bristol University in conjunction with the last show produced thirty poems each responding to one of her photographs. In 2015 the exhibition will move to the Cambridge University Library in England for twelve months.
Aronson's photographs are held in collections at The National Portrait Gallery, London; Christ College, Cambridge; Keble College and Christ Church, Oxford University; Brotherton Library, Leeds University; and the National Portrait Gallery (Smithsonian Institute), Washington, DC. Her work has been published in The Sunday Telegraph, England, the New York Review of Books, The Threepenny Review, Ms. Magazine, and the Boston Globe.
What I Teach
Graphic Design 
Typography
Type and Image
Advanced Design
Publications
In January 2015 a selection of about 60 photographs from Likenesses were exhibited at the University Library, Cambridge, England. I have recently completed a series of photographs of the Master of Christ's College Cambridge for the college. I was also commissioned to take another series of photographs of the Fellows of Christ's whom I photographed in 1980. My other current work includes research on a manual or short book for teachers of typography who would like to bring this subject, as well as the specific processes we use to teach design, into the K-12 classroom.