Campus & Community
Simmons University Awards First Ifill Scholarships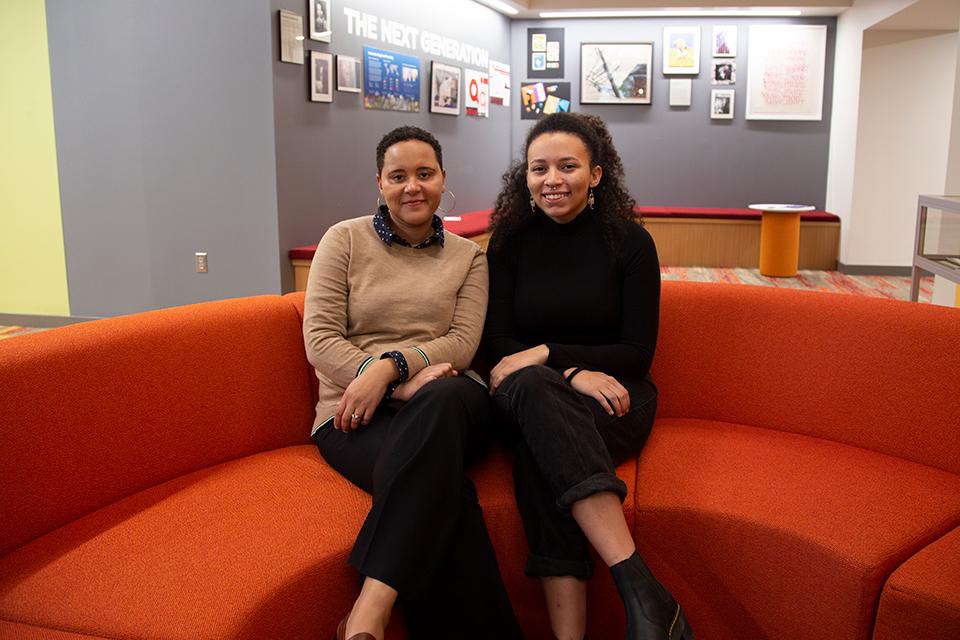 In remembrance and honor of Gwen Ifill's legacy of excellence, Simmons is proud to announce the inaugural recipients of the Ifill Scholarships.
Simmons University is proud to announce Priscilla Wiltshire-Bland '20 and Alexandra Bohanan '19 as the inaugural recipients of the Ifill Scholarships, named in celebration of pioneering African-American journalist and distinguished Simmons alumna, Gwen Ifill '77, '93HD. In remembrance and honor of Ifill's legacy of excellence, these scholarships were conferred on the second anniversary of her passing.
Ifill Scholarships are awarded to students in The Gwen Ifill College of Media, Arts, and Humanities who displayed academic excellence and vast potential inside the classroom and beyond. 
"The Ifill scholarship aims to make a difference for promising students in the Ifill College who demonstrate academic excellence and great potential for future work in the world," said Brian Norman, Dean of the Gwen Ifill College. "We hope these Ifill Scholarships will support our students as they prepare to connect their passion to lifelong purpose at Simmons and beyond."
Wiltshire-Bland, a senior majoring in communications, came to Simmons from the Caribbean. As a Dix Scholar, she is committed to helping other non-traditional age students by serving as a peer mentor. She recently met Ifill's brother, Dr. Roberto Ifill, when he came to Simmons to share his vision for how Gwen Ifill College students will help carry his sister's legacy into the future.
When asked about her own goals, Wiltshire-Bland replied, "I am interested in student affairs and helping adult learners/non-traditional students navigate college life. As a non-traditional adult student, I understand the challenges that adult students face. I imagine myself telling stories, doing research or documentaries to tell stories of those whose stories may not have been heard." 
Bohanan, originally from Norman, OK, is a senior in the arts administration program. She is currently serving as the Dean's Fellow in the Department of Communications and was selected to lead CommWorks, the annual spring event that showcases student work in journalism, public relations, and media. 
"As an African-American student from Oklahoma, adjusting to the fast-paced city lifestyle has been a real challenge," remarked Bohanan. "I have found comfort in the legacy of Gwen Ifill and the lessons that the strong women in my life share with me. I look to Gwen as an icon of what is possible. That through all the hardships I have and will face as a black woman operating in a society that wasn't built for me, I can do anything I set my mind to. Thanks to this scholarship I am closer to being able to create the quality work that will propel me into the professional world."
The Ifill Scholarships have been funded, in part, by a group of donors led by some of Ifill's high school classmates from Classical High School in Springfield, MA. "Over the years, we took pride in Gwen's many accomplishments as a journalist and newscaster. To us, the qualities we saw in her at Classical remained throughout her life and contributed to the fine work she did professionally," said Cynthia Reed, one of Ifill's high school classmates who organized their contribution to the Ifill Scholarships. 
Their gifts, combined with the support of Simmons alumnae/i and friends, form the foundation of the scholarships, which will be awarded annually to students who embody the academic excellence and integrity that were hallmarks of Gwen Ifill's academic and professional career.