Announcement
Simmons' School of Nursing Receives Significant Grant from the Helene Fuld Health Trust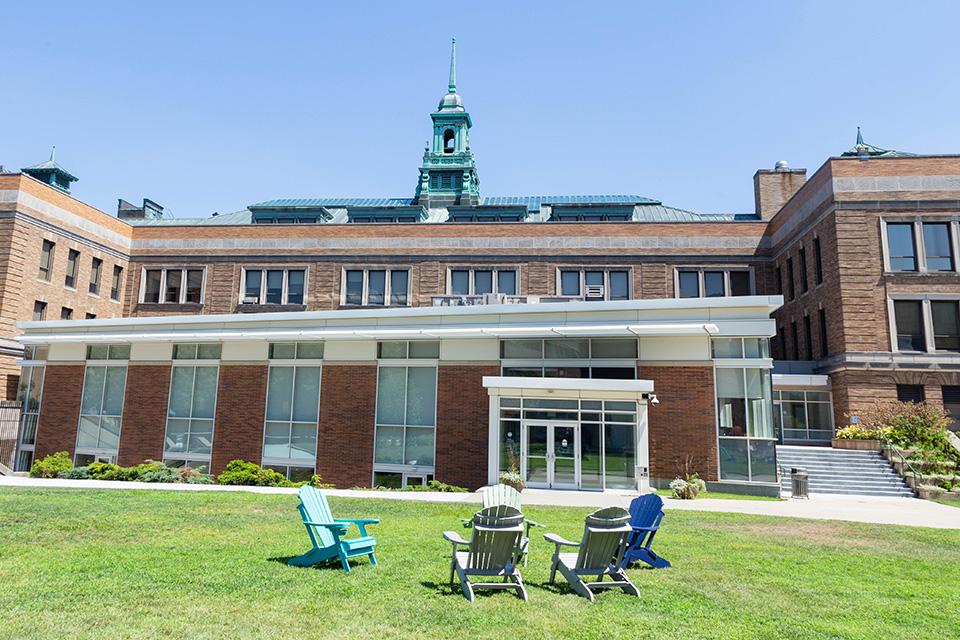 Earlier this spring, the Helene Fuld Health Trust, a charitable organization that promotes the education of nurses, informed Simmons that the School of Nursing received a substantial grant from the Trust. These funds will be used to amplify Simmons' Dotson Bridge and Mentoring Program, which aims to support nursing students of color.
Simmons' School of Nursing has received a $680,000 grant over a three-year period from the Helene Fuld Health Trust. "They are among the most philanthropic foundations for nursing education in the United States," says Simmons University Assistant Vice President of Corporate and Foundation Relations Lori Friedman, who co-wrote the grant proposal with several members of the Nursing faculty.
This charitable trust is named after Helene Fuld (née Helene Schwab, 1858–1923), who was a passionate advocate for nursing education and healthcare. Established first as a foundation in 1935 by Helene Fuld's children, Dr. Leonhard Felix Fuld and Florentine Fuld, the trust's primary mission is to promote the health, welfare, and education of student nurses. In addition to funding student scholarships (particularly for Bachelor of Science in Nursing programs), the Helene Fuld Health Trust awards grants to leading nursing schools and other organizations that undertake innovative programs designed to develop and expand the professional and leadership skills of nursing students, faculty, and administration. Simmons has received three previous grants from the Helene Fuld Health Trust, and this gift is the most significant to date.
As Friedman explains, "Simmons' School of Nursing will use these funds to enhance the Dotson Bridge and Mentoring Program." Established in 2009 with a gift from Simmons nursing alumna Phyllis Nickerson Dotson '62 and her husband George Dotson, this unique program serves African American, Latina, Asian, and Native American (ALANA) and first-generation students in the nursing programs at Simmons by empowering them with mentorship, leadership training, volunteerism, and career counseling.
The grant funds will fortify the Dotson Program in a number of ways. Simmons will be able to hire additional administrative staff, offer stipends to mentors and peer tutors, present specialized workshops, launch community outreach programs, offer guest lectureships, establish an emergency relief fund, and acquire new computers for the Dotson Mentoring Lounge. Investing in Dotson Scholars has already yielded remarkable outcomes: including increased GPAs, significantly increased graduation rates as well as national board pass rates for nursing licensing examinations.
Last year, Friedman reached out to the Helene Fuld Health Trust. "When I joined Simmons in March of 2022, I researched our prior donors to resurrect Simmons' relationship with them. I noticed that in the past the Helene Fuld Health Trust had given money to support our nursing faculty and students. I eventually communicated with the trust's Program Officer, Robert Campbell, who became very intrigued by Simmons' initiatives to support nursing students of color."
Friedman subsequently arranged a meeting with him and Lepaine Sharp-McHenry, Former Dean and Professor of the College of Natural, Behavioral, and Health Sciences. Sharp-McHenry informed Campbell of Simmons' trailblazing history of educating nurses, which began with launching the first BSN program in New England in 1902. Next, she recollects, "I highlighted the tremendous success we have had with our Dotson Bridge program and how we have reduced our attrition rate and improved our NCLECX [National Council Licensure Examination] pass rates of underrepresented students in the program. . . Therefore, we are now positioned to educate the next generation of nursing students and with their help, we can build upon what we have accomplished."

After this conversation, Simmons was encouraged to submit a grant proposal. This undertaking was truly a collaborative effort among several Simmons administrators and Nursing faculty members, including Friedman, Sharp-McHenry, Interim Dean of the School of Natural, Behavioral, & Health Sciences and Associate Professor of Practice Heather Shlosser, Teaching Professor and School of Nursing Chair Chaluza Kapaale, Associate Professor of Practice and Director of the Dotson Bridge and Mentoring Program LaDonna Christian, and Associate Professor Patricia Rissmiller. As Friedman recounts, "I felt like I was working with the dream team in providing the Trust with the information that they requested. The essential message was that, with their financial commitment and partnership, we would be taking the current Dotson Program and enhancing it significantly."
Dr. Christian remarked upon the significance of this grant from a DEI perspective: "The successful awarding of this grant was because of the leadership and experience of the School of Nursing administration, as well as Lori Friedman... Everyone knows that diversity, equity, and inclusion are essential in higher education, and Simmons University continues to demonstrate that we are committed to making sure that everyone who walks through our doors is welcome."
One former Dotson Scholar remarked upon the impact of the program on her personal and professional development: "The program has been a life saver. Both the emotional support and the academic support provided by my mentor helped me to reach my goals. The program made a tremendous difference in my journey at Simmons."
Receiving this significant gift from the Helene Fuld Health Trust is crucial for Simmons School of Nursing and the larger healthcare community. "The most important thing about this grant for Simmons at this particular moment is that we are making such a concerted effort to increase the number of nursing students of color and students from other marginalized groups within the nursing profession," says Dr. Kapaale. "The Dotson Bridge and Mentoring Program is really our north star in that area, and its success rate is quite impressive. The fact that this prominent national foundation has supported the enhancement of this program symbolizes that we are in complete synergy with them regarding Simmons' role in shaping the future of nursing."