Alumnae/i Feature
Simmons Alumna Financially Empowers Women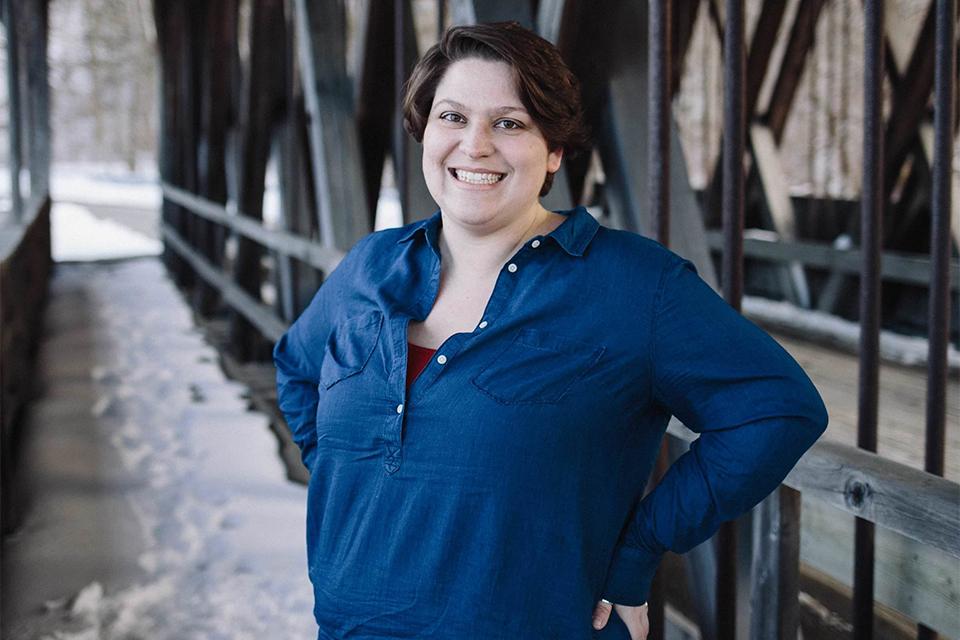 We caught up with Kaitie Chakoian-Lifvergren '09 about her roles in women-centered organizations.

On Budget Buddies
Budget Buddies is a non-profit organization that promotes financial literacy and confidence among low-income women. We envision a world in which all women are financially empowered and seek to reduce the disproportionate number of women and women-headed households that live on the economic margins. Through a curriculum of financial skill-building workshops and a 1:1 coaching/mentorship model, we support women who can then support their families and communities.
On her position with Budget Buddies
In my role I manage program partnerships as well as volunteers. I'm usually out recruiting or training volunteers by leading information sessions and orientations. I'm also traveling all over the city meeting with organizations that support low-income and/or homeless women, meeting with banks and financial educators, or meeting with professional groups who might become future volunteers.
My favorite part of this position is facilitating trainings for volunteers. We train our coaches in best practices for mentorship and confidentiality. I get to facilitate learning moments when people think about, sometimes for the first time, what it's like to be in the shoes of another woman. We talk about issues of poverty and gender equity, and I get to guide those conversations. These are the moments when I feel like I'm making the greatest impact—helping people think about the world in new ways and giving them the tools to effectively partner with women in our programs. I really see my role as bringing people from different walks of life together.
On womens-centered organizations
I've had the joy of working for organizations that focus on girls and women in each of my professional roles. I started as an AmeriCorps Massachusetts Promise Fellow and later became Program Director at Girls' LEAP Self-Defense. Girls' LEAP is a non-profit that teaches social-emotional skills and physical self-defense to girls throughout the city of Boston. Later I moved to New Hampshire and worked at WISE, a domestic and sexual violence crisis center working to end gender-based violence.
I love working in organizations with an explicitly feminist culture. I've met the most incredible, powerful, progressive teams of individuals—I'm so grateful to have these networks of people in my life. Working for feminist organizations has provided me an opportunity to put my values into practice.
On choosing Simmons
I was actually a transfer student to Simmons. I had enrolled at a large state university for my first year and learned really quickly that it was not the right fit for me! I did an online search for schools in Boston and must have forgotten to click the box that said "co-ed" in the search engine, because Simmons popped up for the first time in my entire college search. I remember coming for a college tour and having that magical moment where you step onto the residential quad and all the noise from Brookline Ave. disappears—I knew right then that it was the right place for me.
On her favorite professors
Professor Greg Feldman in the Psychology Department was one of my mentors and is such an excellent instructor—really breaking down complex concepts in ways that are meaningful and relevant. He also helped me navigate my senior internship and my ultimate career path. I went back to him a few years after graduating and he sat down with me again to consider career options. He, like so many of the professors at Simmons, made me feel that he was genuinely invested in me as a person—so different from my experience with professors at the larger university.
I also have to mention is Professor Emeritus Steve London. He was a sociology professor who directed the Scott/Ross Center while I was a student. His passion and commitment to the Center, combined with his teaching, made him a truly remarkable person and role model. I've stayed in touch with him over the years and have partnered with him, and with the Scott/Ross Center in my professional roles. The network of people that I've connected with through Simmons has stayed with me for the past 12 years.
On her Simmons moment
Recently I was sitting in a meeting and before we started, one of the four women at the table mentioned that both of her daughters attended Simmons. The woman sitting across from her exclaimed that she was a Simmons alum. Then the woman sitting across from me, in disbelief, shared that she TOO was a Simmons alum. When I shared my story, everyone was in disbelief!
This reminded me of Gwen Ifill's commencement address at my Simmons graduation. She said that no matter where she went, when she shared that Simmons was her alma mater, she would be received with a hug and an outburst of "I went to Simmons!" or at the very least, "My aunt went to Simmons!" This part of the commencement address has stuck with me, and it's true. No matter where I've gone—from Washington State to New Hampshire—I've found other Simmons alums. Because of this community, I'm now connected to a network of amazing, powerful individuals—that's the lasting impact that Simmons has had on my life.