Announcement
Passionate Leaders Project: Spring 2021 Cohort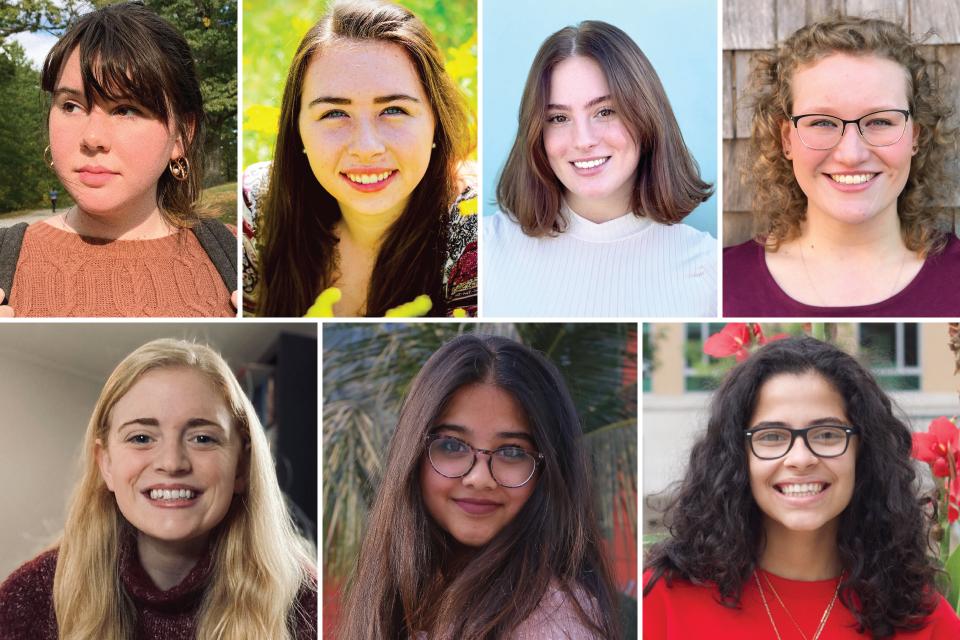 The Passionate Leaders Project (PLP) supports undergraduate students seeking to enrich their academic and professional interests by funding learning opportunities beyond the boundaries of the traditional classroom.
The PLP strives to make these opportunities accessible to every Simmons student so they can deepen their passion to address the challenges of an increasingly complex world; develop critical leadership skills and knowledge; and attain and demonstrate key academic and professional competencies.
Fall 2021 applications are now open and are due October 4.
Meet the Passionate Leaders Project Spring 2021 Cohort!
Catherine Cox '23
Major: International relations
Project: "The Silent Pandemic: Understanding the Impact of COVID-19 on Gender-Based Violence in the United States"
This project aims to explore how gender-based violence (GBV) in the United States has been impacted by the socio-political consequences of COVID-19. It will also explore how protection and prevention systems such as shelters, hotlines, and organizations have had to adapt to the ever-changing landscape of COVID-19. To complete this goal, I will be combining my 8-month internship at Sahiyo: United Against Female Genital Cutting with an independent research project and a seminar. My independent study will focus on using the information I learned at Sahiyo to explore how the socio-political effects of COVID-19 have exacerbated or reconstructed violence against women in the United States.
Once I have completed my local study, I will be working with the International Relations Department at Simmons to host a seminar with key academics in this field to explore the global impact of COVID-19 on women, peace, and security. Through my studies, I hope to enhance our understanding of how COVID-19 has affected women's lives and the steps that can be taken in a COVID-19 setting to help ameliorate the burdens on women.
What she's looking forward to: I am most looking forward to really digging into the research and listening to the experiences of women fighting against GBV in their communities.
---
Brianna Desharnais '22
Majors: Neurobiology and applied music
Project: "Developing Interactive Maps to Address Boston's Health and Social Inequalities"
11.9% of the population in Suffolk County is food insecure, and 18,471 people were reported homeless in the year 2019 alone. Although many resources exist for Boston families to receive help, including various food banks and homeless shelters, these resources are not enough to keep Boston safe. There is also little data and information available around which areas of Boston need more medical and social support.
I will be working as a patient advocate at the Dimock Center in Roxbury to provide Boston families with access to these necessary resources. I will use these patient interactions to create an interactive zip code map of the health needs in Boston, incorporating demographics such as ethnicity, income, and language spoken, to determine the barriers to healthcare access and equity. This interactive resource needs map will then be published on a developed website, which will be shared with the public and community health organizations to enact meaningful change in the Boson community.
What she's looking forward to: I am most looking forward to communicating with families in the Boston area to deliver medical and social resources, such as food, housing, and clothing. I am hoping that my contributions can positively influence Boston families.
---
Julia Hart '21
Majors: Biochemistry and physics
Project: "Synthesis of [email protected](Cr)-EN: A Bi-functional Heterostructure for Enhanced CO2 Reduction Under Visible Light Irradiation"
This project aims to rectify the imminent threat of increasing carbon dioxide emissions. Approximately 40% of the CO2 generated from human activities is absorbed by the natural carbon exchange; the remaining amount is the primary cause of global warming. Despite the development of remediation technologies, inadequacies persist such as low selectivity, limitation to UV light region, and inefficient photocatalytic mechanisms. As a result, I will be working with Dr. Mariam N. Ismail, Assistant Professor of Chemistry & Physics, to develop a system that is capable of both efficient visible light photocatalysis and selective CO2 adsorption. This project has the potential to provide an improved method of carbon capture through a bi-functional heterostructure, contributing to the crucial task of lessening atmospheric CO2 levels.
What she's looking forward to: This work has immense potential in providing an alternative method for carbon capture and environmental remediation. It is most exciting to consider the greater impact that this project may have. Additionally, through extensive literature search, project autonomy, data articulation, and problem solving, I am better equipped for my career following undergraduate studies.
---
Lauren Howard '22
Majors: History and political science
Project: "Quasi-War, Sedition, and Midnight Appointments: Research on the Politics and Partisanship of the Adams Administration"
This project aims to explore the relationship between John Adams and Congress, as well as the emergence of partisan tensions and party conflict in American politics during the Adams Administration. This semester, I will be interning at the Massachusetts Historical Society with the Adams Papers Editorial Project. The first part of my internship consists of conducting research on the legislative calendar in Congress during John Adams' presidency for the Adams Paper's upcoming publication.
The second part of my internship is centered around increasing the accessibility of history and public engagement with the past by creating content for the MHS' social media platforms. I will also be undertaking a Wikipedia project to edit existing Wikipedia entries and create new ones to improve the scholastic and historical quality and accuracy of the articles. Overall, this internship will provide me with the research skills and experience to further my academic career and promote the MHS' mission to increase the accessibility of history and to excite, entertain, and inspire people to explore the past.
What she's looking forward to: I am most excited to work with and explore the personal writings of John Adams and his family in order to gain insight into John Adams' presidency and daily life during the end of the 18th century.
---
Evangeline Kennedy '21
Majors: Public health and neuroscience
Project: "Hope for the Future, Social Support, and Religion and Spirituality as Predictors of Meaning-Making After an Ambiguous Loss"
This research project is the basis of a senior thesis that explores the roles of hope, social support, and religion and spirituality as predictors of meaning-making after an ambiguous loss. Ambiguous losses lack closure and can lead to ongoing unresolved grief, which takes a toll on those affected by the loss, particularly within family systems. However, meaning-making may be associated with better mental health outcomes in adverse situations.
I have been working with Valerie Leiter, Chair of the Department of Public Health and professor of Sociology and Public Health at Simmons, to collect and analyze survey data on meaning-making after an ambiguous loss. This project will lead to a better understanding of the factors that contribute to meaning-making. I also hope that it will be a launching point for future research on spiritually competent grief support and the effects of unresolved grief on morbidity and mortality.
What she's looking forward to: I look forward to considering the implications of the results with regard to building more effective frameworks for mental health promotion to support those experiencing ambiguous loss.
---
Irmana Monem '21
Major: Computational mathematics
Project: "Combating Gender-Based Struggles in Rohingya Refugee Camps"
This project aims to combat gender-based struggles in Rohingya refugee camps. Due to the tensions within the Rohingya camp, women have very limited mobility inside the camp itself. For women and girls around the camp, this means a lack of access to bathrooms, wash facilities and the complete absence of women-only or women-led spaces. I propose that in order to decrease the risk of spreading avoidable diseases and provide women-only spaces, hand washing stations made by SHINE Foundation will be installed in areas around the camp.
A survey done by Oxfam revealed most women have to share Burqas, a long, loose garment covering the whole body from head to feet, because they feel unsafe leaving the house without one. As the camp situation forces more and more women (particularly those from female-headed households) to move outside the home, a Burqa drive will ensure that women have access to clothing that helps them feel safe and dignified. I'm hoping these small and rather simple adjustments can increase female agency and bring about measurable change in Rohingya camps.
What she's looking forward to: This sounds odd, but I am most looking forward to the end of the project! I really want to know how it'll impact the community because the previous projects I've worked on have had such positive feedback. All the work that'll go into this project will be meaningful and make the lives of some people just a little better, and that is so exciting.
---
Graciella Rios Ortega '21
Major: Biochemistry
Project: "Empowering Boston Youth to Stand Up for Public Health"
For my PLP project, I will be working with Boston youth through the Brigham and Women's Hospital (BWH) Student Success Jobs Program (SSJP). While Boston is known as the mecca of medicine because of its top hospitals, medical schools, and medical facilities, the Boston Public School curriculum lacks information about public health and its immense importance. Therefore, I will be creating a public health curriculum for SSJP students. Through this curriculum, they will be equipped with public health knowledge and will pilot their own initiatives within their community. With my help, they will learn how the healthcare system works in Boston, what public health issues are present, and how to combat them as a high school student. This project will empower SSJP students to stand up against the inequalities in our healthcare system.
What she's looking forward to: I am looking forward to seeing what public health initiatives students come up with to serve their community. I also look forward to seeing my students grow into powerful leaders who stand up for their community.