Alumnae/i Feature
Mardoche Telusma '19 on the Freedom of the Boston Scholarship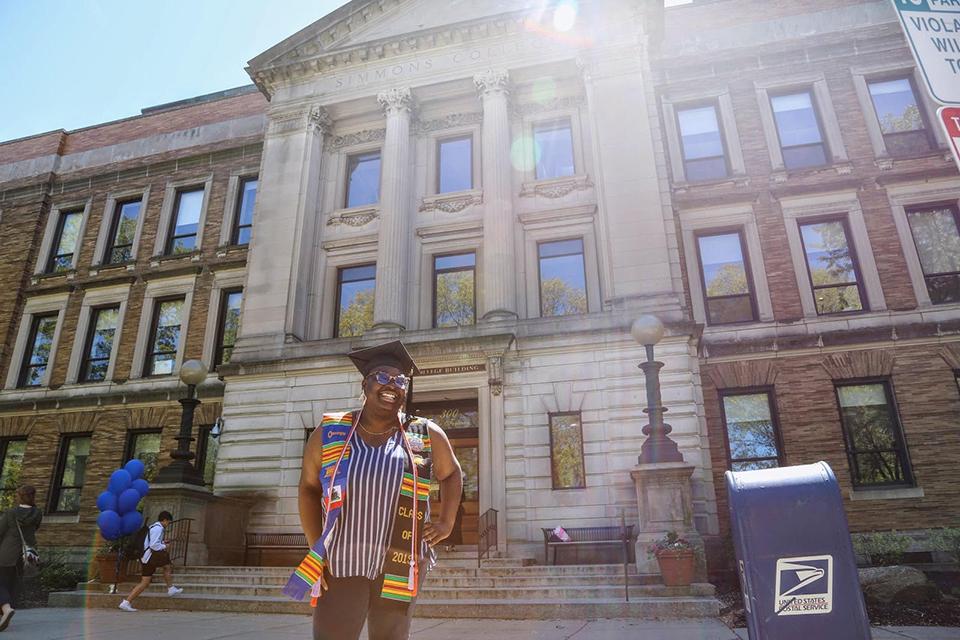 I can't fathom not having the Boston Scholarship. It allowed me to think about myself and focus on myself as a leader on campus.
By the time Mardoche Telusma '19 graduated from Simmons last spring, her undergraduate experience had helped her develop clear goals for her future and a plan for achieving them: spend a year working in higher education while applying to graduate schools.
She's right on track—and grateful for the Boston Scholarship Program that enabled her to pursue her education at Simmons. Telusma says the freedom of knowing her tuition was fully covered by the competitive merit award had a huge impact.
  
"I can't fathom not having the Boston Scholarship. It allowed me to think about myself and focus on myself as a leader on campus. I was able to engage in multiple organizations and leadership teams at Simmons," says Telusma, who majored in public health and minored in psychology.
 
Simmons wasn't originally on her list of colleges to consider. But that changed after a rather impromptu meeting with a Simmons admission representative who came to Boston Preparatory Charter Public School. "We had a great conversation about getting more people of color into higher education and pursuing higher degrees." Telusma says she was further inspired by the fact that the Simmons rep was from the neighborhood she grew up in. 
 
"I left that conversation thinking, 'Wow, I have to be at Simmons. Not only is it a great place for me to pursue my education, it's a great community that includes activism and things I hold dear to my heart.'" 
 
Telusma's guidance counselor alerted her to the Boston Scholarship, which is specifically designated for students from Boston public high schools and charter schools. The application process included an on-campus interview. Telusma also talked to students, "felt the energy at Simmons," and says she left thinking, "Of course, this is where I have to be!" When a big Simmons acceptance envelope arrived, "I was just ecstatic!"  
 
During her current post-Simmons "gap year," Telusma is working as a postdoctoral program coordinator and grant administrator in Brown University's Office of Graduate and Postdoctoral Studies, where she's focused on biomed programs.
In addition to fulfilling her goal of learning firsthand about the infrastructure of higher education, she is applying to clinical psychology programs. Her mission: to help with mental health advocacy through research and teaching, and expand the inclusion of communities of color and LGBTQIA+ individuals in both the field and its research.