Campus & Community
Celebrating the 113th Simmons Commencement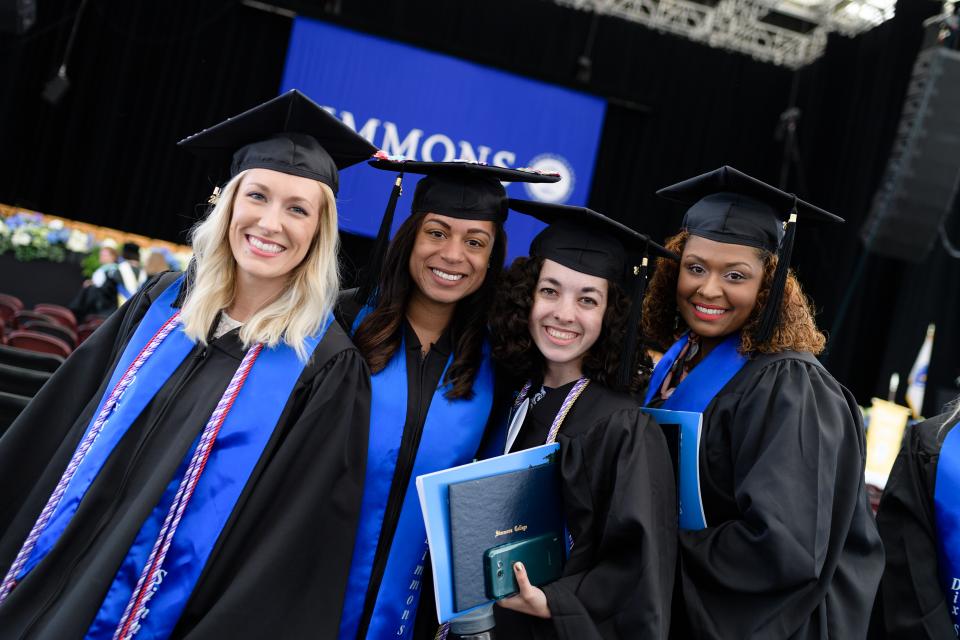 Congratulations to our graduates!
We're still buzzing with excitement from the 113th Simmons Commencement! In front of their friends and families, 301 undergraduate and over 1,000 graduate students received their Simmons degrees. This inspiring day included Commencement addresses from bestselling and highly decorated author Jacqueline Woodson and longtime non-profit leader Joan Wallace-Benjamin.
In our morning undergraduate ceremony, President Helen Drinan welcomed attendees and introduced the student speaker, Tozoe Marton '18, whose speech was selected out of a record number of submissions.
Marton spoke of her journey from Ghana to Simmons and thanked her father and step-mother for fostering her passion for learning. Marton credited Simmons for linking this passion to "a lifelong purpose" and concluded with a call to action for her fellow graduates: "we must use the tools we have gained at Simmons to guide us and create positive change in the world."
2018 Class President, Maggie Belfi '18 was presented with the Joan Melber Warburg '45, '97HD Leadership Award. This honor is awarded to a Simmons senior who displays commendable leadership abilities and devotes these abilities to making positive change.
In her undergraduate Commencement address, Woodson challenged the graduates to step out of their comfort zones and to help others whenever they are able. "You, my fierce Simmons Class of 2018, have a story to tell," said Woodson. "You have a right now, to do the work you were meant to do." 
Woodson was presented with an honorary degree along with Frieda Garcia, the founding director of La Alianza Hispana and former executive director of United South End Settlements (USES).
A record number of Masters and Doctoral degrees were granted in the afternoon graduate Commencement ceremony.
During her graduate Commencement address, Joan Wallace-Benjamin encouraged graduates to become involved and use their abilities to make positive change in their communities:
"As you graduate and move into the next phase," said Wallace -Benjamin, "don't just ask yourself what you want to be, but instead what problems you want to solve."
Wallace-Benjamin received an honorary degree along with the Honorable Leslie E. Harris, Associate Justice, Suffolk Juvenile Court (Ret.).
Congratulations to our 2018 Simmons graduates! For more highlights from Commencement check out #Sims18 on Facebook, Twitter, and Instagram!