Student Story
Tozoe '18: At Simmons, Everyday is a Learning Experience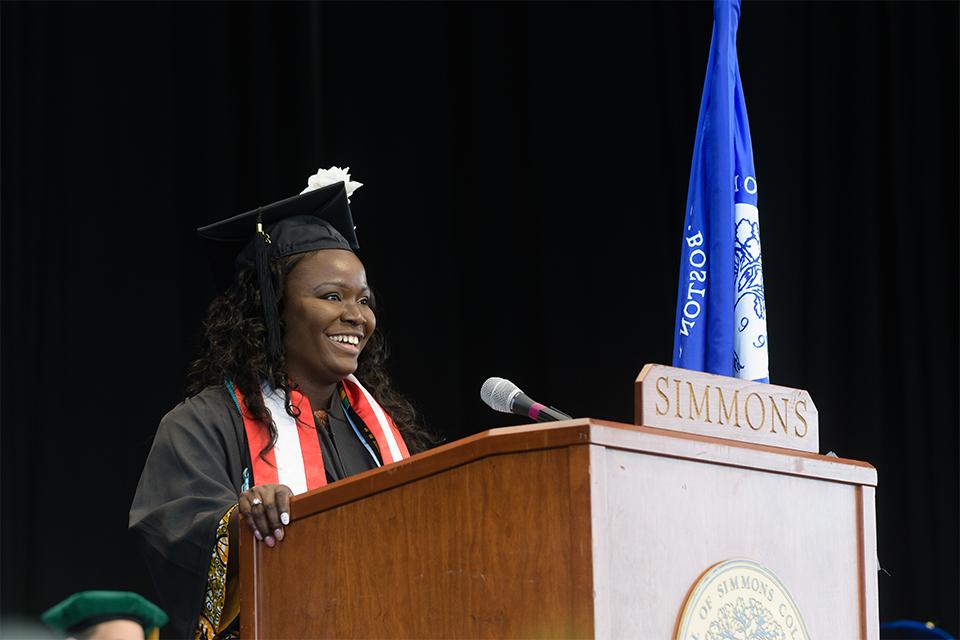 We caught up with Tozoe Marton '18 about speaking at Commencement and what she's learned from her time at Simmons.

On pursuing her majors
I was initially an international relations major when I came to Simmons, but one day I sat in on a sociology class. The social justice aspect of sociology really drew my attention and I became a double major at the end of my sophomore year.
On choosing Simmons
I transferred to Simmons my second year for financial reasons. However, the reason I decided to stay is because I honestly fell in love with this community.  
On speaking at Commencement
I'm truly honored to be selected as the student Commencement speaker — I'm both excited and nervous! I decided to audition simply because Simmons has given me so much, and I wanted to give back by sharing my own experience with everyone. I want to let everyone know what a great institution this school is, and the speech does that perfectly — it mixes personal experience with the mission of this institution.
On the African and Caribbean Student Union (ACSU)
I'm one of the founding members of ACSU, which was established in January 2017. We wanted to create a space for African and Caribbean students to share their cultures with each other, the Simmons community and the Colleges of the Fenway. 
As president of ACSU, I've learned several things, but the biggest lesson has been patience. When I started this organization, I had so many amazing events in my head that would allow the community to learn more about African and Caribbean cultures. I realized that while these ideas were great, I needed to take baby steps. ACSU wasn't ready to host the large events that I had in my head, so I needed to be patient with the organization as it grew.  
On her internship
My internship with Planned Parenthood consisted of canvassing and staffing the phone bank for the Lydia Edwards for Boston City Council Campaign, and working for the Office of Public Affairs at Planned Parenthood's Commonwealth location. 
At the beginning, I wasn't really excited about working with politicians because I wanted to learn about sexual and reproductive health. After I started working hands-on with politicians who were endorsed by Planned Parenthood, I began to understand the importance of collaboration between non-profits and local politicians. Organizations like Planned Parenthood rely heavily on the policy made by politicians — it's crucial for Planned Parenthood to support politicians who are in favor of their mission. I now understand the key role that politicians play in improving health care in their respective areas.
On the Boston Debate League (BDL) 
BDL exposes Boston Public Schools to debate in a way that prepares the students not only for college, but also teaches them how to interact with the world around them. 
I became a debater for the BDL in 9th grade when I was at the Boston Latin Academy. At the age of 15, I was challenged to think critically about the world around me. Today, I continue to utilize the analytical skills I gained from BDL in class discussions as well as essays.  
When the BDL asked me to be a middle school debate coach, I didn't hesitate to say yes because I understand the impact that debate can have on a student's performance in school. And interestingly, as a debate coach, I noticed that the content I was teaching my debaters were topics I was also learning in my college classes. 
On being prepared for the future
Honestly, how has Simmons not prepared me? Every day was a learning experience. From this institution, I've learned to be resilient in the face of hardship — this is something that I'll have with me wherever life takes me. 
On her plans after graduation
I'll be attending Brandeis University for my MA in sustainable international development and my MS in global health policy and management.
On her Simmons moment
I was in Professor Saher Selod's inequalities course when we were discussing gender and inequality. I said something completely wrong regarding gender identity and another student nicely corrected me. Circumstances like this happen very often, where everyone is learning from each other. I love that I'm able to feel comfortable enough in class to not be afraid of being wrong. I've learned a lot from the professors, but even more from the students.