Alumnae/i Feature
Black Alumnae/i Symposium 2023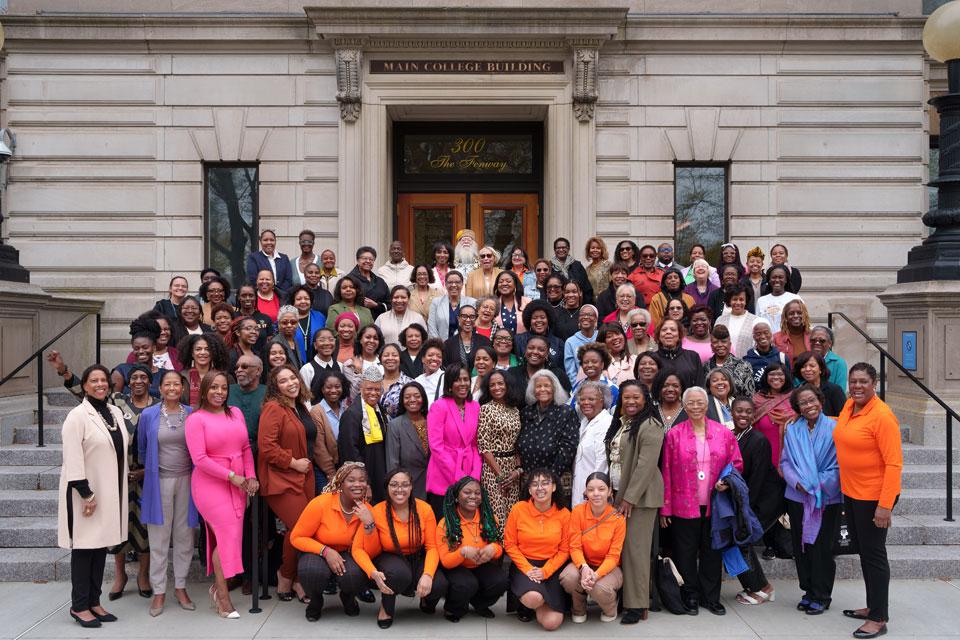 From Friday, April 28 to Sunday, April 30, the African American Alumni Association (AAAA) held the Black Alumnae/i Symposium, "The Power of Our Presence: Our Stories of Resistance, Resilience, and Restoration," on the Simmons campus. The celebration began on Friday evening with a welcome reception, then resumed on Saturday with opening remarks from AAAA President Kenyora Parham '10 and 2023 Symposium Chair Richelle Smith '21MSW.
Parham greeted the enthusiastic crowd, noting that alumnae/i had traveled to the event from all over the country, and as far as Ghana and Turks and Caicos. "That's the beauty of it. We're all coming together to celebrate one another, reconnect, relish memories and fellowship. To instill the richness that was instilled in us upon others," said Parham, who has volunteered for the AAAA for ten years. Smith noted the challenges people of color face in today's society. "In spite of and despite [those challenges], we are strong people. It's time to celebrate our accomplishments and progress."
Speaking at her first Black Alumnae/i Symposium, Simmons University President Lynn Perry Wooten noted that the first Black student was admitted to Simmons in 1914. "Simmons is a place where Black lives matter," said Wooten. "I believe in this institution and the power it has in our world, in Boston, among women, and especially among Black women. We are educating leaders for their life's work. Simmons women aren't asking for a seat at the table, they are bringing that seat." Wooten emphasized the importance of "experiential equity," making sure that every student at Simmons has access to the full range of opportunities available.
Wooten's emphasis on academic excellence, leadership, internship opportunities, career coaching, self-care, and social justice was echoed by Renique Kersh, Vice President for Student Affairs, who shared details on the enrollment and retention of Black students. In an effort to improve retention, Kersh has formed the Undergraduate Student Success Committee, led by Assistant Provost Nakeisha Cody. Cody shared five key elements that impact retention for Black students: career outcomes, a sense of belonging, mental health, mentoring, and the experiential equity mentioned by President Wooten. Kersh and Cody offered ongoing strategies for how to support Black students at Simmons by addressing each of these areas.
High school student Sasha Oglesby, a member of Women of the Dream, an organization founded by Leslie Morris '75, performed a song for the audience before Olawumi "Ola" Akinwumi '14MS introduced the keynote speaker, Dr. Adunni Slackman Anderson '73. Drawing on poetry, faith, and philosophy, Anderson shared ten "pearls of empowerment," including gratitude, grounding, self-determination, giving yourself permission to excel, and practicing grace with yourself and others. "When I look at my resume, I don't consider these achievements, but blessings," said Anderson. "Whatever I've done…I was never alone. I'm standing on the shoulders of those who came before me."
Tatiana M.F. Cruz, Assistant Professor and Interdisciplinary Program Director of Africana Studies, presented "Behind the Veil - Simmons Black Oral History Project and the State of Africana Studies," along with a panel of students, Karla Alba '23, Kaycee Jackson '23, Laura-Luiza Cabral Gouvea '24 and Reham Zeroual '24. Inspired by materials from the Simmons archives, the students explore what it means to be Black at Simmons by interviewing Black peers and Black alumnae/i who graduated in the 1960s-1980s. The students shared insights gained from interviewing people with similar and disparate backgrounds and experiences.
In addition to a vendor fair featuring the work of Black alum and non-alum entrepreneurs, the Symposium offered two concurrent afternoon breakout sessions: "Resilience of the Firsts: First Generation Students - Beating the Odds," and "Resilience of the Graduate Student & Faculty Experience." An afternoon plenary session offered a "Sister Circle," an opportunity for students and alumnae/i to share the experiences and challenges of life at Simmons. The day concluded with an evening affair, "Celebrating the 50th Anniversary of Africana Studies at Simmons," featuring remarks from President Wooten and other honored speakers.
"In this room there are women that I've literally grown up with," said Millicent Gorham '76, '11HD, a member of the Simmons Board of Trustees. "We came to Simmons in 1972. When I saw them here, my heart stopped. We haven't seen each other in three decades! They're doing fabulously well in their careers, and their families are all healthy. It is emotional. We are here because Simmons is our foundation."
For Donna Stewartson '93, Director of Operations for the Gwen Ifill College of Media, Arts, and Humanities, this year's event was especially meaningful, as she is a Simmons alumna and employee, and served on the Program Committee. "It was great to engage with notable alumnae such as Rehema Ellis and Ambassador Harriett Elam-Thomas. I hope we can have the next symposium sooner than five years from now."
Former Trustee Carol Waller Pope '74 was involved in planning the first Symposium and has attended all of them. "It's always uplifting," she said. "It's an opportunity to reconnect, to meet new people, and to re-engage with Simmons."
NBC News' Chief Education Correspondent Rehema Ellis '74, '00HD, sees the value of students interacting with alumnae/i. "We have people who are doctors, lawyers, educators, journalists, politicians, diplomats, and they came from this environment, which is not different from the one the current students are in," said Ellis. "I hope they feel empowered, because me coming back here reminds me of the Black students who were here before me, and when they came back to see me when I was a Freshman, a Sophomore, a Junior, a Senior, they empowered me with their success."
On Sunday, April 30, the Brunch and Awards Ceremony honored the recipient of the Quiet Leader Award, Leigh Merritt '98MSW, '02MBA, and the Distinguished Recent Alumnae/i Award, Yasmin Laurent '15. The Celebrating Our Greatness Award was given to Leslie Morris '75, who was praised for her 40 years in public service, and for founding Women of the Dream to support women of color in New Jersey. A Boston City Council Official Resolution was given to Parham, for her volunteer efforts supporting the AAAA over the last ten years. Finally, the Gwen Ifill Trailblazer Award was given to former Dean Elizabeth (Betty) Rawlins '67MSEd, '03HD.
"Rawlins helped us to understand Simmons, and to understand that we deserved to be here and to be honored," said Karen Young-Thomas '77, who presented the award. "Now it's time to honor you, and rededicate this Symposium in honor of you." In future, the Black Alumnae/i Symposium will be known as the Elizabeth Rawlins Black Symposium. In her remarks, Rawlins, now 95 years old, expressed how her work with the students came naturally to her. "I had such a feeling for young people," she said. "It's always been a special thing to me when there are younger people around me who need a little direction or need a little help." She encouraged alumnae/i to reach out to help others, knowing that the act would also help themselves. "I've had so many beautiful opportunities for me to fulfill what I cared about," said Rawlins. The event closed with a rendition of Gladys Knight's "I Hope You Dance" from Women of the Dream student, Anaya Thompson.
"There are very few things which cause your heart to sing," said Harriet Elam-Thomas '63 '00HD. "I would never have imagined to see a room filled with accomplished women of color who still remember from whence they came. It was a joy."
President Wooten reflected on the remarkable weekend. "Since 1915, Simmons has had students of African descent," she said. "To come together every 5 years to celebrate Black joy and think about what resilience means, resistance, and restoration means has been amazing. It's honoring our history, it's been coming into the presence of sisterhood to convene and celebrate the present, and it's been seeding a legacy for the next generation."
How can Black alumnae/i connect with Simmons students?
Join the ALANA Mentoring Program to mentor an undergraduate or graduate Simmons student.
Alumnae/i are invited to meet with new students of color during the Bridge Program Orientation in early September.
Sign up to connect with students in the Black Student Organization (BSO).