Alumnae/i Feature
All She Wrote Books: Elevating the Voices of Female, Queer and Non-Binary Authors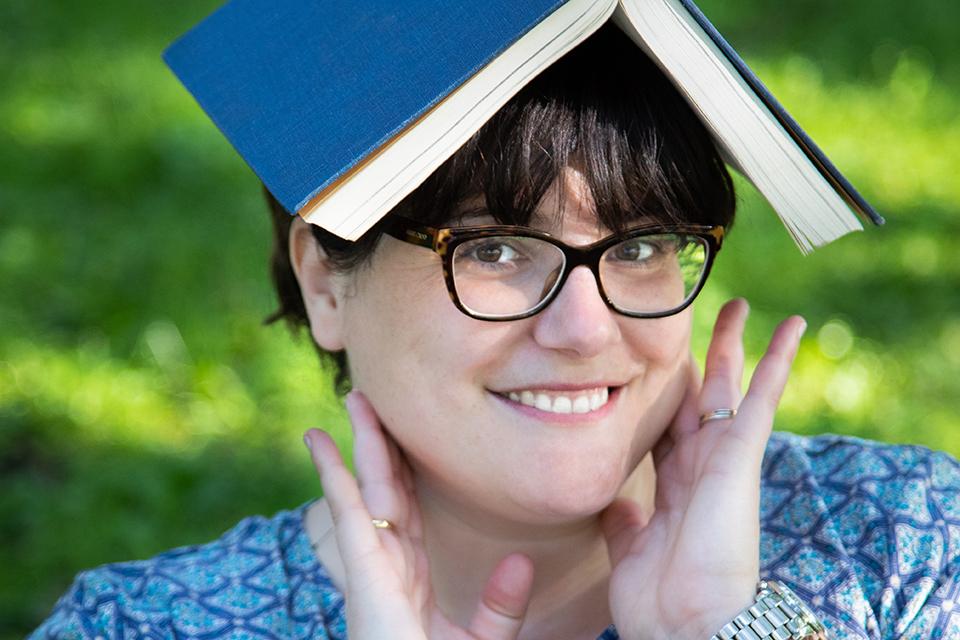 As a survivor of domestic abuse, Christina Ciampa '08, '14MS was constantly searching for stories that reflected her own experience. Instead of giving up, Christina made it her mission to help readers access the stories of marginalized authors by creating All She Wrote Books, a pop-up bookstore that elevates female, queer and non-binary voices. We caught up with Christina about the inspiration behind All She Wrote Books and her hopes for the future of the bookstore.
---
Her journey to communications
To be fully honest, I was a transfer student to Simmons in my sophomore year. I went to the University of Denver for hospitality management as a freshman. I truly believed that I wanted to work as a General Manager of a major hotel chain. I learned quickly that it was not what I wanted to do. I knew I wanted to write and be a journalist. The degree in communications from Simmons offers opportunities to not only focus on journalism/writing but in public relations and marketing, which have helped shape my career now in many ways. 
Having multiple focuses in my undergraduate degree program at Simmons, along with some of the business courses I took, allowed me to build a skill set that made me versatile in various industries. It also allowed me to market myself in ways that opened up the door for me across many career opportunities. I also believe that my experiences with writing for the newspaper and working in various student-run organizations such as AAF (American Advertising Federation) allow me to build my network and pick up another set of skills that I still use to this day — event planning, memo writing, connecting with vendors, etc.
Underrepresented authors
Here's the problem: There are amazing books written by these authors who identify as female/queer/non-binary. These stories are not getting shelf space nor the recognition, so their stories go untold. Research from the Vida Group has found that books by male authors are more likely to be reviewed by leading literary publications like the Times Literary Supplement and the New York Review of Books. In addition, books by male authors are also more likely to be featured on course syllabuses at high school and university levels.
As a survivor of domestic abuse, I went digging for stories I could relate to, and found that they were out there — but they tended to get less shelf space and be shortchanged by publishers. Being an avid reader I often felt unrepresented by bookshelves and online recommendations showcasing what was already popular.
Finding her story
All She Wrote Books (ASWB) solves this problem by providing access to these authors and the stories they tell, allowing the consumer to choose. ASWB dabbles in all genres and offers a mix of well-known books — think Bad Feminist by Roxane Gay and Becoming by Michelle Obama — and more obscure titles.
Currently, we are a pop-up with the eventual goal of becoming a brick-and-mortar storefront, where we can showcase these authors and books and have space to create a community of writers and readers. Our long term goal is to open a publishing arm of ASWB that empowers these authors with the tools and resources they need to get their work seen, heard and read around the world.
Since launching in April, the bookstore has taken off fast, but I couldn't be happier with the way it is going. It is my way of making sure diverse narratives get lifted, get on shelves, and get to readers. I love meeting and helping avid readers and bibliophiles who seek out new perspectives, genres, and authors.
Making her dream a reality
The most daring move I have made in my career was telling my boss about All She Wrote Books. One day we had lunch together and I told her why I started ASWB and what my goals are for the future of the business.
I have a lot of respect for my boss, and I felt that I needed to be honest with her before ASWB got bigger. It's not something I've done with any other supervisor I had previously. I was told by many people, former colleagues, my parents, for example, that it could be "career suicide" if I did tell her. However, I wanted to and she is so supportive of it, as she believes in its mission and purpose. I also reminded her how dedicated I am to my current role and that this passion project will eventually become my full-time job, but until then, I am loyal to our team and to her.
Christina's favorite book
It is so hard to choose, however, my favorite book at the moment is The Library Book by Susan Orlean. The book is about the L.A. Public Library's Central Branch fire in 1986. As someone who loves libraries, this was heart-wrenching to read, but a great reminder of how libraries have evolved over time in their service to the public. My favorite quote from the book is:
"Even the oddest, most particular book was written with that kind of crazy courage — the writer's belief that someone would find his or her book important to read. I was struck by how precious and foolish and brave that belief is, and how necessary, and how full of hope it is to collect these books and manuscripts and preserve them. It declares that all these stories matter, and so does every effort to create something that connects us to one another, and to our past and to what is still to come."
Advice to Simmons students
Be willing to hustle for what you want out of life. It is ok to do free work if it means you'll to gain a skill/expertise you need which will bring you to your next move in your career. And also, always be empathic to those around you. We all have our stories and if we listen and are understanding one another, we have the power to do so much more. This lesson can be applied in the workplace and within life.