Announcement
African-American Alumnae/i Association Announces New Executive Board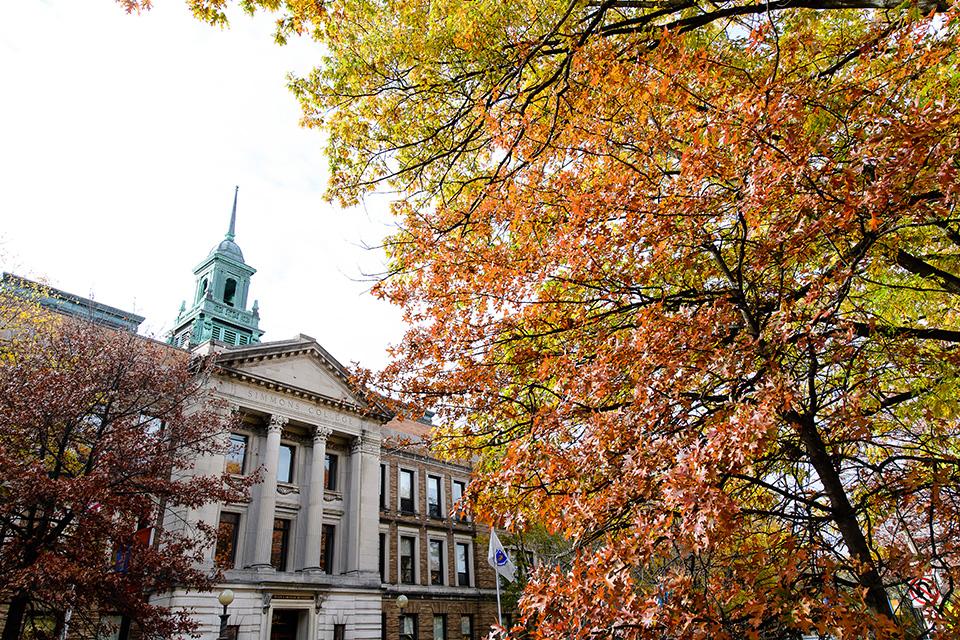 The Simmons African-American Alumnae/i Association (AAAA) has announced the members of the Executive Board. 
Meet the Executive Board:
Kenyora L. Parham '10
President 2018 - 2021
Kenyora L. Parham is a member of the Class of 2010 of Simmons University (formerly College), where she received her degree in public health. As an undergrad and former President of the Black Student Organization ('08-'10), she helped to lead various efforts of zero-tolerance against racial and gender discrimination and also lead the 40th Anniversary of the 10 Demands.
Currently, Kenyora serves as the Chief of Staff of End Rape on Campus, a national non-profit that works to end campus sexual violence. Prior to joining EROC, Kenyora served as the Assistant Director for Brandeis University's Office of Precollege Programs, where she directed four out of seven pre-collegiate residential programs for high school teens. Her additional work experience includes working at Strong Women, Strong Girls, a nationally recognized multigenerational mentoring program for elementary school girls, college and professional women. Kenyora has over a decade of experience working with youth, families, and community leaders in the nonprofit sector.
In 2016, Kenyora was recognized as a finalist for the EXTRAordinary Women campaign led by the Office of Women's of Advancement, a department within the Mayor's Office of the City of Boston. Additionally, she served on the Alumni Association Board at Boston University's School of Social Work, where she received her master's degree. Kenyora also holds a Certificate in Community Leadership and Social Change from the Jonathan M. Tisch College of Civic Life at Tufts University through the Community Fellow Program (CFP) of the Institute for Nonprofit Practice, where she currently serves as a founding CFP ambassador. She is also a proud member of Delta Sigma Theta Sorority, Incorporated. Originally from Lynn, MA, Kenyora currently lives in Alexandria, VA with her husband, Franklin.
Settenah Wright '10MAT
Vice President 2018 - 2021
Settenah A. Wright is an alumnae of Simmons College Graduate Studies, Master of Arts in Teaching English as a Second Language program, Class of 2010. She received her undergraduate degree from Northeastern University with a concentration in Technical Writing. Settenah is a Boston Public Schools English as a Second Language educator at Madison Park Technical Vocational High School, her alma mater. She previously worked as an adjunct English for Speakers of Other Languages (ESOL) Instructor at Roxbury Community College. Settenah also serves as the Board Secretary for Dudley Square Main Streets Board of Directors (DSMS) in Roxbury, MA, where she was raised and educated. Through DSMS, Settenah works with DSMS board members on community event planning for diverse residents and social media marketing strategies. She is also the owner and operator of Life's Paper, a culturally designed stationery online business based in Boston, MA. Settenah currently resides in the Lower Roxbury area of Boston, MA.
Emmalia Harrington '07
Secretary 2019 - 2021
Emmalia Harrington is a librarian turned writer. She has used her librarian training in everything from managing physical archives and maintaining electronic databases to starting a digital library from scratch. She now writes copy, articles and short stories.


 
Keeva Haynes '02
Director of Development 2019 - 2022
Keeva L. Haynes is a member of the Class of 2002 of Simmons University (formerly College), where she received her degree as a double-major in African-American studies and economics. While matriculating at Simmons, Keeva held the following leadership roles: Treasurer of the Black Student Association, Caribbean Student Association, Ibada Imani (Gospel Choir) and Student Government Association as well as Director of the Student Finance Board.
As a member of Delta Sigma Theta Sorority, Inc, Keeva served as the 1st Vice President of the collegiate chapter, collaborating with other Simmons student groups as well as organizations throughout the Boston area, hosting programming and community service projects within the city. Currently, Keeva serves as an Engagement Economics Senior and Digital Accelerator at PwC (PricewaterhouseCoopers). She's responsible for the ongoing knowledge management and delivery of PwC's client service engagement pricing, budgeting and monitoring tool. Keeva operates as a subject matter expert in engagement economics and Assurance (audit) practice systems/applications, utilizing a comprehensive understanding of Firm financial systems and technology to execute and deliver strategic and effective financial decisions to stakeholders and mitigate any risks in engagement profitability. Within her recently appointed role as a Digital Accelerator, she'll work to implement digital strategy as part of a focus on automating processes. Keeva is receiving extensive training in Alteryx, Tableau, data analytics, and data manipulation, focusing on innovative data analytics and process automation to bring cutting-edge technology to our teams and clients. Keeva is a proud dance mom who lives in Powder Springs, GA with her 9-year-old daughter, Jaida.
Michelle Musoke '19
Director of Communications 2019 - 2021
Michelle Musoke is a 2019 Simmons University alum passionate about creativity and culture. Michelle is an award-winning producer, marketer, and arts administration professional. She has crafted content and managed campaigns for The Boston Ballet, OneUnited Bank, and currently BDY Consult, a boutique, black, female-owned branding and PR firm based in Boston.
Her work experience is heavily grounded in digital marketing, specifically the creation of media as an expansive and purposeful marketing strategy. Michelle currently works as a Brand Marketing Manager connecting Boston's brightest creatives and companies to their unique digital platforms. In her personal time, Michelle commits to mixed media painting, blogging, and spiritual development through my walk with Christ. Michelle anticipates her experience will fully support the AAAA's various initiatives moving forward.
Joval Webbe '10MAT
Director of Nominations 2019 - 2021
Joval Webbe (pronounced Jo-val Web) graduated from Goucher College in Baltimore, Maryland with a Bachelor of Arts in Spanish and anthropology/sociology and from Simmons University in 2010 with a Master of Arts in Teaching English as a Second Language where her interest in standardized assessments was cultivated. After graduating from Simmons, Joval taught ESL full-time for one year at Woodlawn High School, a Title I school in Baltimore County, and since leaving the classroom her work has centered mostly on developing assessments. At the Center for Applied Linguistics she developed the grade 3-5 test form for the national K-12 WIDA ACCESS for ELLs standardized test that measures English language proficiency, and at the American Nurses Credentialing Center she assisted in developing nursing specialty certification exams.
Joval worked as a project manager contracting with Diplomatic Language Services and Second Language Testing (a Berlitz Company) developing common and less commonly taught language assessments for military branches including the U.S. Navy SEALs and the US Marine Corps. Currently, she works as a program manager at the National Association of Home Building where she manages all education evaluation services conferences and an annual international trade show that attracts around 85,000 attendees.
Joval still enjoys teaching ESL and does so part-time when time allows and has worked as an adjunct professor at Montgomery Community College's pre-academic program and an instructor at CASA de Maryland and the Spanish Education Development Center, Latino and immigration advocacy-and-assistance non-profit organizations. Joval, a Boston native, lives in Bethesda, MD, and visits Boston frequently to visit family and friends.
Kara Walsh '20
President, Black Student Organization
AAAA Student Liaison 2019 - 2020
Kara Walsh is a current undergraduate student at Simmons University. She is studying nursing and is graduating in May 2020. She is from Boston, Massachusetts. Kara currently serves as the President of the Black Student Organization (BSO). Prior to this school year, she served as Communications Chair for the Black Student Organization for the 2018-2019 school year. Kara currently works at Brigham and Women's Hospital as a Patient Care Assistant and is a Resident Advisor at Simmons as well. This year, her goals for BSO include: increasing engagement and networking between alumni and current undergraduate students and fostering connections with administrators at Simmons to create inclusive curriculum across the four colleges. Kara is excited to be the Student Liaison of the Executive Board of the African-American Alumnae/I Association (AAAA) and looks forward to this year.