Leanne Doherty
Associate Professor, Political Science.
Political Science & International Relations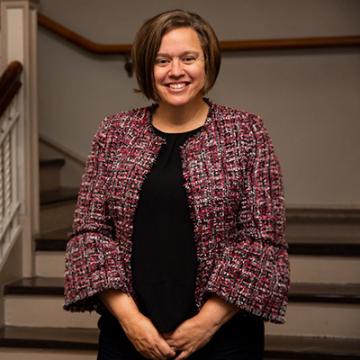 Education
B.A. - Clark University
Ph.D. - Northeastern University
About Me
Dr. Doherty received her PhD in Government with a concentration in Public Policy from Northeastern University after receiving a BA in Government from Clark University. As an undergrad, she had many different roles as a student, not unlike many of our students here at Simmons: captain of the Women's Basketball team, member of the Admissions Staff, and explorer of the many academic opportunities that a liberal arts college has to offer.

Currently, Dr. Doherty serves as Associate Dean for Academic Affairs for the College of Arts and Sciences where she supports the Dean of CAS around faculty and student academic needs. These include areas such as general education, academic support, and majors/program curriculum. She is also the director of the graduate Program in Public Policy as well as the 3+1 accelerated program in Public Policy. 

A proud member of the Department of Political Science and International Relations, Dr. Doherty's teaching is centered around the American Political System, with a concentration on gender and politics, popular culture and public policy. She was honored to be named Professor of the Year by students in 2008 and received the Dean's Award for Excellence in Undergraduate Advising in 2009. 

She is also the co-host of the Sports Profs, a weekly sports talk radio show on Simmons University internet Radio. Each week, Dr. Doherty with Dr. Daren Graves from the Education department talk sports as it intersects with race, gender, and class. "Real talk, with an academic twist." When not at Simmons, Dr. Doherty enjoys watching and playing all sports with her two partners in crime, husband Mark and son, Donovan. She also enjoys music, reading, and really bad television.
What I Teach
American Public Policy
Intersectionality and Public Policy
Politics of American Pop Culture
Parties and Elections
Research/Creative Activities
Professor Doherty's research focuses on the role that athletics play in political leadership. Her book, Level Playing Field for All? Female Political Leadership and Athletics (Lexington Books — Rowman and Littlefield Publishers, Inc, 2011) explores the idea of athletes as elites in American society and how the disparity between male and female athletes decreases women's status in the social eligibility pool, a key factor in successful achievement of political office.
She has also published research on political science and pedagogy in PS: Political Science and Politics, Politics and Gender (June 2013), and The Journal of Political Science Education (January 2011).  Most of this research is a result of Dr. Doherty's role in co-creating and coordinating the Lee Family Foundation Intern Fellowship Program, which seeks to give young women exposure to and education in the nuts and bolts of Massachusetts political leadership through practical experience, thereby increasing the number of young women who enter the pipeline of political leadership.
Her new research project looks at various state policies concerning "mandated" breastfeeding policy and the role of interest groups and the federal government in changing problem definitions around infant health.