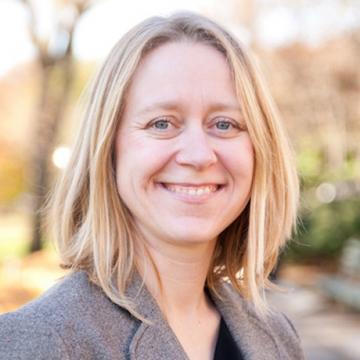 Welcome to the Simmons University School of Business! As the most selective Women-Centered Business School in the United States, I am excited for you to learn more about our programs and how they can launch you on a path to success in your career. Our School of Business champions the success of women, non-binary, transgender students and their supporters as they pursue careers in the for-profit sector and the nonprofit sector, working within existing organizations or launching their own ventures. Our deep commitment to equity and inclusion creates unique opportunities for our graduates to navigate complex organizational contexts and expand opportunities for themselves and other underrepresented professionals.
We hope you'll join us!
Dr. Erin DeCurtis was appointed Interim Director of the School of Business in January 2022 after teaching in the Simmons University School of Business for ten years. In addition to her teaching, Dr. DeCurtis has served as a Research Consultant for the Center for Gender in Organizations at Simmons University. She recently completed her Doctor of Education in Organizational Change and Leadership Program at the University of Southern California. Her research is focused on gender and racial equity initiatives, primarily in the nonprofit sector.
Since 1999, Dr. DeCurtis has also served as a consultant to nonprofit organizations and mission-driven for profit companies on issues of training, development, human capital and diversity.