Announcement
Simmons Accounting Students Land Jobs at "Big 4" Firms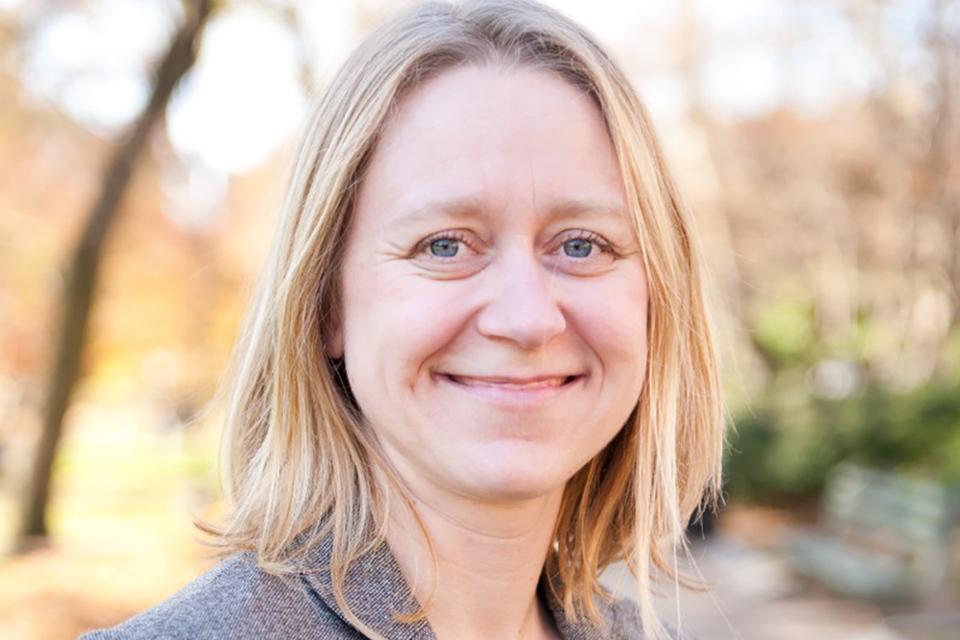 The Accounting program at Simmons is only 6 years old with just 3 graduating classes, but nearly 50% of graduates have found employment in Big 4 Firms. Interim Business School Director Erin DeCurtis explains what makes this program, and its students, so successful.
Tell us about the program.
Professor Charlene Spiceland designed the program to get students as close to sitting the Certified Public Accountant (CPA) exam as possible, which requires 150 credit hours of coursework. We have a current student who has majored in both Accounting and Finance, and she's able to sit for the first part of the CPA exam before she graduates. This student's model for double majoring has inspired another student to pursue this double major as well, and we're hopeful others will follow. This is a really compelling skill set for students to bring to the job market.
How successful have Simmons graduates been on the job market?
All of them have started their work in the accounting field soon after graduation. Many of the students who received offers from PriceWaterhouse Coopers or Ernst & Young did internships with those companies while at Simmons. Of the students who have graduated from the program, almost 50% have gone on to work at one of the Big 4 firms, and all but two of them are women of color.
What does it mean to be placed in a "Big 4" accounting firm right after graduation?
These are the largest accounting firms in the world and are revered for their long tenure in the field and the breadth of their work. These firms also have highly competitive hiring processes. Every business school with an accounting program wants their students to get an offer from a Big 4 accounting firm. For our program to have had only three graduating classes and to have secured employment for so many students in one of these firms is pretty unique. Plus, this field is not very diverse in terms of gender or race — to have women and women of color being able to achieve that so quickly is remarkable.
How has Simmons supported women students?
A common – and incorrect – perception is that women are less capable in quantitative courses. That's a fallacy even our students can internalize. Recognizing that bias, part of our approach is to be as adaptable as we can. We support everyone's learning and everyone's success and cultivate a variety of pedagogical methods. Our faculty know that it is their job to help you learn, and I think that is part of the reason our students have been so successful.
What makes Simmons' curriculum and training stand out?
One of the core threads throughout our curriculum is to be aware of how gender dynamics play out in the workplace, and how to proactively navigate that. We help students see that they can navigate within, around, and behind the invisible operations of gender politics in the business context.
The coursework is challenging and gives students a wonderful preparation, and their training sets them apart in the workplace. Our program is designed to give students a meaningful credential in the accounting profession. We also have exceptional teaching that is really focused on meeting the needs of students in the classroom. In this environment, students gain confidence and prepare themselves well for a very in-demand profession.
Simmons faculty have also been recognized for excellence. The Massachusetts Society of CPAs gives an annual award to a faculty member of the year in accounting, of all the programs in the state. Professor Spiceland was selected in 2021, and Professor Pfeiffer was selected in 2022. To have both of our faculty members selected for this award is amazing.
How is accounting a great long-term career?
There is a consistent shortage of accountants in the U.S. marketplace, so it's a high demand job, and it's critical for all kinds of organizations. It is also a lucrative field. Doing accounting well ensures the financial sustainability for organizations that are doing critical work.
Do you have any advice for incoming or prospective students?
My advice is to come to Simmons to pursue a degree in Accounting, Business & Management, Finance and/or Marketing! In all seriousness, being at a women-centered university means we address the prevalence of gender bias head on and help students how to navigate it, both in the ways we can address our own internalized biases as well as navigating biases that exist in most workplaces. An amazing capacity for learning exists in all of us, and we champion that capacity in a women-centered institution in ways that other colleges and universities don't.