Student Story
Major Spotlight: Sarah Mariski '22, Business and Management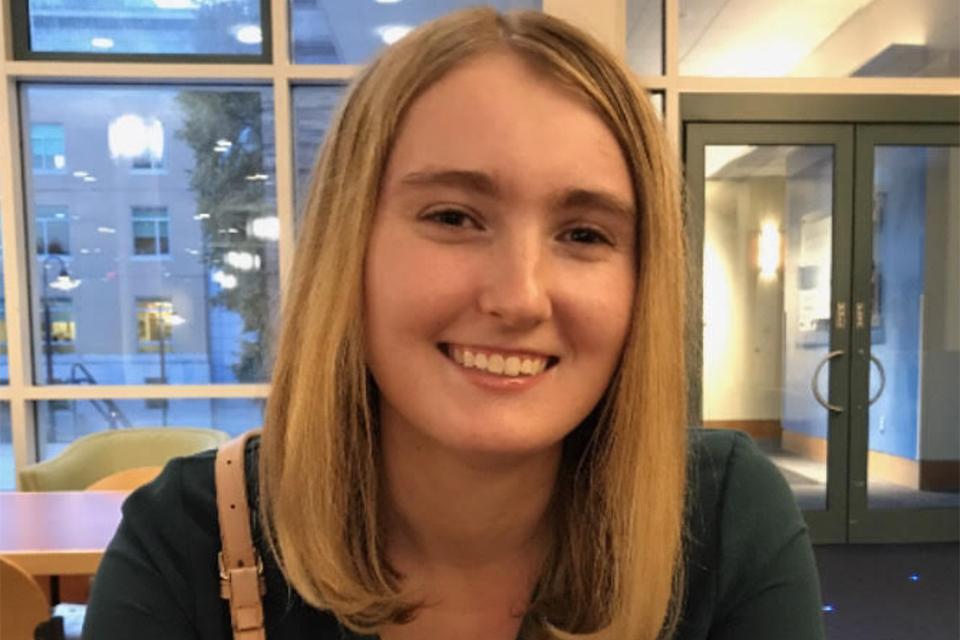 Simmons has given me many opportunities to hone my business leadership and marketing skills while continually educating myself on the healthcare field... I've learned to try everything and take every opportunity I desire.
What made you choose the business and management program at Simmons?
I came to Simmons as undecided before choosing to pursue a dual major in marketing and business & management. I enjoyed how Simmons had a variety of majors — such as STEM, liberal arts, and business, yet still maintained small class sizes. In my first year, I took classes in political science, international relations, and economics because I loved learning about government and history. I still enjoy learning about these subjects — and frequently hone my knowledge by participating in global innovative experiences such as the Simmons World Challenge.
While taking Business 100, I learned about the many aspects of business: management, accounting, finance, marketing, and entrepreneurship. Right off the bat, my favorite specializations were management and marketing, as I could flex my creativity through writing, social media, and graphic design. I loved the versatility business presented to me. I was not limited to one industry — I could go into healthcare, government, corporate finance, travel, retail, etc.
My search became less about my intended major and more about my intended industry. My internships and leadership opportunities began to reflect my search — I wanted to experience various industries and understand their unique management and marketing needs.
What have been your favorite courses?
Organizational Communication and Behavior (BUS 234) with Professor Mary Shapiro
Working with teams is a part of life. I've done it in just about every class, extracurricular activity, and internship. However, I never truly thought you could put strategy and data behind it. This class teaches you proper collaboration and educates you on specific barriers minorities face when working in organizations. In my opinion, this is such an important class. I would also check out "Leading Quietly," the leadership course also taught by Professor Shapiro, as it challenges the notion that all leaders must be extroverted or in possession of typical "male" characteristics.
Internship Course (BUS 370) with Professor Erin DeCurtis
Even though I had two internships prior to the course, I found out there is still a lot to be learned. A 20-hour internship accompanied this class (mine was at a small fitness center) with our supervisor's continuous feedback. The book we used, The Art of the Job Search by Heather Hund, has tips for everything: job searching, making connections, resumes, cover letters, interviews, negotiations, and workplace success. It's a great resource to have even once the class finishes. The guest speakers Professor DeCurtis brought in were all Simmons alums — it was great to see former students like us thriving soon after college. One of the biggest lessons I learned was the importance of making connections and how to reach out to others (since, at times, the job search is not about what you know but who you know).
Financial Accounting (ACCT 110) with Professor Ray Pfeiffer
In all honesty, I was not ecstatic about this course. I struggled with most math throughout high school, so I assumed I would struggle through this course as well. However, this class is an example of the professor's passion genuinely shining through. Professor Pfeiffer knows that many students have a similar (less than open) attitude coming into the course, but he wants to change your mind. I had a much better time in my first accounting course than I anticipated, and all my hard work paid off.
Simmons has shown me that I CAN be a leader.
Tell us about your internship experiences at Harvard and Planned Parenthood.
I found a job listing for Planned Parenthood of Northern New England (PPNNE) on GlassDoor after going for two interviews but failing to land a summer internship. I thought, "why not" and applied since I was a supporter of PP and thought it could be a good opportunity to learn about nonprofit development. I enjoyed the internship and had my first experiences in event planning, graphic design, social media, donor relations, and community management. I had a hand in developing PP's biannual fundraiser for donors and supporters called "More Than Ever." It was great to see the work I did behind the scenes pay off.
For my next internship, I wanted to continue my work in healthcare marketing. However, I wanted to stray away from nonprofits and try working for a larger company. I responded to a job listing on Simmons Workday for a marketing and communications position in Harvard T.H Chan School of Public Health's continuing education department. In this position, I helped with the research and development of their new podcast advertising initiative. I also helped prepare continuing education pamphlets and analyzed data to pinpoint HSPH professional courses' marketing effectiveness.
How is Simmons preparing you to become a leader in your field?
Simmons has shown me that I CAN be a leader. It's a hard first step to take as an introvert, but now I know that I'm just as qualified to lead as someone more aggressive or extroverted. I have my own collaborative abilities — I'm more diplomatic and focused on team morale. Getting the project done to the best of my team's abilities is just as important as getting the project done, period. Simmons has given me many opportunities to hone my business leadership and marketing skills while continually educating myself on the healthcare field. Whether it's the Simmons World Challenge or the business liaison planning a series of informative panels, I've learned to try everything and take every opportunity I desire — something I had reservations about in the past.
After Simmons, I'm considering receiving either a dual MBA/MPH or a Masters in Healthcare Management, and I have no doubt I'll be prepared to take in all experiences.
Do you have a favorite Simmons memory?
My favorite memory of Simmons is the annual soiree event. My friends and I participate in the campus activities board and help plan the logistics. Last year, it was at the Hyatt Regency in Cambridge, and the year before, it was on a boat sailing the Boston Harbor. I definitely miss being on campus this year.