Alumnae/i Feature
Bailey Hilt '18 Uses Arts Administration Skills in Marketing and Photography Position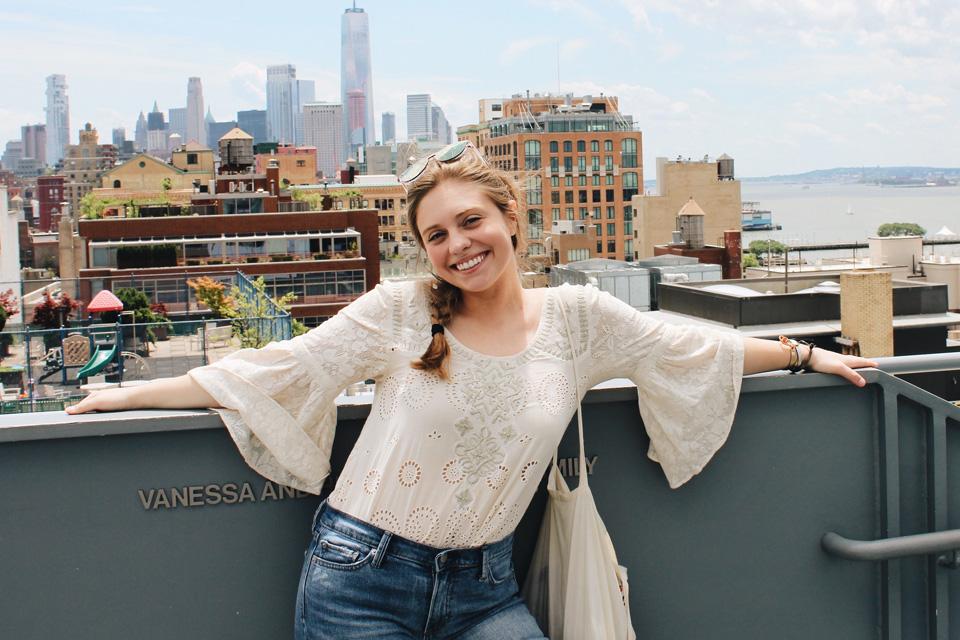 Bailey Hilt '18 is a Marketing and Photography Specialist at Elkus Manfredi Architects in Boston, MA. She spoke to us about the Arts Administration skills she learned from Simmons, her past internship experiences, and how she applies this knowledge in her current position.
What made you want to pursue your bachelor's degree in Arts Administration?
I grew up loving art and taking art classes. As a child, my parents took me to Boston a lot to visit the MFA and I fell in love with the museum. I enjoy when people talk about what they're passionate about and the most passionate people that I know are artists. I wanted to be in that realm, but I'm not a fine artist, so I was looking for a way that I could be around that energy while also doing what I do best as a logistics person.
Why did you decide to attend Simmons?
The business aspect of art really caught my eye, and the program at Simmons was perfect for my aspirations. I attended a woman's centered semester school in high school, and I loved the atmosphere and the small class sizes, and Simmons had all these same aspects. I wanted to be in the center of Boston and close to all the museums that I love.
Tell me about your work at Elkus Manfredi Architects. Has it changed or evolved?
After I graduated from Simmons, I was interning at an art advisory, which I absolutely loved. I stayed there as an admin for almost a year after graduation preparing principals for art fairs and cataloging collections. For my next position, I wanted to again be somewhere around creatives.
I interviewed at Elkus Manfredi Architects for a position under Elizabeth Lowrey, the Director of Interior Architecture, and my current boss. A friend of mine graduated from MassArt the same day I interviewed, and Elizabeth was the keynote speaker at the commencement ceremony, and I was really inspired by her speech. Right after this, I got a job offer. I've always worked for women and that has been a prerequisite for me when choosing a job.
I came to Elkus Manfredi as an Administrative Assistant for their Interiors Studio. I did that for a couple of months, where I prepared research on industry trends and assisted the studio with their various needs, among other tasks that I was assigned. Then, I temporarily became Elizabeth's executive assistant for almost a year. She's the busiest person I know; she's flying around the world; she's meeting with clients, so it was an eye-opening experience. When her former assistant came back, Elizabeth helped transition me to a position in the marketing department because she knew my background in art and my past work experience.
My current position has evolved from a Marketing/Photography Assistant to a Marketing/Photography Specialist. I help the marketing department with pursuits, but I also assist the Director of Photography in managing photoshoots as a project manager. Sometimes, I'm the stylist depending on what kind of shoot it is, but generally, I manage the photographer, the stylists, the models, and the props. I'm in charge of all the logistics that go into that.
How have you used your experience in Arts Administration in your role as a Marketing/Photography Specialist?
I have used it all. After my freshman year at Simmons, I always had an internship while in school, and I really think this was a huge part of how I've been able to be successful in my career. Working with people outside of your education is hard and it requires a much different skill set than working with your peers in the classroom. Those experiences really helped me navigate how to grow and navigate my career in the workplace.
The business courses I took at Simmons benefit me to this day. I took Negotiations with Professor Spela Trefalt and it's been so applicable to my life. As a logistics professional, the communication skills I learned in that class are so important in my career now. While I was taking these courses, I was also able to take art courses, I went to New York for a summer on an arts administration trip with Professor Heather Hole, and I got to work with museums, curators, and collectors. All this has been applicable to what I do now.
I had the best of both worlds at Simmons. The program allowed me to be very flexible in how I did my schooling. Through its diverse course load, I took art history classes, and art classes, and learned how museums are run, while also taking business courses in accounting, negotiations, and project management. I even got to take a few graduate-level classes while I was at Simmons, which were all part of the curriculum. I overloaded on classes, which allowed me to take a semester off so I could work. The program gave me a solid background on what my professional life was going to be like.
What do you find most rewarding about your work?
I think I have the best job because I'm able to work with creatives and capture their finished work on projects that they've spent years working on. Most people are only going to see these projects through photos and my job ensures that these projects will exist throughout time.
How did Simmons prepare you for a career in your field?
Having a diverse course load, the flexibility to take graduate-level classes, and take as many internships as I possibly could, really prepared me for my career field. After graduating, I was ahead of the game with how to talk to people and how to navigate the workplace, which I feel are underestimated skills. You can have all the knowledge in the world, but you need to know how to work with people, and Simmons prepared me for that, especially through all the business courses. Erin DeCurtis and Spela Trefalt were the most incredible professors. I still tell people to take their classes when they go to Simmons.
If I could give one piece of advice to people that go through school, I would say to do as many internships as you can. Paid opportunities do exist, so seek them out. It will put you ahead of the game upon graduation.