University Advisory Council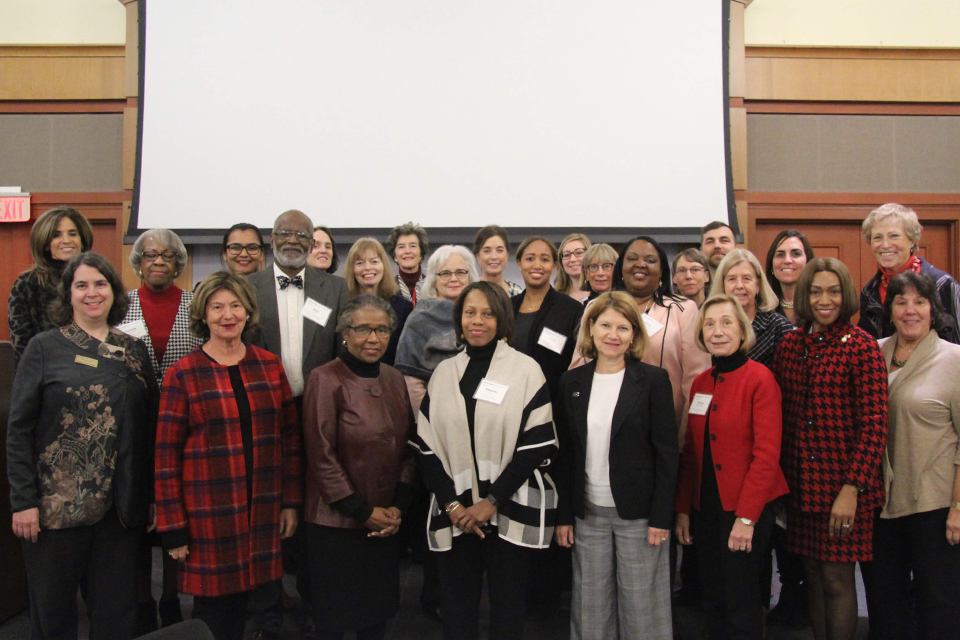 In fall 2019, Simmons University inaugurated the University Advisory Council, which is formed by four Dean's Advisory Councils representing each of Simmons' four Colleges. The Dean's Advisory Councils inform the future vision of each of the Colleges and the roles they play in our society. The goal of each Council is to help guide the direction of the work of the deans and the work of each College through the shared perspective of a group of leadership volunteers.
Each Council consists of pivotal leaders in their respective arenas who serve as a think-tank to help build connections with community partners, create mentoring and career opportunities for Simmons students, and forge relationships in the fields and industries into which Simmons students work. While the Councils do not have a fiduciary obligation, they consider Simmons a philanthropic priority. Through their service to Simmons, they help inspire others to support the academic initiatives of the Colleges and Simmons, and help to garner support for the scholarships and experiences that sustain Simmons students.
The Dean's Advisory Councils meet twice a year, typically in the fall and spring semesters. Together, the four Dean's Advisory Councils comprise the University Advisory Council that meets once a year.
2022-2023 Dean's Advisory Council of the College of Natural, Behavioral, and Health Sciences
Jean Chin '69
Nancy Clark '73
Sandra Scott Cotterell '79
Sarah M. Creed '06
Patricia D'Amore
Paula Dore-Duffy '70
Joan A. Drevins '11DPT
Sasha M. DuBois '08
Emily Feinberg '96MSN
Nancie H. Herbold
Mary A. Hess '64, '91HD
Jeanette Ives Erickson
Heather Gleason Jennings '09, '11DPT
Jeanne Leffers '69
Marsha L. Maurer '18PhD
Colleen M. Murphy '81, '99MBA
Catherine F. Ryan '80
Debra St. George '75
Mary T. Sweeney '74
2022-2023 Dean's Advisory Council of the College of Organizational, Computational, and Information Sciences
Lenore Epstein Blum '63
Christine Bailas Cook '74
Beatriz A. Datangel '11
Ruthe Farmer
Priyal Goyal '14
Wendy A. Gutterson '94MHA
Kathryn D. Hannabury '96MBA, '03MS
Cheryl Doddy Howard '71
Enna E. Jimenez '91, '06E
Maryann Parker-O'Toole '88MS
Robin Parry '84
Amy E. Ryan P '10
Carole Seigel '80MBA
Charlotte M. Streat '00MBA
Maureen Thornton Syracuse '68
Ernesto A. Valencia '00MS
Linda Wisnewski '81MBA
2022-2023 Dean's Advisory Council of the College of Social Sciences, Policy, and Practice
Rashonda Y. Ambrose '02
Anne L. Bryant '71
Jennifer K. Coplon '67, '69MSW
Pamela Moran Dashiell '75
Eileen M. Friars '72
Teri L. Groome '04MAT
Anne Hodsdon '75
Gina A. Patterson '06
Linda A. Rossetti '86
Patricia A. Spellman '96MBA
Lesli A. Suggs '94MSW
Guale Valdez
Pamela Sigal Willsey '82
2022-2023 Dean's Advisory Council of the Gwen Ifill College of Media, Arts, and Humanities
Chantel S. Adams '09
Yamiche Alcindor
Nancy Ancrum
Rick Berke
Cynthia A. Carter '78
Desiree Hicks
Sherrilyn Ifill
Maria Karagianis '70
Athelia Knight
Kimberly A. Jackson-LeBeau '97
Kevin Merida
J. Keith Motley
Michele Norris
Ann E. Petruccelli '01
Judith Turner Phair King '68
Christian Pope-Campbell '91
Julieanna Richardson
Barbara Semedo '73
Samaria A. Stallings '96
Kate Taylor
Maya I. Valentine '19
For further inquiry on the University or Dean's Advisory Councils, please email [email protected] or call 1-800-831-4284.