Helen Popinchalk
Assistant Teaching Professor and Director, Trustman Art Gallery and University Art Collection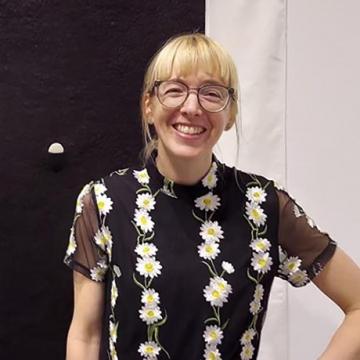 Education
B.A., Studio Art and Arts Administration, Simmons University
M.F.A., Printmaking, University of Massachusetts, Dartmouth
About Me
Helen Popinchalk is a full-time artist and adjunct professor of screen printing and printmaking.    She earned her B.A. in Studio Art and Arts Administration from Simmons University in Boston and her M.F.A. in Printmaking from the University of Massachusetts, Dartmouth.
Her work as been widely exhibited in Boston and beyond, including the Boston Center for the Arts, Thomas Young Gallery and the South Shore Arts Center.  She is a Research Associate for Art Collaborations Worldwide, assisting an independent curator with art acquisitions, research, creating public art collections and exhibitions.
Popinchalk is also a founding member of Trifecta Editions, a print collective that produces affordable, innovative, limited edition screen prints and art objects.
What I Teach
ART 117 Printmaking
ART 215 Screen Printing