Faculty Spotlight
Meet Your Professor: Helen Popinchalk, Director of the Trustman Art Gallery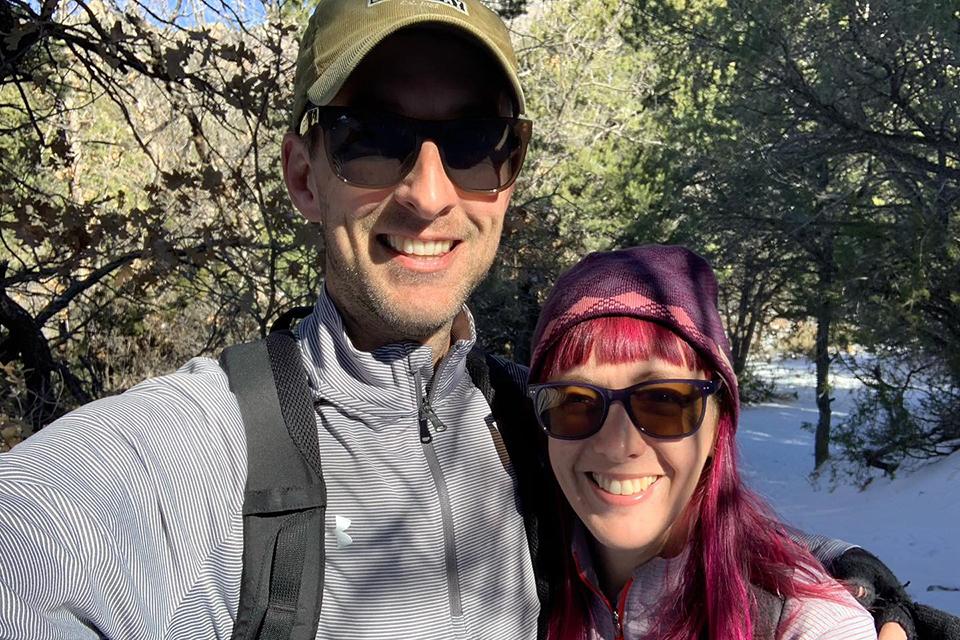 As a Simmons grad, I feel like I have insight into the students who are at Simmons. I love being on the other side of the classroom and sharing my passion for art and screen printing in particular.
Where are you from and what are your roles at Simmons?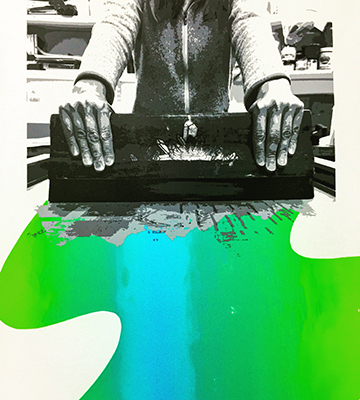 I'm originally from Norwich, Connecticut, but I've been in Boston since 1999. Six years ago my husband and I moved to Andover, Massachusetts.
I'm a faculty member in the Department of Art and Music in The Gwen Ifill College. I'm also the Director of the Trustman Art Gallery and the curator of the University art collection. 
At the Trustman Gallery, we produce between five and six professional shows of regional artists per year, plus an annual student show that opens our spring exhibition season. The programs and events I produce are all really there for our students, faculty and community members.
As the curator of the University art collection, I've been busy de-installing art in advance of the campus construction and moving our collection into its new permanent storage room. Since the Trustman Gallery is closed, I've refocused our exhibitions budget to purchasing artworks from local artists in an effort to diversify our collection.  
As a graduate of Simmons, what's it like being on the other side of the classroom?
A year after I graduated in 2003, I got invited back to teach a screen printing course as an adjunct professor. So, I pretty much never left Simmons — I've been teaching since 2004. As a Simmons grad, I feel like I have insight into the students who are at Simmons. I love being on the other side of the classroom and sharing my passion for art and screen printing in particular.
What inspired you to combine arts and academia?
I really came to teaching through my love of screen printing. For me, screen printing has always been about collaboration and through collaborating with fellow artists I found I loved teaching the process. There is truly something magical about making your first print and pulling the squeegee down the screen and seeing the results. I never get sick of that moment, and with my students, I get to experience it every semester.
Can you tell us a little bit about the pieces we're acquiring?
We're going to be able to purchase four artworks, one each from Destiny Palmer, Rocky Cotard, Rixy Fernandez and Sneha Shrestha. It's really exciting because I'm working with Professor Heather Hole's senior arts administration students to select three of the artworks we acquire. The students will have an active role in writing the labels that will accompany the art on campus and are creating unique programming around each artist. They are also helping me organize a series of artist talks called "Collecting & Connecting" that will introduce our community to the four artists we are working with. It gives them hands-on professional experience, and it's a real world application of the skills that they're learning.
What is the favorite part of your job?
Working with my students. Period. Full stop.
If there was one thing about the Trustman Art Gallery you wish students knew, what would it be?
Just that it's there! I know there are a lot of students who don't even know there's a fourth floor to the MCB. It's such a beautiful space with incredible light. The gallery produces amazing art shows by young, local, emerging artists as well as more established artists, and I always curate the gallery with our students and community in mind.
There is truly something magical about making your first print and pulling the squeegee down the screen and seeing the results. I never get sick of that moment, and with my students, I get to experience it every semester.
Tell us about your recent restoration project. Is this hand-in-hand with diversifying the collection?
Yes! This past summer, I had to pack up everything in our permanent collection storage and move it. I was digging through one of our old wooden flat files and sandwiched between two pieces of foam board were these seven lithographs from 1937 by an artist named Carlos Mérida. They have this really amazing stylized vibe. They're incredible! What attracted me to them was that they really weren't like anything else we had in the collection, so I thought it was a worthwhile endeavor to get them restored and back in action on the Simmons campus.
Most of the prints were in fairly good shape, but they definitely needed to be cleaned. I brought them to a women-owned and run restoration studio in Somerville called TKM Associates this past fall. I asked them to take some photographs along the way to document the restoration project so that I could share it with students as a learning opportunity. And they did an amazing job — the prints are cleaned up and were just dropped off at the framers recently.
Do you know the history of how Simmons came to acquire them all?
I don't. We're working on modernizing our collection, creating a digital asset-tracking system, but right now our archives exist in two giant metal filing cabinets. Since I have been trying to limit my time on campus, I have not looked up exactly where these prints came from. Honestly, I don't even know if that record will exist, but I'm hoping to dig in when we get back on campus. 
If we visited your home office, what would we see?
If I could describe my studio, I would maybe say... art explosion. Organized chaos? Organized because even though it looks chaotic, I know where everything is. I've also got lots of art on the walls — prints that I've made and art created by friends and collaborators.
Do you have any fun facts about yourself?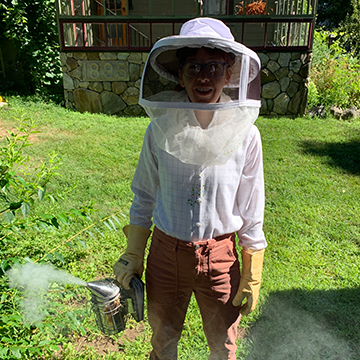 My husband and I keep bees. We have three beehives in our backyard, and we extracted 230 pounds of honey from two of the hives last summer! We have more honey than we know what to do with.
It's amazing to have hives in your backyard. One of our three hives was a swarm we captured in a hedge! It's magical. When I was growing up my dad had about 200 hives all over southeastern Connecticut. He learned beekeeping from his mother, and we're learning from him — I guess it's a family tradition.
What accounts do you follow on Instagram?
I follow a lot of local artists on Instagram. I also really enjoy the account @BlackWomenOfPrint. I came to them through one of their founding members, Leslie Diuguid, who is a screen printer I admire.
What is the last book that you've read?
I do read a lot as a way to wind down at the end of the day. I read before I go to bed. Sometimes I read for as short as five minutes, sometimes for as long as an hour or an hour and a half — really as long as it takes for me to fall asleep!
I just finished re-reading The Border Trilogy by Cormac McCarthy, three loosely connected books: The Crossing, All the Pretty Horses, and Cities on the Plain. Before the pandemic, my husband and I would travel to the southwestern United States at least two or three times a year. We love camping in the desert. So for me, this book was kind of living an adventure vicariously through Cormac McCarthy and these characters. He's my favorite because he's the only author I know that can describe the southwestern landscape in words and in ways that photographs can't capture. When I read his books, I'm transported there.
What TV shows have you been watching?
My husband and I finished rewatching Twin Peaks, but also rewatching the Twin Peaks Showtime reboot. The original was awesome, but the new one is really dark and scary and weird. I enjoyed it!  This is totally out of character for me but I also recently watched a Netflix docu-series about Formula 1 racing — it's called Drive to Survive. I'm not into cars at all but I love learning about subcultures... and the human drama... it's addictive! 
When you go camping do you travel to the same places?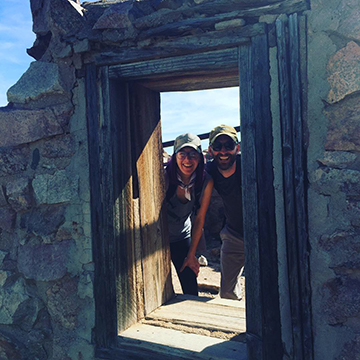 We've been all around Utah, New Mexico, Arizona and Nevada. We've been to the same places a few times, but we don't rehike the same trails. Since I grew up in New England, the landscape there is so different. It's like hiking around on the surface of another planet! I'm also a huge rock and fossil nerd, so for me it's Heaven on Earth.
Do you have any words of encouragement for students?
I want to acknowledge that we're in the strangest of times right now, but I try really hard to remain positive, and I firmly believe in the power of positive thinking.
I would say to students that if you need anything, we're here for you. I don't know if students always understand the depth of our concern for them, and they should know that faculty and staff are genuinely concerned for their wellbeing. 
Try to stay positive, but if you need help with anything, reach out!