Student Story
Women's and Gender Studies Takes Christina Zaharevich '19 to Australia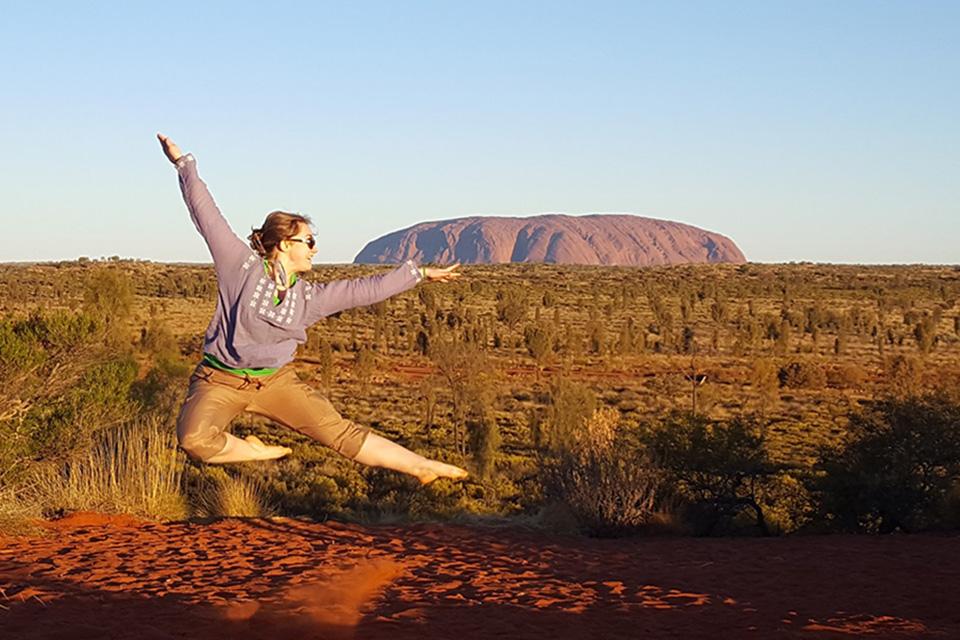 We caught up with Christina about her time at Simmons and how studying abroad changed her life.

Why did you decide to come to Simmons? 
Initially, I just knew that I wanted to be in Boston. I met with Simmons upperclassmen who spoke about all of the amazing opportunities they had, like traveling the world and working with activist groups in the community. What sealed the deal was Professor Doherty's mock-lecture on Politics and Pop Culture — she spent half an hour talking about how Stephen Colbert was changing America. If someone could teach a class like that here, then I knew that this was a place that would feed my intellectual curiosity as much as it would prepare me for whatever I decided to do in my career. 
After coming in undeclared, what made you choose your program at Simmons? 
I took classes in a lot of different disciplines as a first year, but what fascinated me the most was how gender issues were present in every single one of them. I realized that, while I had an interest in a lot of different subjects, I really cared about how our social construction of gender, sexuality, and identity permeated every single aspect of our lives — so I decided to major in women's and gender studies. The transition into studying how that affects public policy was a no-brainer after that.
Tell us about your study abroad experience.
I studied abroad at the University of Melbourne, Australia, in the Spring of 2018 because I've always wanted to go to Australia. I was finishing my junior year, and being at University of Melbourne afforded me the privilege of continuing my academic research into gender, politics, and cultural studies with some of the most talented students I have ever met. The city of Melbourne itself is a hotbed for artists, musicians, political activists, academics, and people from every country on the planet.
I spent our school vacations and long weekends traveling to other parts of the country, from the deserts of the Outback, to the forests of Tasmania, to the clear waters of the Great Barrier Reef. I've brought new ideas back to the classroom to discuss with my colleagues at Simmons, and I've brought a new attitude towards my place in the world around me. My time in Australia will remain one of the best things I've ever done in my life, and I can't wait to go back someday. 
Tell us about being an intern for the Massachusetts Women's Political Caucus (MWPC).
As an intern at the MWPC, I acted as an Events Coordinator and Campaign Advisor alongside seven other students for an entire semester. MWPC's primary goal is achieving equal representation by endorsing and supporting female candidates running for political office at every level of government. The year that I worked with them, MWPC had endorsed 37 women across the state of Massachusetts in local elections. It was my job to provide support to the campaigns of each candidate we endorsed.
Being on the ground and doing the grunt work with each candidate taught me how unglamorous politics can be — it takes a lot of time, energy, and dedication to be an effective leader, and each of the women we worked with had a tireless sense of purpose that allowed them to persist, even when everything seemed to be going wrong. By the end of the semester, when all the votes were counted and almost every one of the women we endorsed had been elected, I was honored to help coordinate the Abigail Adams Awards dinner to celebrate their achievements. 
Do you know what you would like to do after graduation? 
After I graduate, I hope to be a policy advisor, either in the government or in an outside women's rights organization, working to advance policies that will take a bolder stance on intersectional gender issues. 
What is your favorite Simmons memory?
While it is difficult to pick one favorite memory from my time at Simmons, all of my best moments have happened while dancing with my friends in the Simmons University Dance Company. There's certainly never a dull moment in rehearsals when all of us get together.