Student Story
A Voice for Veterans: Sharalis Canales '20MSW on Social Work in the Military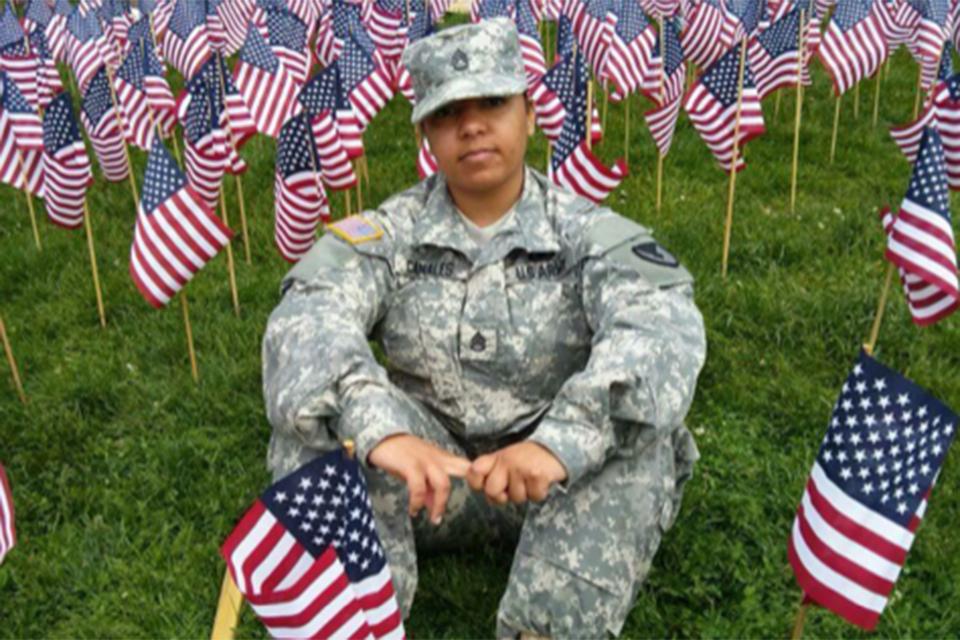 We spoke with Sharalis about her journey from living in a homeless shelter to attending Simmons.

On her journey into the Army
Starting at the age of 14, I lived in a foster home for six years. I went to college while living in the foster home, but there were only a handful of people of color at this school and I honestly felt lost. I decided to drop out of college and made a spontaneous decision to join the Navy. I needed direction in life after leaving the foster care system and college. Ultimately, I was discharged a month later because of a lesbian tattoo. 
Upon returning from the Navy's Boot Camp, I became homeless because I aged out of the system. I lived in the Covenant House in Times Square for about six months and then joined the United States Army. I wanted to change my life around.
On pursuing a graduate degree
After serving 11 years on active duty, I decided it was time to leave the military. I moved to Boston from Hawaii in 2017 because the Boston Vet Center, Department of Veterans Affairs gave me an opportunity. I'm currently a Readjustment Counseling Technician and Outreach Specialist. 
My new boss, an Army veteran and a licensed independent clinical social worker (LICSW), made me apply for graduate school during our first supervision meeting. Other members of my team, all of whom are veterans, encouraged me to become a social worker and attend Simmons University because of the excellent program that was offered. 
On becoming a student again
Initially it was very challenging for multiple reasons. I'm older than most students. I've also been the only veteran in all my classes which has often made me feel out of place. I'm still experiencing readjustment challenges. Although there's only a small population of student veterans at Simmons, their warm welcome has made things a lot easier for me. 
Dr. Frost and Dr. Sealey continue to advocate for veteran issues within our community and I admire their work. I've been successful thus far because of the support from Simmons Student Veterans of America's President, Will Delaney (Marines) and Vice President Kenneth MacIntosh (Navy). The empowerment and motivation I receive from the friends I've made here has been helpful. 
On pursuing social work
Social work chose me. I was a foster child, lived in a homeless shelter and was in the military. I've been in the system and now I'm a part of it. I've been in the field for 13 years and I'm passionate about helping people. I want to be the voice for veterans and I want to fight for the things they believe in!
On her military experience
My ability to utilize my military experience in the social work program has been so helpful. I was a Mental Health Technician in the Army and my background has allowed me to use my skills and knowledge in my studies at Simmons University. My professors find value in what I have to share. I'm also interning at the New England Center and Home for Veterans as a case manager — this allows me to advocate for homeless veterans and connect them with their benefits. 
On the importance of Veteran's Day
It's a day to honor not only my service but to honor the sacrifices my battle buddies have made for our country. It's a day of reflection. This year's Veteran's Day is special because it is the 100th anniversary of the end of WWI. 
I usually volunteer on this day and like to surround myself with my fellow veterans. I'll be volunteering with the City of Boston Veterans Services for Operation Thank A Veteran. We'll be knocking on doors, delivering service packages, shaking hands, and thanking veterans in Roxbury for their service.