Campus & Community
Undergraduate Symposium: From Digitizing Historical Records to Cybersecurity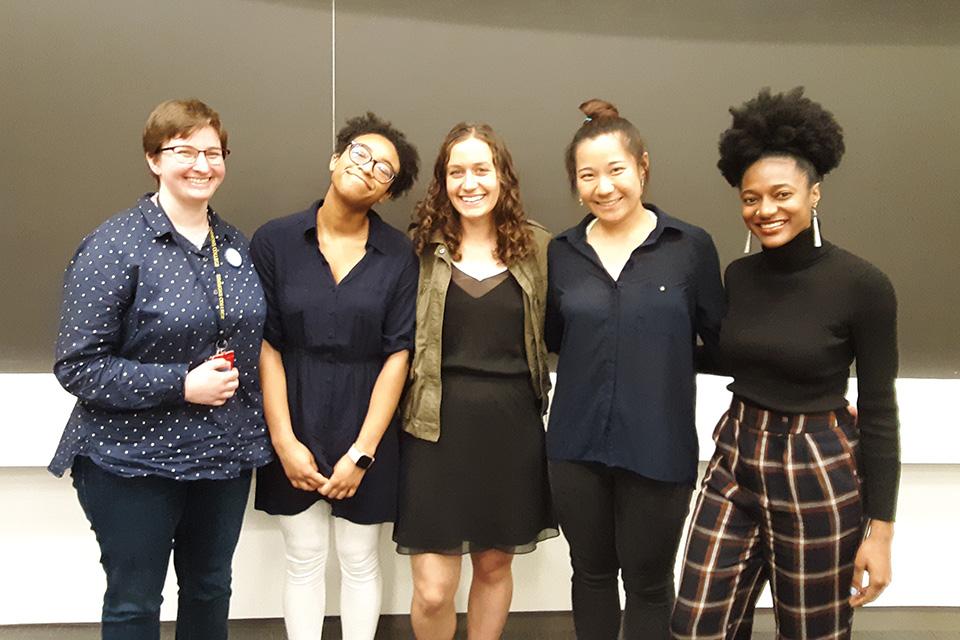 Math and computer science students present at the 2019 Undergraduate Symposium!
Mathematics and computer science students had an impressive showing at the Simmons Undergraduate Symposium on April 23. In addition to poster presentations, a student project was chosen for a keynote session presentation. 
Students Teriyana Cohens '19, Michelle Medici '19, Pam Qian '19, and Patrice Miller '19 collaborated on their project, "Digitizing Court Records: Creating an Interactive History of Enslaved Peoples' Incarceration."
The project, as presented at the keynote by Teriyana Cohens, is an effort to digitize historical prison records that exist on paper and as such cannot be explored using modern data processing tools. The group created a MySQL database on the Simmons webserver and imported data from historical court and incarceration records of enslaved people from the 18th and 19th centuries, where they can be available on an interactive website. They identified metadata categories in the records, allowing them to encode the data for digital processing.
Given the prevalence of unrecorded and undocumented African American history, the transfer of these records is invaluable. The project was suggested to the group's advisor, Amber Stubbs, by Jessica Parr, a lecturer in the History Department. It is a prime example of how history and technology can work together to create a more complete narrative. They hope to allow users to add information to the database, and to contribute the resource to the Legacy Museum in Montgomery, Alabama.
Poster presentations included "Human Factors and the Threat of Cybersecurity" by Jamie Daley '20 and Kaitlin Kalliel '20, with faculty mentor Lauren Provost, which strives to identify human factors that lead to security breaches and propose a new framework to mitigate these factors. 
Laura Isaro '20 and Tamia Hargrove '19 presented "Improvements to Automatic Speech Synthesis Using Prosodic Features," which tested and annotated inflections in natural speech, compared to the computer-generated voices of Siri and Alexa, in the hopes of future iterations of synthetic speech with a more natural cadence.