Campus & Community
Translating Social Responsibility into Archival Education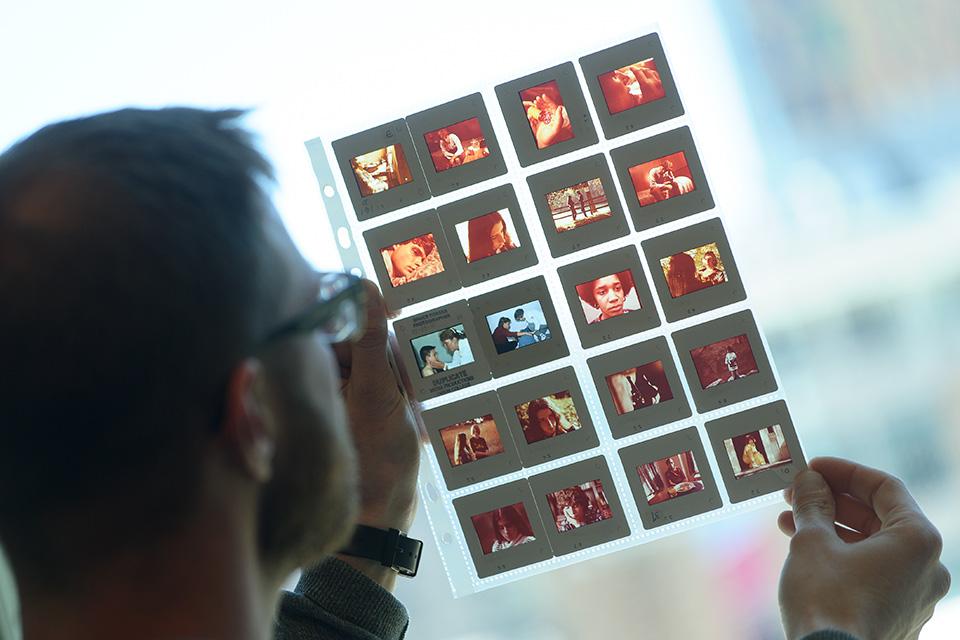 Archival experts from around the world to speak at Allen Smith Symposium 2019.
Over the past decade, archival concerns have increasingly focused on social issues as records professionals recognize and confront the responsibilities and challenges of documenting a complex global and digital society. Although such issues as social justice, community engagement, inclusive access and documenting marginalized populations have predominated in the archival literature, they have yet to be fully translated into archives education curriculum. Bringing together archival educators and practitioners, this symposium seeks to begin a discussion about creating an archival curriculum that addresses contemporary societal needs while at the same time honoring traditional archival theory and that explores theoretical frameworks, methodologies and best practices for teaching archives in a socially conscious environment. 
The 2019 Allen Smith Symposium, "From Community to Curriculum: Translating Social Responsibility into Archival Education," will gather School of Library and Information Science (SLIS) faculty and area professionals to engage in discussion. It will also honor the contributions of Professor Jeannette Bastian during her final semester before her retirement. Here are details about the impressive list of panelists participating in the Symposium. 
Jeannette A. Bastian is Professor and the Director of the Archives Management concentration in the School of Library and Information Science at Simmons University where she began teaching in 1999. Formerly Territorial Librarian of the United States Virgin Islands, she received her MLS from Shippensburg University, an MPhil in Caribbean Literature from the University of the West Indies (Mona) and a PhD from the University of Pittsburgh. Her research interests include the relationships between communities, records and collective memory as well as issues of archives and decolonization. She is widely published in the archival literature. Her books include West Indian Literature, An Index to Criticism, 1930-1975, Owning Memory, How a Caribbean Community Lost Its Archives and Found Its History (2003), Community Archives, The Shaping of Memory, ed. with Ben Alexander (2009), Archives in Libraries; What Librarians and Archivists Need to Know to Work Together, with Megan Sniffin-Marinoff and Donna Webber (2015), and Decolonizing the Caribbean Record, An Archives Reader, ed. with John Aarons and Stanley Griffin (2018).
Peter Botticelli is currently Assistant Professor at the Simmons School of Library and Information Science, where he teaches courses in digital stewardship, digital asset management, and archives appraisal. Botticelli has AM and PhD degrees in History from the University of Illinois at Urbana-Champaign, and an MSI degree with a concentration in Archives and Records Management from the University of Michigan. He previously taught at the University of Arizona School of Information Resources and Library Science, where he directed the school's Digital Information Management graduate certificate program. Botticelli has also held research positions at Cornell University Library, the University of Michigan, and Harvard Business School.
Michelle Caswell, PhD, is Associate Professor of Archival Studies in the Department of Information Studies at the University of California Los Angeles (UCLA), where she directs the UCLA Community Archives Lab. She is the co-founder of the South Asian American Digital Archive, an online repository that documents and provides access to the stories of South Asian Americans. She is the author of the book Archiving the Unspeakable: Silence, Memory and the Photographic Record in Cambodia (University of Wisconsin Press, 2014), as well as more than three dozen peer-reviewed articles on archives, memory, and communities.
Janet Ceja Alcalá is an assistant professor in Archival Studies and Library and Information Science at Simmons University. Her research and teaching are in the area of archives, specializing in audiovisual archives, oral history, and cultural heritage archives in Latinx communities. She earned a BA in Film Studies from UC Santa Barbara, an MA in Film and Media Preservation from the University of Rochester, and a PhD in Library and Information Science from the University of Pittsburgh. She has also worked as a moving image archivist in Los Angeles. 
Michèle Cloonan came to the Simmons School of Library and Information Science in August 2002. She was dean and professor through December 2012 and is now dean emerita and professor. Previously, she was chair and associate professor, Department of Information Studies, UCLA. Michele has worked at the Newberry Library, Brown University, and Smith College, as a conservator, preservation librarian, and a special collections curator. She has published extensively in the areas of preservation, book trade and publishing history, and other areas such as intellectual freedom and international librarianship. Her most recent publications are The Monumental Challenge of Preservation: The Past in a Volatile World (MIT Press, 2018) and, with Peter Botticelli and Martha Mahard, Libraries, Archives, and Museums Today: Insights from the Field (Rowman & Littlefield, 2019). Michèle has held a variety of offices in the American Library Association, the American Printing History Association, the Northeast Document Conservation Center, and the Massachusetts Center for the Book. She was president of the Association for Library and Information Science Education in 2008-09. She has also served on the editorial boards of Libraries & Culture, Library Quarterly, and Libri. Her honors include the Banks/Harris Preservation Award, the Robert Vosper/IFLA Fellows Programme Award, the Bibliographic Society of America Fellowship, and a fellowship to the Virginia Center of Creative Arts. She holds degrees from Bennington College (AB), the University of Chicago (AM), and the University of Illinois (MS, PhD).
Jennifer Douglas is an Assistant Professor at the iSchool (Library, Archival and Information Studies), University of British Columbia, where she teaches courses on personal archives, arrangement and description and the archival system and profession. Her research focuses on the roles of record keeping and archive making in the intimate and emotional lives of individuals and communities and archivists' responsibilities to support, represent, and make space for these roles. Her current project, funded by the Social Sciences and Humanities Research Council of Canada, investigates how individuals and communities use records in processes of grief and bereavement, and on how a better understanding of the emotional and affective roles of records in peoples' lives might contribute to more sensitive, engaging and responsive archival interfaces. Until June 2019, she is editor of Archivaria.
Andrew Flinn is a Reader in Archival Studies and Oral History in the Department of Information Studies, University College London where he has lectured on the Archive programme since 2002. Between 2005 and 2015 he was director of the Archives and Records Management Master's programme at UCL, and is now Deputy Vice Dean for Research in the Arts and Humanities Faculty and co-leader of the Archives cluster in the joint UCL /University of Gothenburg Centre for Critical Heritage Studies. Prior to UCL he studied at the University of Manchester (PhD, 1999) and worked at the People's History Museum in Manchester and the British Museum. He is the current vice chair of the UK Community Archives and Heritage Group (CAHG), and has been a member of the group's executive committee since 2005. He is a member of the steering committee of the ICA's Section for Archival Education and Training, was the chair of the UK and Ireland Forum for Archives and Records Management Education and Research (FARMER) between 2008 and 2011 and the editor of the Journal of the Society of Archivists (now Archives and Records) from 2002 to 2009.  In 2011 he was the Allen Smith Visiting Scholar in the Graduate School of Library and Information Science at Simmons College Boston, in September 2015 an invited visiting scholar at Monash University and in 2017 a visiting researcher at the University of Gothenburg. His research interests include independent and community-based archival practices, archival activism and social justice and participatory approaches to knowledge production aiming at social change and transformation.
Leisa Gibbons (PhD) is a lecturer in the Library, Archives, Records and Information Science Program at Curtin University in Perth, Western Australia. She is the co-Editor in Chief of the scholarly journal, Preservation, Digital Technologies, and Culture. Prior to arriving at Curtin in 2017, Leisa worked as an Assistant Professor at Kent State University in Ohio in the School of Library and Information Science, and as a sessional lecturer at Monash University and RMIT University. Leisa's teaching areas include archives, preservation, management of information organizations, and GLAM convergence. She is passionate about designing experiential and immersive online learning experiences, and co-building tools to support critical reflexivity in student learning and recordkeeping professionals. Leisa's research explores the drive to document personal and community memory, especially in the use of social media. This area of inquiry often includes the examination of intersections between technological, social, and institutional systems. Prior to academia Leisa worked as a records management and archives consultant and has ten years of working experience in an organizational recordkeeping environment.
Stanley H. Griffin was born in Barbados, but grew up around the Caribbean, which greatly influenced his love for Caribbean history, people and culture. Stanley holds a BA (Hons.) in History, and a PhD in Cultural Studies (with High Commendation), UWI, and an MSc in Archives and Records Management (Int'l), University of Dundee, Scotland. Formerly Assistant Archivist and later, Archivist-in-Charge of the UWI Archives at Mona, he is now a Lecturer in the Department of Library and Information Studies, UWI, where he coordinates the archives and records management programme. Stanley's research interests include multiculturalism in Antigua and the Eastern Caribbean, the cultural dynamics of intra-Caribbean migrations, archives in the constructs of Caribbean culture, and community archives in the Caribbean. 
Alex H. Poole, Assistant Professor at Drexel University's College of Computing and Informatics, received his PhD from the University of North Carolina at Chapel Hill. Poole's research and teaching interests center on archives and records management, digital curation, digital humanities, and diversity and inclusivity. He received the Bob Williams History Fund Research Paper Award from the Association for Information Science and Technology for "Harold T. Pinkett and the Lonely Crusade of African American Archivists in the Twentieth Century" in 2018 and for "'Could my dark hands break through the dark shadow?' Gender, Jim Crow, and Librarianship during the Long Freedom Struggle, 1935-1955" in 2017, as well as the 2018 Arline Custer Memorial Award for Best Article from the Mid-Atlantic Regional Archives Conference (MARAC) for "Pinkett's Charges: Recruiting, Retaining, and Mentoring Archivists of Color in the Twenty-First Century" and the Theodore Calvin Pease Award from the Society of American Archivists in 2013 for "The Strange Career of Jim Crow Archives: Race, Space, and History in the Mid-Twentieth-Century South." Poole earned a diploma from Loomis Chaffee School (cum laude), a B.A. from Williams College (Highest Honors, History), an M.A. from Brown University (History), and an MLIS (Beta Phi Mu) from the University of North Carolina at Chapel Hill.
Ricardo L. Punzalan is assistant professor of archives and digital curation at the College of Information Studies, affiliate assistant professor in the Department of Anthropology, and co-director of the Museum Scholarship and Material Culture program at the University of Maryland, College Park. In 2018, he was elected to the Council of the Society of American Archivists. He received an early-career grant from the US Institute of Museum and Library Services (IMLS) to study and develop strategies to assess the impact of access to digitized ethnographic archives for academic and Indigenous community users. He also examines 'virtual reunification' as a strategy to provide integrated access to dispersed ethnographic archival images online. He holds a PhD in Information as well as graduate certificates in Science, Technology, and Society (STS) and Museum Studies from the University of Michigan. He previously taught on the faculty of the University of the Philippines School of Library and Information Studies. His articles have been published in leading LIS and archives journals, including the Library Quarterly, American Archivist, Archivaria, and Archival Science. In 2012, he received the Hugh A. Taylor Prize from the Association of Canadian Archivists for his co-authored article in Archivaria on users and uses of digitized photographic archives.
Rebecka Taves Sheffield is an archivist and archival educator based in Hamilton, Ontario. She has taught in graduate programs at Simmons University School of Library and Information Science and the University of Toronto iSchool. Presently, she is a senior policy advisor for the Archives of Ontario and works on digital recordkeeping strategies. Rebecka previously served as the Executive Director for the ArQuives (formerly the Canadian Lesbian and Gay Archives), where she spent the better part of a decade learning as much as possible about Canada's LGBTQ2+ histories. She has studied sociology, gender studies, publishing, and archives. She completed a PhD in information studies and sexual diversity studies at the University of Toronto.
Dr. Tonia Sutherland is assistant professor in the Department of Information and Computer Sciences at the University of Hawaiʻi at Mānoa. Prior to joining the faculty at UH Mānoa, Sutherland was an assistant professor in the College of Communication and Information Sciences at the University of Alabama. Global in scope, Sutherland's critical and liberatory scholarship in the fields of archival studies, digital culture studies, and Science and Technology Studies (STS) investigates both historical and contemporary entanglements of technology and culture and engages thinking at the intersections of national infrastructures and community informatics. Sutherland is a faculty affiliate of the Center for Critical Race & Digital Studies and the author of Digital Remains: Race and the Digital Afterlife (forthcoming), which addresses trends of racialized violence in 21st century digital cultures and interrogates issues of race, ritual, and embodiment in archival and digital spaces. Her work appears in the Journal of Critical Library and Information Studies; The American Archivist; Preservation, Digital Technology & Culture; the Annual Review of Cultural Heritage Informatics; and Radical History Review. She holds a PhD and an MLIS from the University of Pittsburgh's School of Computing and Information (formerly the School of Information Studies), and a BA in history, performance studies, and cultural studies from Hampshire College.
Katherine Wisser is an associate professor and co-director of the dual degree Archives and History program at SLIS, where she began teaching in 2009. She received her MA in American history from the University of New Hampshire and her MLS and PhD in Library and Information Science from the University of North Carolina Chapel Hill. While in North Carolina, Wisser spent five years as the metadata coordinator for NC ECHO, a statewide program that encouraged and supported use of appropriate metadata by member institutions to ensure online access to cultural heritage information facilitation, workshop instruction and individual institutional consultation. Prior to that, she spent two years as a libraries fellow in the North Carolina State University (NCSU) Libraries cataloging and special collections departments. Her research interests include archival description theory and practice, identity disambiguation, metadata, and government archives. Wisser's articles have been published in, among others, American Archivist, Archival Science, Journal of Contemporary Archival Studies, Library HiTech, and Library Resources and Technical Services. She currently serves as the co-chair of the Technical Subcommittee for Encoded Archival Standards for the Society of American Archivists. 
Elizabeth Yakel PhD is a Professor and Associate Dean for Academic Affairs at the University of Michigan School of Information. Her teaching and research foci are in the areas of digital archives and curation. Throughout her career, she has researched how users discover, analyze, and use primary sources and investigated how metrics can be used to better serve both researchers and the repositories that serve them. Her research currently focuses on data reuse and how to make archived research data not only technically renderable but also meaningful to those who did not originally collect of produce the data now and in the future. Her research has been funded by the Andrew W. Mellon Foundation and the Institute for Museum and Library Services (IMLS). She is active in the Society of American Archivists (SAA), where she served on the governing council and was elected a Fellow in 1999. 
Jane Zhang is an associate professor at the Department of Library and Information Science, Catholic University of America (CUA). She holds a PhD in Library and Information Studies with Archives Concentration from Simmons College, Boston (2010), and a joint Master of Archival Studies (MAS) and Library and Information Studies (MLIS) from the University of British Columbia, Canada (2001). Before joining the faculty at the Catholic University in 2011, she worked at the Harvard University Archives (2003-2010) and the University of Calgary Archives (2001-2003). At CUA, she teaches courses in Archives Management, Electronic Records and Digital Archives, Digital Curation, Metadata, Organization of Information, and History and Theory of Cultural Heritage Institutions. Her research areas cover records and recordkeeping, digital archival representation, and archival education and scholarship, and her research papers appeared in key archival journals and other LIS journals. Currently, Jane serves as chair for Academy of Certified Archivists' Examination Development Committee (2018-2020), and vice chair/chair elect (2018-2020) for Society of American Archivists' Committee on Education, Graduate Archival Education Subcommittee (2018-2020). She also works as PI for a sponsored research project to build a historical archiving program for Special Olympics International (2017-2019).