Campus & Community
Thoughts on the Future with Dean Marie desJardins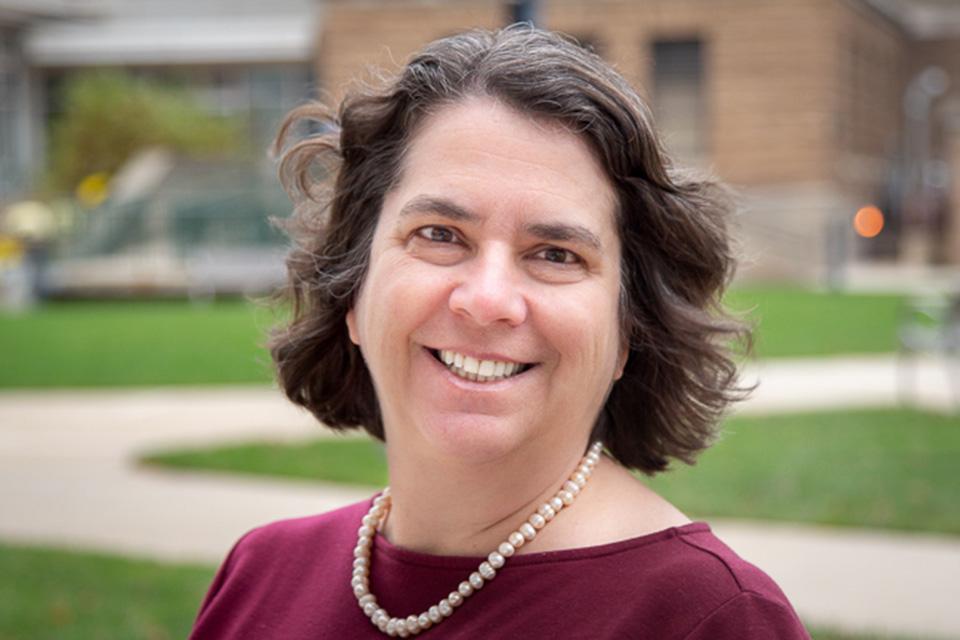 We asked the dean about her artificial intelligence research and the benefits of the new College of Organizational, Computational and Information Sciences structure.
Dr. Marie desJardins joined Simmons as the inaugural dean of the College of Organizational, Computational, and Information Sciences (COCIS) this semester. Dr. desJardins brings extensive experience to this new role; she was previously Associate Dean of Academic Affairs in the College of Engineering and Information Technology and Professor of Computer Science and Electrical Engineering at the University of Maryland, Baltimore County. Dr. desJardins is an artificial intelligence (AI) researcher as well as a passionate advocate for women in technology. She has been invited to co-chair one of three upcoming workshops, sponsored by the National Science Foundation (NSF), to develop a roadmap for AI research over the next several decades. We talked with Dean desJardins to learn more about her research and her vision for COCIS. 
What drew you to the College of Organizational, Computational, and Information Sciences?
When I saw the description of COCIS in the position announcement, I felt immediately that it was a very exciting opportunity and an excellent fit for my background and interests. The 21st century presents incredible opportunities—along with incredible challenges—in creating and harnessing the power of computation, information, and automation to make the world a better place. COCIS includes programs in business and organization; mathematics, statistics, computing, and data science; and information and library management, representing a confluence of disciplines that can collectively tackle these global challenges. As dean, I have the opportunity to work closely with faculty and students, while at the same time thinking strategically about how to work with other campus leaders and off-campus partners to invigorate existing research and teaching, create new programs and initiatives, and elevate the exciting work that's happening at Simmons to reach a broader audience.
Tell us about your research.
My AI research has focused on machine learning, decision making, and organizational dynamics of multi-agent systems. I've generally been interested in integrated approaches to AI—systems that combine intelligent reasoning, learning, and interaction—as opposed to "traditional AI," which tends to focus on more narrow problems and approaches. I've also been driven by the desire to understand how people can use AI systems more effectively by capturing human knowledge, providing intelligent user interfaces to control and guide AI systems, and developing explanatory and visualization-based methods for users to understand what their AI systems are actually doing. My research has been somewhat theoretical, but focused on real-world problems, and highly interdisciplinary in nature. More recently, I've focused on K-12 computing education and how we can increase diversity in computing by reaching students at a younger age to expose them to the excitement of computational thinking and problem solving.
What led you to research AI?
By the time I started college, I knew I wanted to be a computer scientist, but didn't have any specific idea about what I wanted to do within the field. When I took Psych 101 as a general education course in my junior year, I became fascinated by how the human brain works, particularly how we can focus on specific aspects of our complex world, formulate problems to solve, use experimentation to explore the world around us, and learn from experience. That naturally got me thinking about whether it was possible to build computer systems that could do all of those things, and I discovered that there was already a field that focused on exactly that question. So I took the AI course the following semester and was immediately hooked.
How do you imagine the future of AI will impact COCIS and Simmons University?
There are elements of AI in systems that you use every day, from the Google search algorithm, to your GPS, to the predictive models that guess what you're about to type on your phone. Even more exciting—but at the same time more concerning—are the broad applications that can transform our world, how we work, and how we interact with each other: self-driving cars, business analytics, intelligent tutoring systems, and manufacturing automation. These technologies offer many opportunities to make the world a better place. But there are dangers: that power and wealth will be increasingly concentrated in the hands of a "power elite," that workers displaced by automation will be impoverished and disadvantaged, and that automated algorithms will exhibit (unintentional or otherwise) biases that result in harm for disadvantaged populations. I'm an optimist at heart and I truly believe that we can have the best of both worlds—technology that benefits everyone, enabling and empowering all people rather than displacing or depriving them of resources. At Simmons, we're uniquely positioned to work across disciplines within COCIS, across the four Colleges, and with external partners to think in a broad, interdisciplinary, socially conscious way about the bigger picture: 
How innovation can be enabled and strengthened through diverse workplaces and broad-based education.
How policies and regulations can be used to guide technology development for the benefit of everyone.
How ethical reasoning and leadership can become integral parts of the training of the next generation of scientists and engineers.
How technologists can work effectively with leaders in other disciplines to educate them about the benefits and challenges of emerging industries.
Can you tell us about your workshop, "Integrated Intelligence," to be held this November as part of the AI Roadmap?
The Computing Community Consortium (CCC), an NSF-funded initiative of the Computing Research Association, has the mission of broadening and strengthening computing-related research in the United States. The CCC has recently launched the AI Roadmap activity, co-chaired by Yolanda Gil, University of Southern California and President of the Association for the Advancement of Artificial Intelligence (AAAI), and Bart Selman, Cornell University and AAAI President-Elect. The Roadmap project will bring together senior and junior AI researchers from across the country to participate in three workshops, focusing on three key areas of AI: Integrated Intelligence; Interaction; and Learning and Robotics. Ken Forbus of Northwestern University and I will co-chair the first workshop, Integrated Intelligence, in Chicago on November 14-15. After the three workshops, we will hold town hall conversations at the AAAI national conference in Honolulu in January/February 2018 and invite public comment. The AI Roadmap team will then develop a report that identifies essential research directions for the next ten years and beyond, which will be used to inform federal research investments.
Can you speak to your experience as a woman in this field?
That's an important and broad question. In some ways, that I'm a woman is —or should be—completely irrelevant to the work that I do as a computer scientist. But the fact is that only about 20% of computer scientists are women, and I've always been keenly aware that I'm in the minority in just about every class, research talk, and CS or AI-related project I've worked on. I also believe that the gender disparity in the field exists not because of inherent differences in capacity or preference, but because of present and past societal influences: intentional discrimination, implicit bias and stereotypes, a "chilly culture" for women in computing in academia and industry, as well as social factors and internalized expectations that make it more difficult for women to advance in this field.
I can't say that I've personally been the target of blatant intentional discrimination, though there have certainly been implications along the way that I "only got that [scholarship, job, assignment] because I'm a woman." The idea that women are somehow getting special treatment and advancement—the affirmative action myth—is pervasive, but patently untrue. It's hard to imagine how anybody can say it with a straight face, but they do. Though I've been incredibly lucky to have great colleagues, peers, and mentors throughout my career, I've often felt a sense of not quite belonging. As I began to take on more leadership roles, it became obvious that I wasn't "supposed" to be doing that, and the "likeability penalty" became more of a factor—as Sheryl Sandberg said, "As women get more powerful, they become less likeable."
In our society, men are supposed to be forceful, assertive, dominant, and aggressive. Women are supposed to be kind, compassionate, and deferential. Guess what, though? Leaders are supposed to be forceful, assertive, and dominant. So what happens when a woman tries to be a leader, particularly in a field that is male-dominated and filled with aggressive people? It's a very fine line to walk—and it becomes exhausting at times. One of the wonderful things about being at Simmons is the prevalence of female leaders, with different personalities and styles—it's astonishingly freeing and empowering, and something I've never experienced before in my life.
Can you tell us anything else about yourself?  
I'm a really fast crossword puzzle solver! I've always loved to do puzzles, especially logic problems and word puzzles. I've been going to the American Crossword Puzzle Tournament (ACPT) in Stamford, CT, for the last ten years or so, and have steadily climbed from the top 25% in my first year of competition to the top 10% or above in the last few years. This year I went directly to Stamford the day after my Simmons interview and placed 14th overall (out of 674 solvers), 1st in the "B" division (everyone but the very top solvers), 1st out of all solvers in the 50s age group, and 2nd in the mid-Atlantic. I think it was fate telling me that Simmons was the place for me. As you can tell, I love crossword puzzles, and would happily talk about them all day! You can read about this year's performance and some thoughts about how I improved my speed over the years.
In addition to crossword puzzles, I love to cook, eat, travel, read, and spend time with my family—especially my two wonderful daughters, Caroline (who's a senior in college and wants to be a veterinarian) and Heather (who's in medical school and plans to be a plastic surgeon).
Anything else you have to share?
I'm always eager to hear from our students! I've created a form for Ideas, Inputs, Complaints & Concerns. Share your thoughts with me any time.