Student Story
Thinking Critically and Creatively: Livic Inoa '22 Combines Computer Science and Philosophy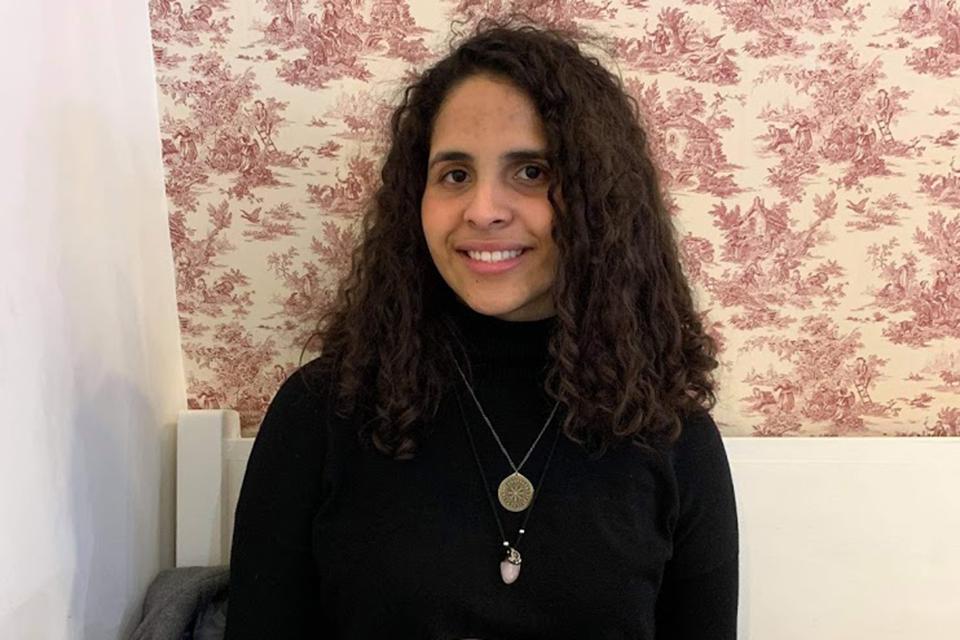 Ever since coming to Simmons, I like going to the Ifill wing, and I've learned about Gwen Ifill — she was such a remarkable person.
Why did you choose to attend Simmons?
I came to Simmons wanting to branch out. I lived in New Jersey, and because I immigrated to the United States, I didn't really have a choice on where to live when I got here. I wanted to choose a place of my own to live in, and I really like Boston. I loved the environment on campus on Accepted Students Day and made a friend there.
I came into Simmons as a computer science major and then later on added a philosophy major. I had taken philosophy in high school, so I wanted to take another course in college, and my professor, Wanda Torres Gregory, was encouraging. I really like the discipline, so I decided to add it on and just go for both.
I like computer science because you can be creative in one way, but philosophy kind of forces you to think critically. A lot of people think it's the opposite, but for me, computer science is fun and creative. You get to do fun projects and work with people. Philosophy is a lot of critical thinking, comparisons and writing essays, so I wanted to be strong in both.
What professors have helped you reach your goals?
Professor Gregory is my philosophy professor, advisor, and the person who pushed me to pursue the major. She's definitely been a big help. Mathematics, Computing and Statistics Professors Nanette Villeaux and Amber Stubbs have also been really helpful. Even professors outside of my majors, like Lydia Fash, my professor for my learning community sophomore year, challenged me in that course, and I appreciate it a lot.
What does the Ifill Scholarship mean to you?
I'm one of those people who will do many things, but I don't really expect anything from it — participating in clubs or volunteering for certain things. So when I got the Ifill Scholarship, I thought, "Oh, someone noticed me."
Ever since coming to Simmons, I like going to the Ifill wing, and I've learned about Gwen Ifill — she was such a remarkable person. It's hard to make the connection directly, from her work to mine, but to me, it's about the transmission of information and knowledge, where something one person knows suddenly becomes something that everybody knows. I think with philosophy, there's a similar dynamic — like an idea or a thought that someone has put out there in the world, and that allows people to open up their minds and broaden their horizons.
As you look to the future, how do you hope to connect your passion to a lifelong purpose?
After I graduate from Simmons, I want to make sure where I'm working aligns with me and my values. I think a lot about the spaces I could work — in computer science, I lean more towards design and how to make things user-friendly. In the future, I do want to get into writing and publishing. For now, I'm starting with an independent study, and then I may do a thesis next year. From then on, we'll see.