Student Story
Simmons University Radio Nominated for Best Station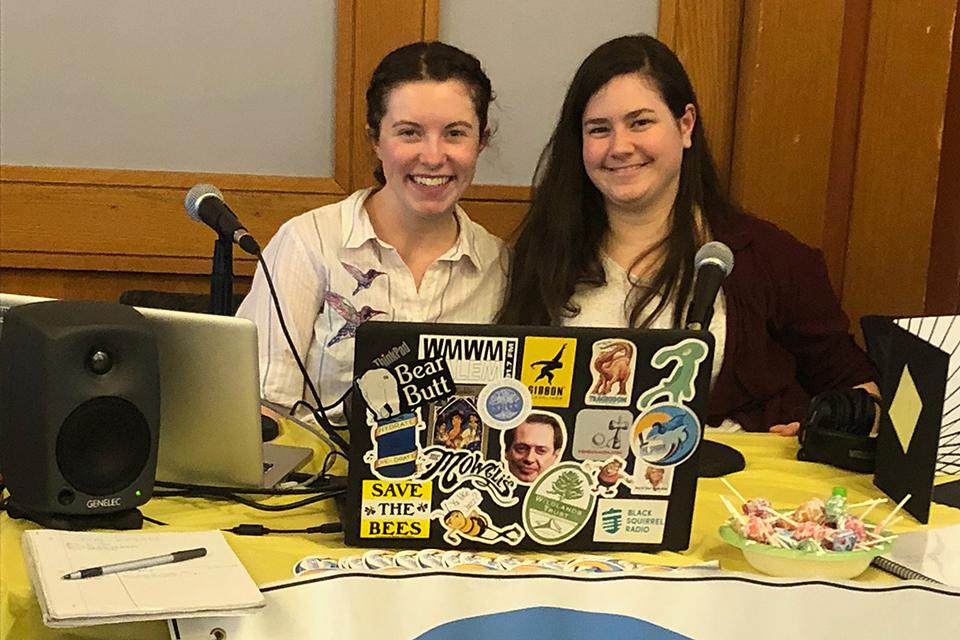 As General Manager of Simmons Radio, Caroline Mahoney '19 tells us about being nominated for Best Station by the Intercollegiate Broadcasting System!

On choosing Simmons
I was actually looking for a big school in the city, but when I found this small community in Boston it felt right. 
I started as a communications student, unsure of which focus I would choose. Ultimately I decided to major in web design & development and media arts and minor in psychology because these are the skills I was most interested in learning.
On Simmons Radio
I joined The Shark my first semester and I've been hooked ever since. It's great to have a creative outlet where I have so much freedom to create the content I want to make, and learn more about how to produce it. In the four years I've been with the radio, I've increased my confidence, improvisation and faith in myself to be able to figure out a problem. Many of the skills I've learned are self-taught — if I want to do something or if something isn't working, I just sit down and play around with it. Sometimes I've needed help, but most of the time I'm able to figure it out myself and get it to work. 
Just knowing that I have the skills to attempt something, even if I don't know exactly how it's going to happen doesn't mean I can't try. For instance, the radio is putting on a music fest March 29. This is something we've talked about doing for years, but this year we were able to break down how we could do it, ask people questions about how to do something and it's really getting done. I wouldn't be able to do that without the confidence I've built up from the past years on radio.
On producing content
I really enjoy producing reels and edited pieces because I feel that I can make really good content become great with the power of editing. Adding music under someone talking, or fixing a flub in how someone is talking can make a difference. Some of the music artists we interview on air have made some really great YouTube content.
On the Best Station nomination
Being nominated for best station is amazing because we are competing nationally against other college radios and they still chose us because of all the hard work the DJs and radio staff put in this year. 
The effort put into some of the shows on the radio is amazing and I'm so happy we have a place on campus for people to put their ideas into action. It really makes a difference even if your major is not in communications to have a place to play around and experiment with a creative outlet.
On her plans after graduation
I'd like to continue the creative work I've done in the radio by going onto other media companies. I have experience in marketing, digital art making, digital production and web design so I hope to some how figure out a way to bring those skills to a cause. 
On her favorite Simmons memory
Some of my favorite memories would be with the radio and the several late nights we've spent in the past getting reels done in the station. It creates a space of working hard to get this really cool thing done, while also goofing off with my friends and doing some dumb creative stuff together. 
One story that sticks out is when we were testing the equipment in the studio and then it turned into a 45 minute ASMR bit that went on for far longer than we intended.