Campus & Community
Simmons Students Harvest 11,200 Pounds of Apples for Boston Food Pantries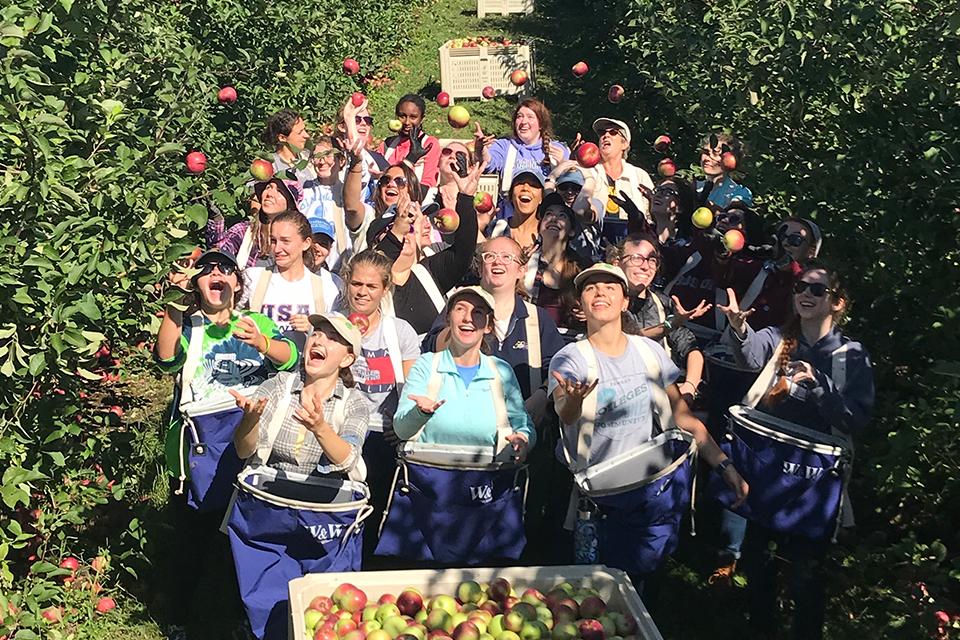 Caroline Codair '19, '22DPT, Jenna Clemenzi '19, '20MPP and Cara Stockman '19, '22DPT tell us about volunteering with Boston Area Gleaners.

About the students
Caroline: I'm on the exercise science/physical therapy 3+3 track. I knew I wanted to work alongside people, positively impact my community and focus on wellness, rather than sickness. PT seemed like the perfect fit! And I was fortunate enough to find and be accepted to Simmons' accelerated track!
Jenna: I'm in my third year of the political science/public policy 3+1 program. In high school when I did my Youth Voting Initiative project for my Girl Scout Gold Award I became passionate about politics and civic engagement. This was also around the beginning of the primary elections in 2016, when American political culture was becoming extremely divisive. I wanted to stay involved and I was considering a future career in policy, so I decided to major in political science and apply for the MPP program.
Cara: I'm in my third year of the physical therapy program. I'm fascinated by the human body's capability to heal through movement. Physical therapy was the perfect fit for me: it was both medicine and behavioral health. Boston is known for its healthcare — particularly hospitals in the Longwood area. Simmons offered an opportunity to work alongside great minds from these institutions. Simmons also has several organizations on campus centered around my other central interest: sustainability.
How it began
Jenna: We're in the Food Systems Learning Community, which is part of our undergraduate core curriculum, PLAN, and is made up of 3 classes. In "Food Policy" we discussed food waste, FDA policies and regulations, food insecurity and food deserts, childhood nutrition and school lunches, and policy solutions for these issues. The "Political Economy of Food" class focused on issues at each level of the food system, from the workers in the field to major supermarket chains. In the "Seminar" portion we worked on group projects and looked at community solutions to food issues like urban farming, farm shares and farmers markets.
Developing their project
Caroline: One Saturday during fall semester 2017, I ventured to the North End to attend the Boston Food Festival on the Rose Kennedy Fitzgerald Greenway. While walking around, I saw a booth titled Boston Area Gleaners. "Gleaning? What is gleaning" I asked the people at the counter. When they explained their nonprofit's mission, I instantly fell in love. I wanted to be part of their goal to eliminate food waste on the agricultural level AND help feed Massachusetts residents. Conquering two issues at once — brilliant! 
Coming up with the project idea, I wanted to increase consumer awareness, specifically at Simmons. I'd never heard of gleaning before, and imagined others must be unaware too. Cara, Jenna and I agreed it would be perfect to educate our campus about the extreme levels of food waste on farms by inviting students and staff on a gleaning trip.
Partnering with the Gleaners
Cara: The Boston Area Gleaners are the definition of a successful grass-roots group. Their origin story began much the same way our project did: with a concern about food insecurity in America, particularly in Massachusetts. Gleaning is a practice unknown to many in vocabulary, but recognized by almost everyone. It is the act of harvesting unwanted crop from the field and donating to those in need of such food. Often times this food is a bumper crop: something the farmer wouldn't profit off of, or the food is simply "ugly" not up to consumers' high standards. 
The Gleaners, as we like to call them, bridge the gap between excess food and hungry people — and they do so with clear commitment and back-to-the-earth style. Simply put, they were fantastic to work with! In fact, they had done events such as ours before and had a "corporate outing" template to follow, in order to organize all the staff and materials for the event. 
Harvesting the apples
Jenna: We had a group of 31 people, including students, Profs. Biewener and Nitkin, and one parent. We arrived at the farm around 9:30 and where we learned how to harvest the apples and use the harvesting tools provided. We gleaned for about 2 hours and filled 14 bins of apples — 11,200 pounds! — that would be donated to Boston area food pantries. Picking apples was a lot of fun and I got to talk with the gleaning staff and bond with other Simmons students who were taking the same learning community this year!
We returned to Simmons with bags full of apples ourselves and a bagged lunch our project purchased from the Daily Table in Dorchester, a not-for-profit, low-income food market we had also learned about. Daily Table is also one of the recipients of the Gleaners' rescued food.
The feeling of volunteering
Caroline: Aside from one student, no one had previously heard of gleaning, let alone taken part in it. When the volunteers heard how much we gleaned, their mouths dropped! Many of the students posted pictures of themselves and friends on the trip promoting the mission of BAG, and explained how they helped their community that day. Being able to share our new found passion for gleaning with friends, and then having them be just as excited for more trips is a wonderful feeling. After receiving unanimous love and support on our event, we did apply for grant money for a (hopefully annual) trip this time next year!
Cara: I personally believe there is no greater feeling than working in service. The key to charitable action is to participate in a sustainable, uncorrupted system of giving. The Boston Area Gleaners is a perfect example of well-intentioned individuals taking action where it's needed. Most importantly, they contribute to a system of awareness and connection with the food we eat.