Student Story
Simmons Grad Student Wins Memphis State Eight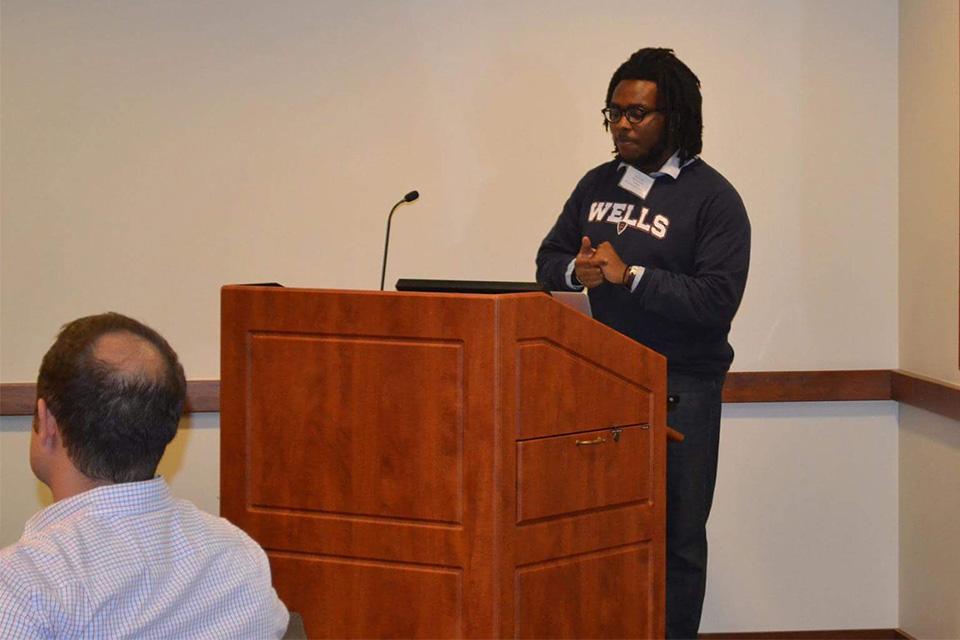 We spoke with Adam McNeil '18MA about his awarding-winning paper and his MA in history.

Did a particular experience or person inspire you to pursue a graduate degree in history?
In March 2012, I visited my brother in Boston for the first time. He took me on a personal black history tour of Boston; we visited the Boston Campus of the Museum of African American History in Beacon Hill and the African Meeting House. While there, we heard the Boston African American National Historic Site Park Ranger speak about the history of the Meeting House. I asked him, "how do I do what you do?" 
Although I'm still not a federal park ranger, I instead discovered the Student Conservation Association (SCA). The SCA allows me to travel throughout the country for free, and I get paid to speak about the histories of the communities I've lived in: Virginia, Kentucky, Massachusetts, Kansas, and Massachusetts. My circuitous journey brought me back to the Boston African American National Historic Site, where I have the opportunity to hopefully make someone say "how do I do what you do?"
Tell us about the significance of the "Memphis State Eight" paper prize.  
The University of Memphis hosts the annual Graduate Association for African American History conference each year. The "Memphis State Eight" prize is named in honor of the eight pioneering African American students that integrated what was known as Memphis State University. Last year, through a generous travel grant from Simmons, I was able to attend the conference. This year, I promised myself that my submission would be good enough to compete against the majority doctoral student paper pool.
Tell us about your paper.
My paper is centered on how two early black women abolitionists, Boston's Maria Stewart and Philadelphia's Sarah Forten, dealt with the psychological effects of living in a land that enslaved a large number of their race in the 1830s. It explores why they decided to fight against an expanding empire, instead of attempting to flee and colonize or emigrate elsewhere. Because the wealth produced for the expanding American empire came from the forced blood sacrifice of their race, Stewart and Forten asserted that the United States owed free black Americans and their sisters and brothers in bondage. If anyone should benefit from America's economic success, those of African descent should.   
What's the best thing about Simmons' Masters in history program?
In the history program, I'm allowed to be myself in and out of the classroom setting with my professors. Simmons' academic environment allows people to keep their personalities intact when they enter the classroom, which isn't the typical case in many academic environments. Ultimately, this leads me to enjoy my experience so much more.
Do you have any advice for students pursuing graduate degree?
READ, READ, READ! A professor once told me that in order to become a better writer, "read books from scholars whose writing style you seek to pattern your style after." Continue to read and seek mentorship from your professors because, especially at Simmons, the professors care about your academic success. When you succeed, the entire department succeeds!
What's your Simmons moment? 
My Simmons moment occurs anytime I'm building community with fellow students in the Multicultural Student Office. When the office opened at the end of Spring 2016, Simmons changed for me — I met others and engaged in deep debates, heart-felt discussions, and immense laughter over our mutual attempts at coping with the daily stresses of college life. I cherish all of the people I've met in that space!