Announcement
School of Social Work Announces Endowed Chair Recipients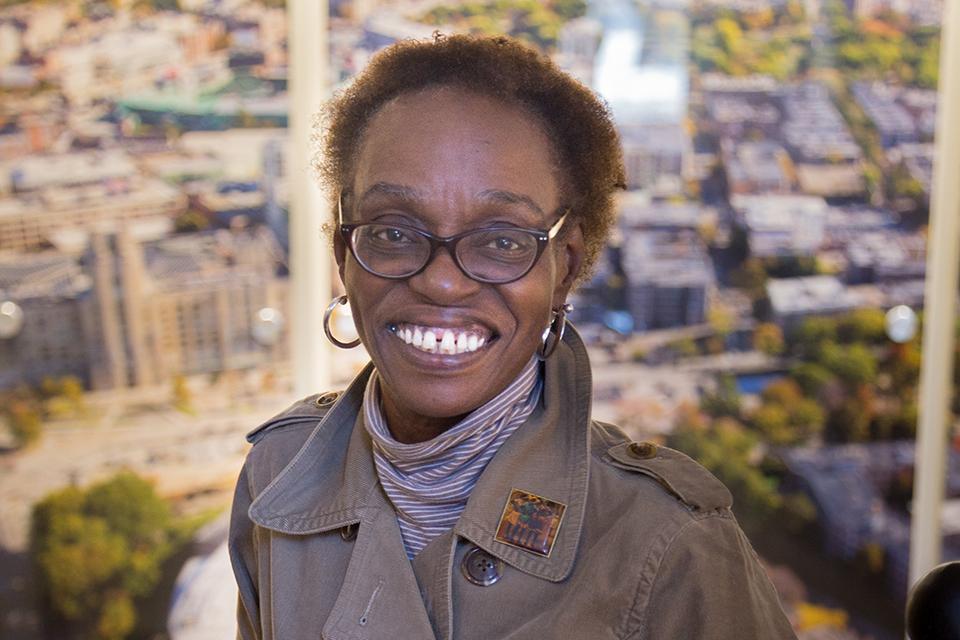 Simmons University's School of Social Work has announced new and renewed appointments of two faculty members to endowed chairs, which recognize distinctive achievement by providing ongoing philanthropic support for research and salaries. Johnnie Hamilton-Mason is now the E.W. White Professor, and Hugo Kamya will continue as Social Work Alumni Fund Endowed Chair for the next two academic years.
"Dr. Hamilton-Mason is a nationally-recognized scholar who has shown tremendous leadership in the School, the community, and the field of social work," said Dean Stephanie Berzin of the College of Social Sciences, Policy, and Practice. "We are delighted to recognize her leadership and support her continued work in the areas of equity and justice." 
Dean Berzin said the E.B. White Chair, which is a three-year appointment, will allow Hamilton-Mason to continue her work on African immigrants involved in human service work. It will also support growth in the School on integrating the racial, ethnic and cultural needs of foreign-born and people of color who work as human service professionals. That work is expected to culminate in a symposium or special event on the topic, according to Berzin.  
"We are delighted that Hugo Kamya will continue to serve as the Social Work Alumni Fund Endowed Chair," said Berzin. "His work is embedded in local and global communities through scholarship, teaching, and strong community engagement. Dr. Kamya's work embodies the meaning of this chair as he is deeply committed to supporting students and providing transformative learning opportunities. It is an honor to have him in this role."  
Berzin noted that many alumni reference Kamya's courses as providing life-changing experiences at Simmons that have impacted their social work path. He is originally from Uganda and came to the United States more than 30 years ago. Over the last 16 years, he has facilitated bilateral cultural and educational exchanges between Uganda and the United States.  
---
Dr. Hugo Kamya is a professor at Simmons School of Social Work where he teaches clinical practice, trauma, research and narrative practices. Originally from Uganda, Dr. Kamya came to the United States more than thirty years ago. He studied at Harvard University, Boston College and Boston University and began a career in the interrelated fields of social work, psychology, and theology. Dr. Kamya's work has focused on immigrant and international efforts to assess mental health and social service needs of people.
Over the last 16 years, Dr. Kamya has facilitated bilateral cultural and educational exchanges between Uganda and the United States. In 2003, he received an award from the American Family Therapy Academy for Distinguished Contribution to Social and Economic Justice in recognition of his work with trauma and immigrant populations. 
Dr. Kamya's work internationally has focused on designing international studies, human rights and developing effective international partnerships. Dr. Kamya's sabbatical time in South Africa and Australia widened his involvement with immigrant and refugee populations. His commitment and dedication to train practitioners as global citizens was recognized by NASW in 2014 with the Greatest Contribution to Social Work Education Award. In 2014, Dr. Kamya was accepted and inaugurated into the Fulbright Specialist Roster Program as a Fulbright Scholar.
Dr. Johnnie Hamilton-Mason is a Professor at Simmons School of Social Work. From 2004- 2007, Dr. Hamilton-Mason served as Director of the Doctoral Program at SSW. In 2005 she co-founded the SSW's Pharnal Longus Academy for Undoing Racism. From 2001 through 2008, she served as a Harvard University W.E.B. DuBois Institute non-resident fellow in African American research. Her scholarship and research interests are primarily on African American Women and Families, the intersection of cross-cultural theory and practice, and HIV/AIDS prevention and treatment. She has served as a Researcher at the University of Texas's Hurricane Katrina Researcher Collaborative. 
Previously, Dr. Hamilton-Mason was appointed as Co-Chair of the HIV/AIDS Task force for the National Association of Black Social Workers and currently serves as the Co-Chair of the Council on Social Work Education's Council on the Role and Status of Women in Higher Education. Dr. Hamilton-Mason is currently on the editorial board for Health and Social Work and the Journal of Social Work Education.  She is also a Board of Trustees member for Research Education Collaborative for Al Quds University and the Heritage Guild. In 2013, she was honored to receive the Massachusetts NASW Social Work Educator of the Year Award. As a practitioner, researcher and scholar, her passion lies with serving underrepresented populations and communities.