Faculty Spotlight
Professor Vieira Publishes New Public Relations Book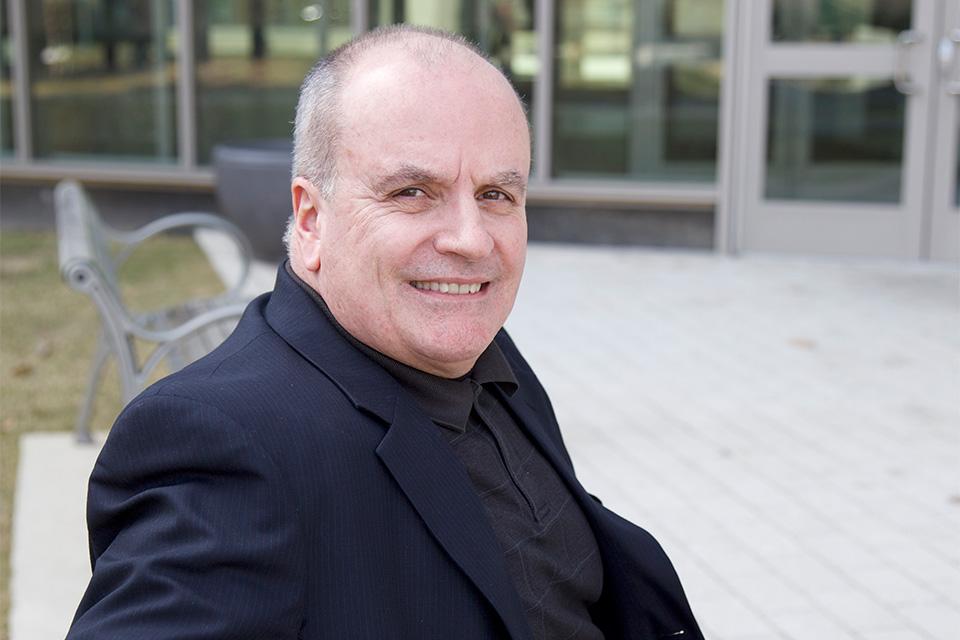 Professor Edward Vieira shares how his work with students and alumni have influenced his most recent publication.
This fall saw the publication of Edward Vieira's book, Public Relations Planning: A Strategic Approach, which has been selected by the International Public Relations Association as a recommended read. Vieira has over thirty years of experience in marketing communication and strategic marketing. He primarily teaches quantitative research methodologies, marketing research, consumer behavior, public relations and integrated marketing communication courses at the graduate level. At the undergraduate level, he teaches consumer behavior, marketing research and strategic communication campaigns and planning. We caught up with Vieira to hear more about his most recent book and how it's valuable for students.
What inspired you to write this book?
My 35 years of practitioner experience and education in marketing communication as well as teaching this subject and having conducted communicated-related research placed me in a unique position to write Public Relations Planning. The book presents all relevant public relations topics and practices from a vantage point that is the manageable intersection of practice, applied research and audience psychology.
How has your teaching informed your work?
For the chapter titled, "Women in Strategic Communications," I had the opportunity to interview and profile five incredibly dynamic and successful women in careers where public relations or strategic communication play an important role. Their backgrounds and professions vary, but they are all in the business of connecting with the public and stakeholders in different ways. Their individual and professional stories serve to inspire the student practitioner about what is achievable in the field of public relations and, more broadly, strategic communications. These professionals include Carmen Baez, founder of PRxPR Fund and former President of DAS Latin America-Omnicom Group; Carlie Danielson, Strategy Lead at fuseproject; D. Josiane Lee, Recruitment Outreach Officer at the U.S. Department of State; Karen van Bergen, Chief Executive Officer of Omnicom Public Relations Group; and Lily Vautour, Social Media Manager at Boston Children's Hospital.
Carmen Baez '79 earned her communications degree from Simmons, was President of DAS Latin American Omnicom, and served on the Simmons Board of Trustees for many years. Over the years, I came to know Carmen, inviting her to visit my undergraduate public relations classes. She is an incredibly passionate yet humble human being who has achieved accomplishments that would normally require a handful of lifetimes. Carmen's colleague, Karen van Bergen, is CEO of Omnicom, the largest public relations organization in the world. Because of Carmen and Karen's support, Omnicom hosts a group of Simmons PR/Marketing Communication students every year. Many Simmons students have interned at Omnicom companies.
Of all of these interviews, my greatest reward came from interviewing Lily Vautour '17MBA, who was Social Media Manager at Boston Children's Hospital, and has now moved on to another position at Boston Medical Center. Lily was a Simmons graduate student of mine. Her professional growth, breadth and depth of knowledge and skill about social media are breathtaking. Her innate passion and professionalism are remarkable. After interviewing her, I felt a tremendous feeling of reward. She and other students make what I and my colleagues do a priceless and fulfilling endeavor.
These professional women have no "typical" work day. Their positions need to be flexible and to adjust to dynamic circumstances. Personally, they each have a sense of humor, are high energy, possess an incredible level of knowledge in their areas of expertise, love and are passionate about what they do, and are highly intelligent. Motivation is based on four characteristics: individuals who have a degree of control over their activities, are competent at what they do, enjoy human relationships and interaction, and find their responsibilities enjoyable are generally self-determined and highly motivated. These women demonstrate these qualities.
Do students or alumni assist in your research?
My interactions with graduate students has led to my developing more pedagogically effective books. Sometimes we become caught in presenting subjects in a manner based on assumptions about students which may not be accurate. Students have a way of viewing topics in different ways and sometimes from "out of the box" perspectives, which keeps me on my toes and helps me to become a better teacher and more effective writer.
For my first picture book, I collaborated with Kaitlyn Ripaldi '17, an outstanding artists/graphic designer. Her insight helped me see the text in new ways. Our interaction went so well that we decided to partner on a series of children's books about a girl, Emily, who goes through a number of life's first experiences. We also have other concepts under development.
What can Simmons students take away from Public Relations Planning?
I hope that the readers learn that strategic public relations is an involved yet manageable process comprised of interdependent components that lead to achieving a goal.
The book covers the development and implementation of PR strategy informed by a situational analysis. The strategy then guides tactical decision-making for communications with stakeholders through the development of action plans. The process focuses on an understanding of the issue, publics, audience psychology, and the importance of maintaining relationships with stakeholders in a cost-efficient manner. Special attention is given to social media.
In short, Public Relations Planning takes students where they need to go to make them competitive in the strategic communication profession.