Announcement
Passionate Leaders Project: Fall 2021 Cohort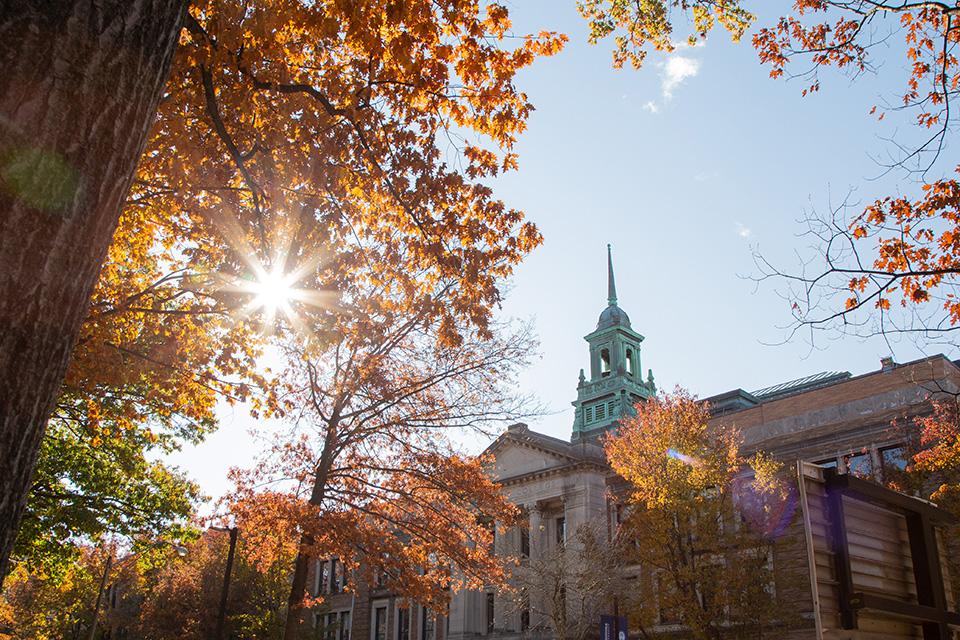 The Passionate Leaders Project (PLP) supports undergraduate students seeking to enrich their academic and professional interests by funding learning opportunities beyond the boundaries of the traditional classroom.
The PLP strives to make these opportunities accessible to every Simmons student so they can deepen their passion to address the challenges of an increasingly complex world; develop critical leadership skills and knowledge; and attain and demonstrate key academic and professional competencies.
Spring 2022 applications are now open and are due February 7.
Meet the Passionate Leaders Project Fall 2021 Cohort!
Beyza Erdem '22
Major: Biochemistry
Project: "Testing the Efficacy and Safety of Targeted FUS-BBB Drug Delivery of an AAV-9-packaged gene Therapy for Huntington's Disease"
Huntington's disease is a progressive brain disorder due to a defective HTT gene. Focused ultrasound-mediated disruption of the blood brain barrier (FUS-BBB opening) may be able to deliver an AAV-9 gene therapy in high enough concentrations to achieve suppression of the toxic mutant HTT protein. I am working under the guidance of my advisor, Dr. Nick Todd, who is part of the Focused Ultrasound Lab at Brigham and Women's Hospital. We are working to assess the efficacy and safety of using FUS-BBB opening to deliver a gene therapy to the mouse brain. If successful, this project would be able to safely and effectively deliver a potential HTT gene suppressor to help patients with Huntington's disease.
What Beyza is looking forward to: I'm really excited to learn how to do analysis of my project using computer programs such as Matlab and Image J to help with quantifying the data.
---
Hena Haque '22
Major: Biochemistry
Project: "The Biological and Mechanical Characterization of Collagen-PEG Scaffolds in the Context of Spinal Cord Repair"
Spinal cord injury (SCI) is defined as an injury to the spinal cord in which the motor, sensory, and autonomic functions of the body are impacted, which often results in paralysis, loss of sensation, and permanent or profound neurological deficits. This project will be aimed towards using tissue engineering and biomaterials to provide an alternative treatment option for SCI that promotes neuronal growth. This project consists of developing collagen scaffolds crosslinked with a synthetic polymer, polyethylene glycol (PEG), to build a physical hydrogel that neuronal cells can adhere to and use to proliferate. The mechanical properties and degradation rates will be studied as well as the scaffolds' ability to encourage cell growth. The outcomes of this project will be measured through images and quantitative data that can be used to determine the functionality of the scaffold and distinguish which conditions lead to optimal regeneration. I will be working with Professor Mustata and conducting this research as my senior thesis in the Chemistry and Physics Department. Upon completion of this project, the field of regenerative medicine will have a new contributing piece of research that will provide patients living with SCI another option for treatment that may lead to improved neuronal growth and function, vastly benefitting their quality of life.
What Hena is looking forward to: I'm most looking forward to working with biomaterials and learning new research techniques that will benefit me for the rest of my career.
---
Emma Keeling '22
Major: Public Health
Project: "Exploring the Intersection Between Upstream and Downstream Approaches to Domestic Violence Work"
Throughout my internship at REACH Beyond Domestic Violence, I will be blending upstream and downstream approaches to domestic violence work. An upstream approach focuses more closely on prevention and providing resources to people before a problem occurs, whereas the downstream approach focuses on supporting people once an incident has occurred. For the downstream part, I will work weekly on the online chat platform to support communities in 26 towns across Eastern Massachusetts. This work entails connecting survivors with resources, educating community members who are close to a survivor, and assisting with safety planning.
The upstream part of this internship is the legislative advocacy work that I will be doing with the Healthy Youth Coalition. The Healthy Youth Coalition works with the Healthy Youth Act, a bill that promotes comprehensive, medically accurate, age appropriate, and LGBTQ+ inclusive sex education in schools. I will be investigating the bill and exploring how it relates to domestic violence and different communities as well as creating content such as blog posts, fact sheets, and social media posts. The content that I create will be used by REACH as well as other organizations in the Healthy Youth Coalition to promote the Healthy Youth Act. In doing this project, I hope to gain a deeper understanding of the connection between upstream and downstream approaches to domestic violence work.
What Emma is looking forward to: I'm most looking forward to continuing my work with my amazing coworkers and supervisors at REACH!
---
Miranda Leclerc '23
Majors: History & International Relations
Project: "A Pantry of Voices: Using Material Culture to Reconstruct the History of Domestic Servants at the Gibson House Museum"
One of the original rowhouses in the Back Bay from 1859, The Gibson House Museum is a National Historic Landmark. Charlie Gibson, a Boston author and prominent member of the queer bohemian community, founded the museum that opened for the public in 1957. This semester, I am a Curatorial Intern at the Gibson House and performing collections inventory of several rooms in the museum alongside the Museum Curator, Meghan Gelardi Holmes. My project will culminate in the Butler's Pantry. I will survey and interpret the architecture, furnishings, and artifacts in the room to reflect how domestic workers would have experienced the space in the eighteenth and nineteenth centuries. I aim to create accessible, engaging, and immersive public experiences for visitors at the museum. I will do this by sharing my research for museum tours and developing a public-facing resource highlighting major themes and significant artifacts for the public. My project is an exciting opportunity to employ material history as an agent of voice and storytelling. I will help the museum as it reconstructs the lives of a historically marginalized population of women and immigrants who lacked the means and ability to create or preserve traditional records of their lives.
What Miranda is looking forward to: I am most excited by the opportunity to do research at a museum that centers the histories of the queer community and domestic workers. I love material history, and it is a true privilege to interact with it first hand. I hope that my research can help share my excitement about the history of the Gibson House and passion for material culture with the public while breaching historical silences.
---
Shaniah Prosper '22
Major: Neuroscience
Project: "Differences in Sex Hormone Receptor Distribution in the Mouse Arcuate Nucleus and its Implications in Alzheimer's Disease"
This project aims to look at how sex hormone receptors may play a role in the development of Alzheimers disease (AD) in men and women. Research shows that women are more at risk of developing symptoms of AD than men. Understanding the distribution of sex hormone receptors throughout different areas of the brain will improve our understanding of sex-specific brain differences and how they are related to sex-influenced disorders and their neurological pathways. My mentors for this project are from Weill Cornell Medical College: Dr. Teresa Milner, Professor of Neuroscience, and Dr. Makoto Ishii, Assistant Professor of Neuroscience and Neurology. We hope that this research study will support the growing awareness of sex differences in the brain and stress the need for gender inclusion in research experiments.
What Shaniah is looking forward to: I am most looking forward to conducting a research project online and honing my statistical analysis skills, along with working with an amazing team of people from Weill Cornell Medicine.